South Korea: Dog Meat Workers Hit Back At Korean Animal Activists
Animal lovers in South Korea are successfully applying pressure for amendments to the Korea's Animal Protection Law to be passed, which will outlaw a number of barbaric slaughter methods used in conjunction to slaughter companion animals in the Korean dog meat trade.
However, people working in dog-meat industry related businesses refuse to bow to animal lovers or their cries for pity toward suffering animals. Plans are underway for over 300 men who work in sectors of Korea's dog meat industry plan to stage their own protest, using the banner 'Our Right To Exist,' in favor of 'no' amendment to the law.
Well known Korean animal activist Nami Kim says: "After all 17,000 dog farmers, the butchers, meat suppliers, slaughterhouses owners and dog meat restaurant owners will have to face the reality, the industry is in decline. A price of a typical "meat dog" is going at $50 per head. I feel strong that at least 20% of these DMT [dog meat trade], industry will be out of the business after the summer."
Korean activists will be holding a peaceful candlelight vigil in Busan on August 24, 2016, to show solidarity of support toward the law being amended. On August 31, 2016 an important conference will be held at the Seoul National Assembly to discuss the amendments between the public and the lawmakers.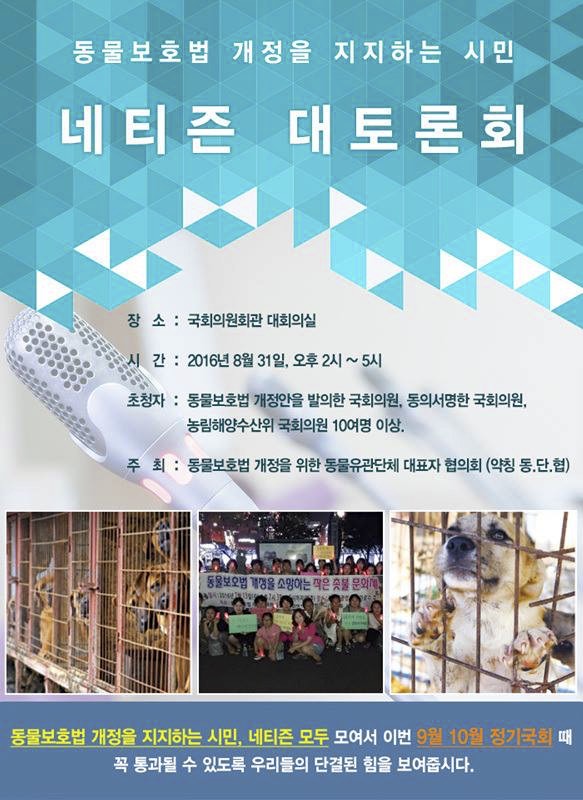 Dog meat trade official representatives have issued a public letter asking for support from all who enjoy eating dog meat and/or those who believe in the "right" to have it available as a food choice, and not removed because of animal activists.  Animal activist Tami Cho Zussman has kindly translated the letter for all non-Korean speaking people to understand the importance behind the letter.
Official Invitation From Dog Meat Business Owners of Korea:
Greetings to All Meat Dog Industry Related Businessmen and women:
We are currently dealing with yet another most evil luck. A short while ago, we suffered a major blow when these animal rights activists held an anti dog meat conference at Seoul Museum of History. Today, we are faced with certain unscrupulous members of congress (Pyo, Chang Won; Han, Jung Ae; Park, Hong Gun, etc) and their intention to oppress us by presenting amendments to Animal Protection Law which prescribe severe punishments aiming at us, proponents of dog meat consumption.
As you are well too aware, if this law is passed in Congress, it will not only collapse the dog farms and farmers, it will effectively collapse the entire industry in short future. We will cease to exist in this country.
As we blissfully working hard and minding our own business in the meat dog industry, the animal activists have been working very hard lobbying and putting pressure on the government, congress, and other corporations against us. Thus, we are facing this reality.
Everyone, although we are "fixing the barn after the cows are lost", it is still not too late to act. It is the time that we must be united tightly together and combine our forces. We must set aside our differences, personal feelings, opinions, and move forward as one.
There is no time to wait because if we do, we will be defeated and lose all our jobs and livelihood. Let's unite all together and combine our voices. There is no time to claim separate individuality if we want to protect our right to exist. We will all face the most unfortunate fate if you think it's ok to miss this movement as there are others who will fight.
Any and all events that we organize for claiming our right to exist must be attended by everyone without any exception. Attending these events must be your utmost important priority. We in the Meat Dog Business must show the others that we still do exist strong and well.
We must always stand up to their abusive actions as long as they continue the fights against us. Please share all events information with others as soon as you learn of them and tell others to join the movement. This is the only way for our survival.
Also, please lodge your complaints and opposition to your city council, city hall, and personally visit your nearest government office. Explain to them your current situation. All prepared petitions are available for your signature and submission. If you want a copy, please mail or fax (031-676-5365 010-2396-4172).
There will be a Right to Exist Protest on 8/25 and on 8/31, the latter must be well attended by all people who are related to Meat Dog Industry as we will be opposing the amendments. Let's protect our right to survive. We close this letter by reiterating that we must protect our right to exist (end of translated letter.)
Fight Dog Meat will continue to support Korean activists and bring new information as it unfolds. We sincerely wish all Korean animal activists strength and courage to keep fighting, knowing that globally, thousands upon thousands of animal lovers are cheering for them to be heard by the Korean government and the amendment to the Animal Protection law passed.
Thank you for reading,
Michele Brown,
Founder.
Email: contact@fightdogmeat.com
Follow us on Facebook: Fight Dog Meat
Follow our Website: www.FightDogMeat.com
Follow us on Twitter: @fightdogmeat
Instagram: fightdogmeat
#fightdogmeat
PLEASE SIGN AND SHARE FIGHT DOG MEAT'S PETITIONS:

VIETNAM: Stop Dog Meat Abuse
http://www.thepetitionsite.com/818/237/342/vietnam-stop-dog-meat-abuse/
CHINA: Stop Dog Meat Abuse
http://www.thepetitionsite.com/360/473/685/china-stop-dog-meat-abuse/#sign
AFRICA: Evala Dog Eating Festival: Stop Dog Meat Abuse
http://www.thepetitionsite.com/942/070/302/africa-evala-dog-eating-festival-stop-dog-meat-abuse/#sign
PHILIPPINES: Stop Dog Meat Abuse
http://www.thepetitionsite.com/296/247/791/philippines-stop-dog-meat-abuse/#sign
SOUTH KOREA: Stop Dog Meat Abuse
http://www.thepetitionsite.com/873/861/488/south-korea-stop-dog-meat-abuse/
NIGERIA: Stop Dog Meat Abuse
http://www.thepetitionsite.com/229/162/977/nigeria-africa-stop-dog-meat-abuse/
INDONESIA: Stop Dog Meat Abuse
http://www.thepetitionsite.com/561/429/905/indonesia-stop-dog-meat-abuse/#sign
DONATIONS: WE HIGHLY RECOMMEND the Vietnam Animal Aid And Rescue (VAAR), who save all animals, including injured animals from the streets and dog meat dogs and cats. VAAR run a Vet Training Education Program to teach local vets and trainees, humane practice on pets within Vietnam, as many local Vietnamese vets do not use anesthetic on dogs or cats during open surgery!
gofundme.com/hoianvet or Direct Paypal: cat.besch@gmail.com
Please visit our sister site:
FACEBOOK: Rescuer's Heart For Animals
WEBSITE: www.HeartForAnimals.com
FACEBOOK: Love Animals Club
(Photo not credited to Fight Dog Meat)
ALL RIGHTS RESERVED
PLEASE CREDIT THE ORGANIZATION WHEN SHARING