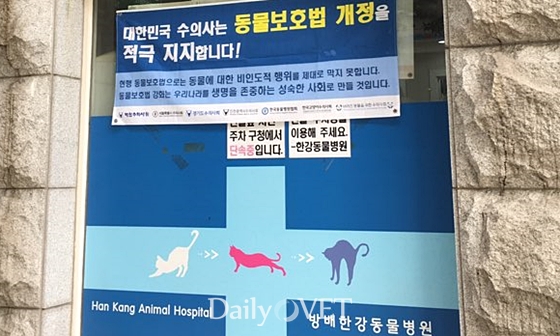 South Korea: Veterinarians Support Amendment To The Animal Protection Act
To help strengthen the demand to remove dogs and cats as livestock items, South Korean veterinarians are publicly supporting the amendment of the Animal Protection Act. 1,500 South Korean veterinary hospitals from Incheon to Seoul are displaying banners inside their clinics, which have the wording:

"Korean veterinarians are very supportive of the amendment of animal protection law. The current animal protection law does not prevent inhuman actions against animals. Strengthening the animal protection law will make Korea a mature society that respects life. "
At the opening of the 20th National Assembly, several lawmakers presented an amendment to the Animal Protection Act to substantially strengthen the original animal protection law that remains at the declaration level. It has been a long term hope of many Korean veterinarians for Korean society to raise the level of care and concern for animals to a high level. The amendment will have the support of Korean veterinarians.
In an interview with Korean Daily Vet, a veterinary spokesperson said: "The current animal protection law has a substantial limit to animal protection. The animal protection law should be further strengthened in order to treat animals as life rather than goods. That way, our society can respects life."

"However, many opposition groups are opposed to the amendment of the law for this reason, and there is a lot of obstacles to the actual amendment of the law. In the future, veterinarians will pledge to actively work to revise the Animal Protection Act and will carry out various activities such as signing campaigns, starting with the banner. "
Fight Dog Meat will continue to bring you updates on the amendment to the South Korean Animal Protection Act.
Thank you for reading,
Michele Brown,
Founder.
Email: contact@fightdogmeat.com
Follow us on Facebook: Fight Dog Meat
Follow our Website: www.FightDogMeat.com
Follow us on Twitter: @fightdogmeat
Instagram: fightdogmeat
#fightdogmeat
PLEASE SIGN AND SHARE FIGHT DOG MEAT'S PETITIONS:

VIETNAM: Stop Dog Meat Abuse
http://www.thepetitionsite.com/818/237/342/vietnam-stop-dog-meat-abuse/
CHINA: Stop Dog Meat Abuse
http://www.thepetitionsite.com/360/473/685/china-stop-dog-meat-abuse/#sign
AFRICA: Evala Dog Eating Festival: Stop Dog Meat Abuse
http://www.thepetitionsite.com/942/070/302/africa-evala-dog-eating-festival-stop-dog-meat-abuse/#sign
PHILIPPINES: Stop Dog Meat Abuse
http://www.thepetitionsite.com/296/247/791/philippines-stop-dog-meat-abuse/#sign
SOUTH KOREA: Stop Dog Meat Abuse
http://www.thepetitionsite.com/873/861/488/south-korea-stop-dog-meat-abuse/
NIGERIA: Stop Dog Meat Abuse
http://www.thepetitionsite.com/229/162/977/nigeria-africa-stop-dog-meat-abuse/
INDONESIA: Stop Dog Meat Abuse
http://www.thepetitionsite.com/561/429/905/indonesia-stop-dog-meat-abuse/#sign
Please visit our sister site:
FACEBOOK: Rescuer's Heart For Animals
WEBSITE: www.HeartForAnimals.com
FACEBOOK: Love Animals Club
(Photo not credited to Fight Dog Meat)
ALL RIGHTS RESERVED
PLEASE CREDIT THE ORGANIZATION WHEN SHARING