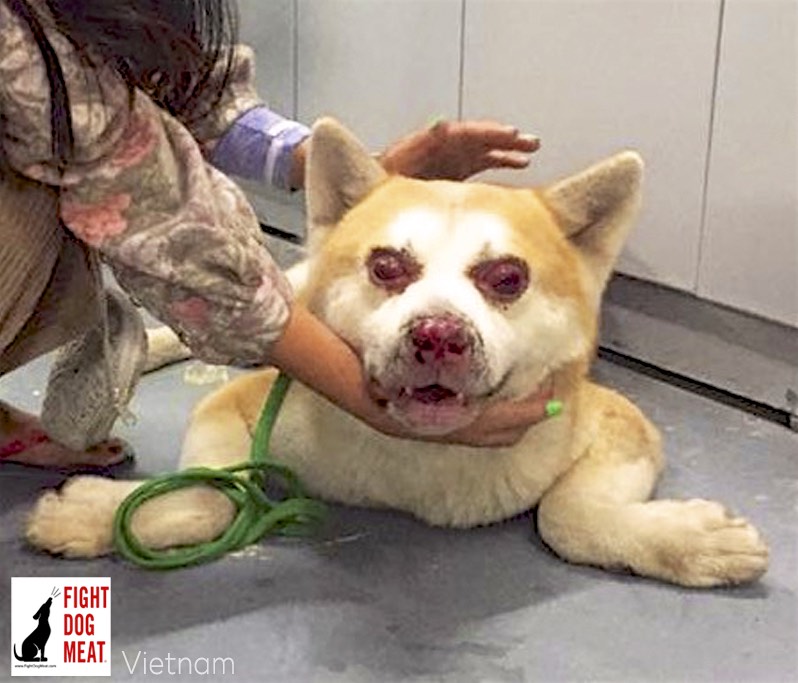 Vietnam: Update: Blinded Dog Is Now Adopted!
This is the story of how an expensive Akita dog in Vietnam, known as Sam, ended up blinded in a dog snatcher's death cage, ready to be sold to a dog butcher for meat. Sam has been adopted by a lovely Vietnamese lady and Australian boyfriend, and he's survived his surgery where one eye was removed and will probably lose his other eye too, leaving him totally blind.
Read Sam's story of what happened to him 'before' a local animal lover took pity on the injured dog and paid the ransom fee to buy both dogs. Sam was betrayed by humans who promised to care for him. [There was also a brown dog which was healthy and has already been adopted.]
Sam's original owner is Japanese and wanted a Japanese breed of dog so he bought Sam, knowing  he was only in Vietnam for a short amount of time. Sam was only one year old when his owner decided to leave Vietnam and move back to Japan, without him. Sam had already been diagnosed with a serious disease which required extensive vet care, or it would become fatal.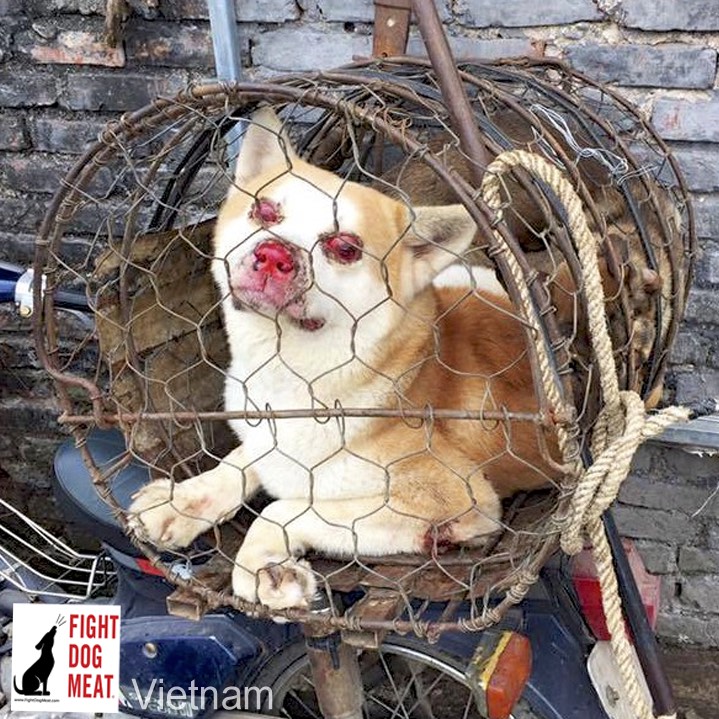 Sam's owner gave the dog to a local 'friend' who said he'd look after Sam, not knowing what was involved. The friend only lives 100 meters (100 yards), from the vet clinic but he only bothered to take Sam to the vet once, and couldn't be bothered to take him back for further visits or critically needed medicines.
Sam had already been diagnosed with the deadly auto-immune disease Vogt Koyanagi Harada disease, which affects a large percentage of Aklitas and other Nordic dog breeds. Sam was given a death sentence when he was denied medical help by his original owner and new owner, who didn't do anything for him at all.
Sam's disease spread rapidly because he was denied treatment, so the new owner just kept him locked in a small iron cage most of the time, and would occasionally let him out to wander around blind.
Sam also has serious problems with each of his legs, causing him even more pain, and nodules all over his legs, the pads on his paws, his nostrils and alarmingly, throughout the inside of his mouth. This dog was truly suffering!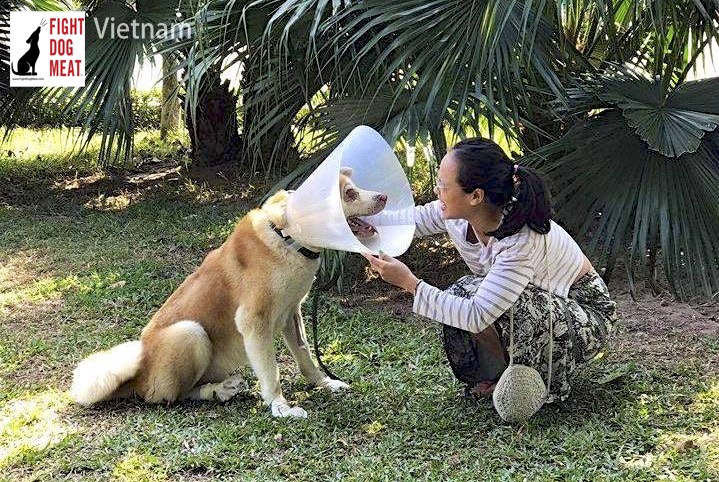 When Sam was captured and locked in the dog meat snatcher's cage, his new owner didn't want to pay the ransom of US$131.00 (3 Mil V dong), to save his life. He didn't care that Sam was now blind and suffering in agony, and that he would face a brutal death by a dog butcher. Sam was betrayed by his first owner, and his second owner.
As a local Vietnamese animal lover paid Sam's ransom, Sam's sad life finally took a turn for the better. He now has a new family who've fallen in love with him, and miraculously, the lady's mother suffers with the exact same disease, in the human form, so she fully understands the necessity of vet help and ongoing medicine. No matter what the future has in store for Sam, he will be loved and live in safety.
Sam's first video after his surgery: a walk in the garden.
Fight Dog Meat is in direct contact with Mai and will continue to bring you updates on Sam's progress.
Thank you for reading,
Michele Brown,
Founder.
Email: contact@fightdogmeat.com
Follow us on Facebook: Fight Dog Meat
Follow our Website: www.FightDogMeat.com
Follow us on You Tube: FDM Campaigns
Follow us on Twitter: @fightdogmeat
Follow us on Instagram: fightdogmeat
#fightdogmeat
PLEASE SIGN AND SHARE FIGHT DOG MEAT'S PETITIONS:

VIETNAM: Stop Dog Meat Abuse
http://www.thepetitionsite.com/818/237/342/vietnam-stop-dog-meat-abuse/
CHINA: Stop Dog Meat Abuse
http://www.thepetitionsite.com/360/473/685/china-stop-dog-meat-abuse/#sign
AFRICA: Evala Dog Eating Festival: Stop Dog Meat Abuse
http://www.thepetitionsite.com/942/070/302/africa-evala-dog-eating-festival-stop-dog-meat-abuse/#sign
PHILIPPINES: Stop Dog Meat Abuse
http://www.thepetitionsite.com/296/247/791/philippines-stop-dog-meat-abuse/#sign
SOUTH KOREA: Stop Dog Meat Abuse
http://www.thepetitionsite.com/873/861/488/south-korea-stop-dog-meat-abuse/
NIGERIA: Stop Dog Meat Abuse
http://www.thepetitionsite.com/229/162/977/nigeria-africa-stop-dog-meat-abuse/
INDONESIA: Stop Dog Meat Abuse
http://www.thepetitionsite.com/561/429/905/indonesia-stop-dog-meat-abuse/#sign
Please visit our sister site:
FACEBOOK: Rescuer's Heart For Animals
WEBSITE: www.HeartForAnimals.com
FACEBOOK: Love Animals Club
(Photo not credited to Fight Dog Meat)
ALL RIGHTS RESERVED
PLEASE CREDIT THE ORGANIZATION WHEN SHARING