China – Video: Live Dog Boiled Alive
There are children present and the men inflicting the agony are laughing! At the end of the video the dog gets out and runs away. He couldn't escape early on because his legs are tied together with twine. I doubt he will be able to fully escape though.
The video runs for 4.24 minutes and the dog is alive all the way through.
China has no animal protection laws and what these people are doing is NOT illegal. If you ran in and confiscated the dog, YOU could be arrested for theft of property! With no animal protection laws animals are therefore viewed by the law as property in China (and Vietnam!)
If this video doesn't give a bloody good reason to fight to end the dog meat trade I don't know what will! What moral compass are these people using that justifies intense screams of agony which are caused by them!
WARNING: GRAPHIC FOOTAGE: VIEWER DISCRETION ADVISED
Fight Dog Meat is currently running a campaign of sending Government Letters to China, to call for animal protection laws and an end to the dog and cat meat trade. For all the tears and screams about a one day dog festival known as Yulin, I'm shocked at how few people have taken the time to mail off our letter to the Chinese Government! All you have to do is sign the letter and mail it.
Crying on Facebook isn't going to change a thing! Hero worshiping individuals isn't going to change a thing. Fact: we've had a greater response to our Vietnam Government Letter Campaign than to the Chinese one. I find that utterly unbelievable – but that's a fact.
Facebook tears will NOT end the dog meat trade. Facebook tears will NOT bring animal protection laws! No individual woman and no individual man will end the dog meat trade because the trade is bigger than individuals.
This is not about racism, so please remember there are many animal lovers in every dog meat country who hate the trade and desperately want it to end.
Please mail off the following letter to the Chinese government – it IS something you can do which will only cost you the price a stamp!
FDM's Government Letter To The Chinese Government:
Please sign your name at the end of the letter and send to:
Department of Laws and Regulations
38.S.Yuetan Street, Beijing. China. Zip Code:100824
Department of International Cooperation
38.S.Yuetan Street, Beijing. China. Zip Code:100824
Department of Social Development
38.S.Yuetan Street, Beijing. China. Zip Code:100824
Embassy pf the People's Republic of China in the United States of America
3505 International Place, N.W.
Washington. DC.
USA. 20008
To find a Chinese Embassy in your own country, please click: http://embassy.goabroad.com/embassies-of/china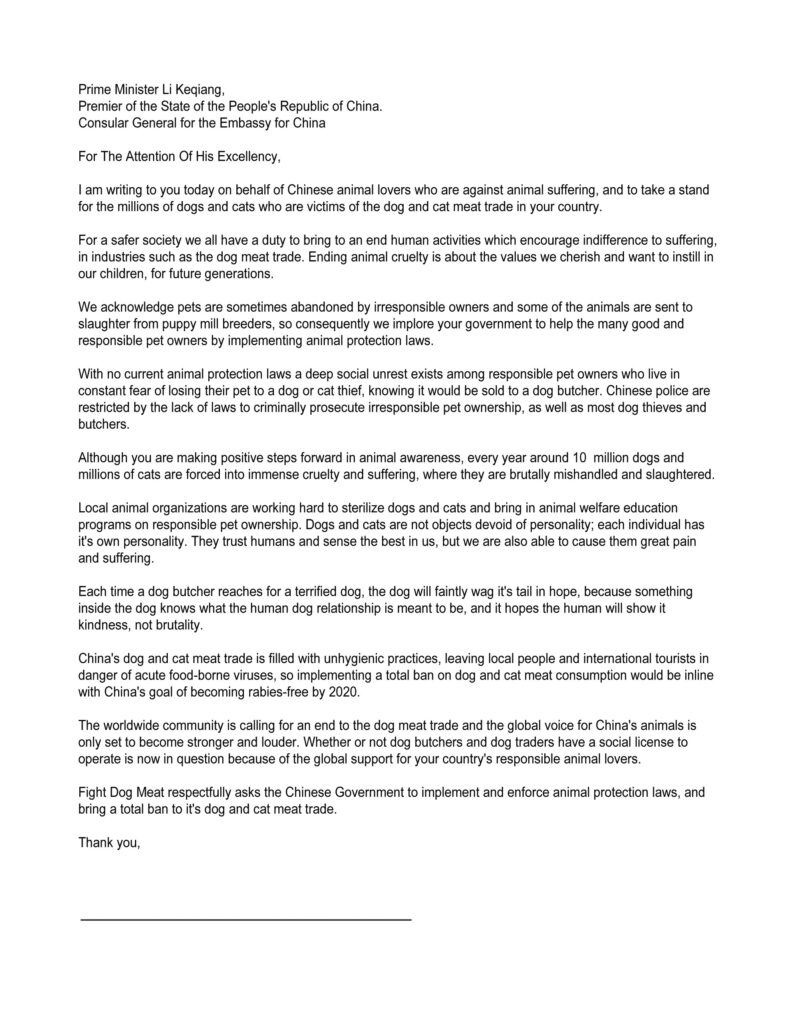 Thank you for reading,
Michele Brown,
Founder.
Email: contact@fightdogmeat.com
Follow us on Facebook: Fight Dog Meat
Follow our Website: www.FightDogMeat.com
Follow us on You Tube: FDM Campaigns
Follow us on Twitter: @fightdogmeat
Follow us on Instagram: fightdogmeat
#fightdogmeat
PLEASE SIGN AND SHARE FIGHT DOG MEAT'S PETITIONS:

VIETNAM: Stop Dog Meat Abuse
http://www.thepetitionsite.com/818/237/342/vietnam-stop-dog-meat-abuse/
CHINA: Stop Dog Meat Abuse
http://www.thepetitionsite.com/360/473/685/china-stop-dog-meat-abuse/#sign
AFRICA: Evala Dog Eating Festival: Stop Dog Meat Abuse
http://www.thepetitionsite.com/942/070/302/africa-evala-dog-eating-festival-stop-dog-meat-abuse/#sign
PHILIPPINES: Stop Dog Meat Abuse
http://www.thepetitionsite.com/296/247/791/philippines-stop-dog-meat-abuse/#sign
SOUTH KOREA: Stop Dog Meat Abuse
http://www.thepetitionsite.com/873/861/488/south-korea-stop-dog-meat-abuse/
NIGERIA: Stop Dog Meat Abuse
http://www.thepetitionsite.com/229/162/977/nigeria-africa-stop-dog-meat-abuse/
INDONESIA: Stop Dog Meat Abuse
http://www.thepetitionsite.com/561/429/905/indonesia-stop-dog-meat-abuse/#sign
Please visit our sister site:
FACEBOOK: Rescuer's Heart For Animals
WEBSITE: www.HeartForAnimals.com
FACEBOOK: Love Animals Club
(Photo not credited to Fight Dog Meat)
ALL RIGHTS RESERVED
PLEASE CREDIT THE ORGANIZATION WHEN SHARING