Nagaland, India: Wednesday Bazaar Dog Meat Market
Fight Dog Meat has an undercover team in India who have gone into Nagaland, and bravely went into the Nagaland Wednesday Bazaar dog meat market, where approximately 20 live dogs are slaughtered on the spot each Wednesday, for dog meat. The dog butchers and dog traders working at Nagaland's market bazaar are all women.
At last Wednesday's market most of the 20 live dogs had already been slaughtered earlier in the morning, but two dogs were still alive and lay bound and tied into hessian sacks under some rice bags, as if they were trash. The market is open every day, but dog meat is only sold on Wednesdays.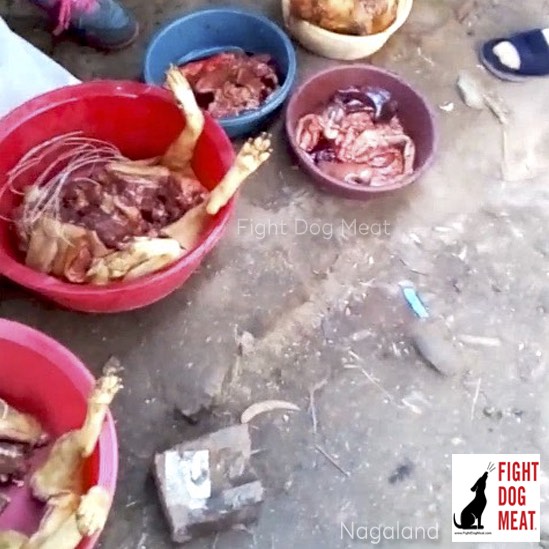 The dogs are slaughtered to fill demand. If the market is a little slow, the remaining live dogs are removed and kept in a holding cage until the following week's sale-day.
To slaughter the dogs, women feebly bludgeon the dogs on the head with a "big stick or thin iron bar." Because the women lack the brute strength men posses, the women butchers have to repeatedly hit each dog on the head several times, just for it to loose consciousness.
The supply of dogs is sourced by various methods. A growing number of people are operating small dog farms where dogs are bred specifically to be sold at the Wednesday Bazaar market for meat.
Wednesday Bazaar Market is also an outlet for pet owners to get rid of unwanted pets, by selling them to the women dog butchers for quick cash. One of our undercover team members witnessed this take place with their own neighbor, who sold their own house pet to be killed for meat, in exchange for cash.
Our Fight Dog Meat undercover team also uncovered that Indian street dogs from far-away locations, are possibly being brought into Nagaland on trains, to stock the Naga people's demand for dog meat.
It is believed that a number of dogs sold at Nagaland's Wednesday Bazaar are stolen house pets, even though they're not wearing collars when they're tied into the sacks, waiting for slaughter. The women dog traders will sell a live dog to customers, but mostly dogs are slaughtered before being sold.
 Dog and cat meat is not eaten by Indian people. It is the Naga people who consume dog and cat meat. Naga's believe the meat has medicinal healing powers and gives energy to the weak and sick. It is sold under the banner of Naga Traditional Medicine (NTM.)

There are no animal protection laws in Nagaland and the Wednesday Bazaar sells all species of animals for human consumption, including deer and birds.
Cats are sometimes sold at the Wednesday Bazaar too, bit there were none last Wednesday. When cats are brought to the market, they're usually stolen cats who belonged to families. Women cat butchers throw a cats into a sack and submerged the thrashing cat under water until the thrashing stops, to drown the animal, for sale for cat meat.

It's estimated that up to around 40% of Naga's are animal lovers, but there are no established animal organizations so animal lovers rely on their veterinarian doctors for animal help and support.
Video: chopped dog meat for sale at the Wednesday Bazaar dog meat market, Nagaland:
Nagaland is located northeast India. It borders the state of Assam to the west, Arunachal Pradesh and part of Assam to the north, Myanmar (Burma) to the east, and Manipur to the south. Its the 16th State in India, and the smallest.
Fight Dog Meat will be writing a series of articles exposing Nagaland's dog meat trade and the cruelty inflicted upon dogs and cats at the weekly Wednesday Bazaar. We are thankful for our dedicated Nagaland team who bravely enter the market to gather first-hand current information for Fight Dog Meat to share with the world.
Our Nagaland team said the women dog butchers and dog traders are very aggressive and think nothing of physically attacking people whom they do not like. Our team was fortunate to get out without being beaten, but they said each time they go into the Wednesday Bazaar dog meat market they will have to be braced for trouble, just in case.
By bringing you this information we are hoping to raise awareness for Nagaland's animals and begin a movement toward animal protection laws being implemented and upheld. Nagaland is taking park in our Fight Dog Meat World Wide Event: Kindness And Compassion Day, 20 MAY, 2017. // A FDM petition for Nagaland will be available very shortly.
Thank you for reading,
Michele Brown,
Founder.
Email: contact@fightdogmeat.com
Follow us onFacebook: Fight Dog Meat
Follow our Website: www.FightDogMeat.com
Follow us on You Tube: FDM Campaigns
Follow us on Twitter: @fightdogmeat
Follow us on Instagram: fightdogmeat
#fightdogmeat
PLEASE SIGN AND SHARE FIGHT DOG MEAT'S PETITIONS:

VIETNAM: Stop Dog Meat Abuse
http://www.thepetitionsite.com/818/237/342/vietnam-stop-dog-meat-abuse/
CHINA: Stop Dog Meat Abuse
http://www.thepetitionsite.com/360/473/685/china-stop-dog-meat-abuse/#sign
AFRICA: Evala Dog Eating Festival: Stop Dog Meat Abuse
http://www.thepetitionsite.com/942/070/302/africa-evala-dog-eating-festival-stop-dog-meat-abuse/#sign
PHILIPPINES: Stop Dog Meat Abuse
http://www.thepetitionsite.com/296/247/791/philippines-stop-dog-meat-abuse/#sign
SOUTH KOREA: Stop Dog Meat Abuse
http://www.thepetitionsite.com/873/861/488/south-korea-stop-dog-meat-abuse/
NIGERIA: Stop Dog Meat Abuse
http://www.thepetitionsite.com/229/162/977/nigeria-africa-stop-dog-meat-abuse/
INDONESIA: Stop Dog Meat Abuse
http://www.thepetitionsite.com/561/429/905/indonesia-stop-dog-meat-abuse/#sign
Please visit our sister site:
FACEBOOK: Rescuer's Heart For Animals
WEBSITE: www.HeartForAnimals.com
FACEBOOK: Love Animals Club
(Photo not credited to Fight Dog Meat)
ALL RIGHTS RESERVED
PLEASE CREDIT THE ORGANIZATION WHEN SHARING