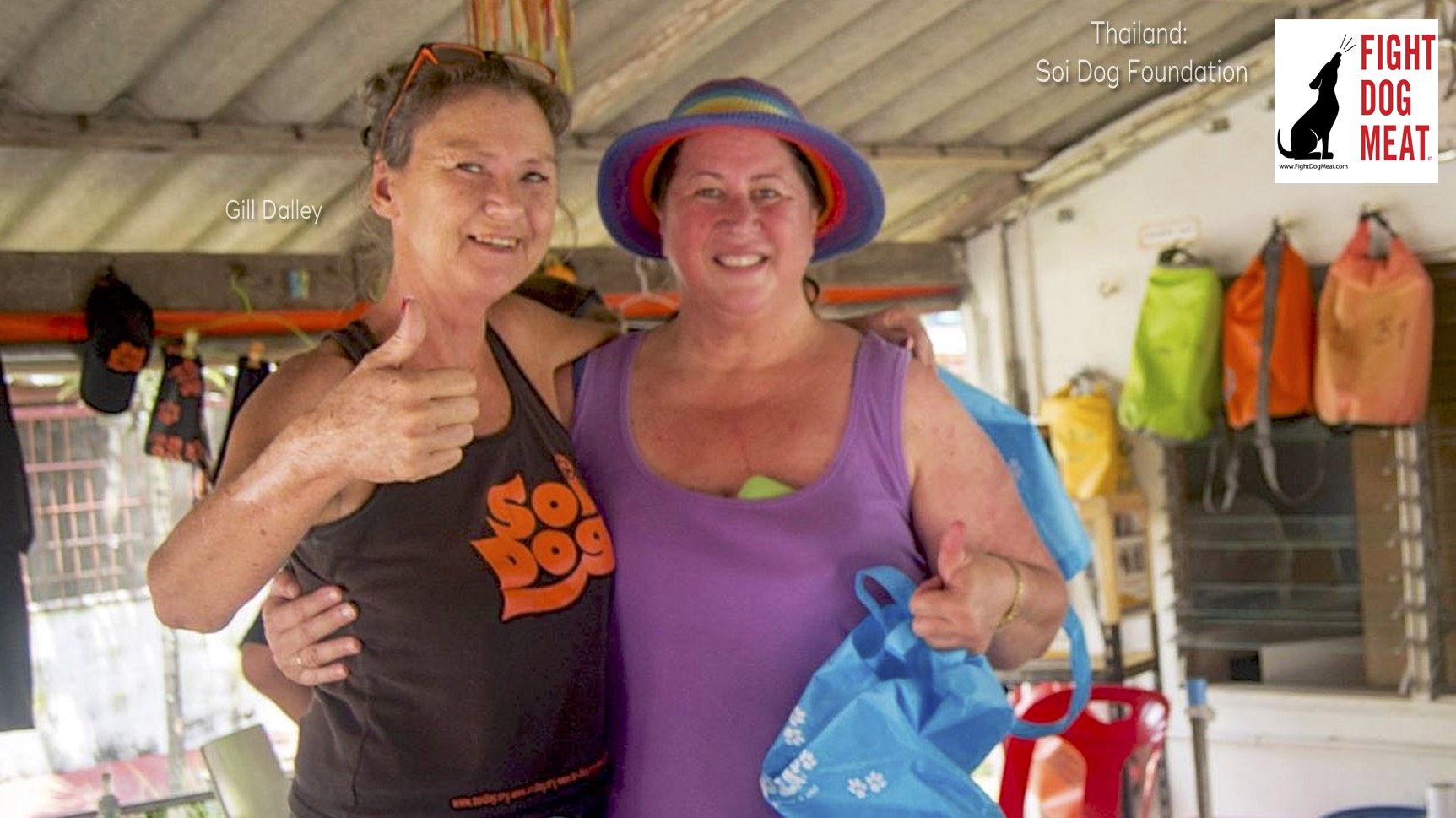 Tribute: Gill Dalley of Soi Dog Foundation
Tragic news this morning. In a brief statement released by Soi Dog Foundation: "It is with deepest sadness that we announce the passing of Soi Dog co-founder Gill Dalley, after a short battle with illness. Out of respect for the family's privacy, no further statement will be made at this time, although more information will be available in due course. We ask for your understanding during this period of intense sorrow. Thank you."
The animal world has lost someone great.

Gill and John were married in Phuket, Thailand, and the location was their favorite place, which they always joked about moving to after retiring. In 2003 they made their dream come true, and moved to Phuket.
Not long after settling in, they were confronted with ongoing animal cruelty and a massively growing stray dog problem. They had two choices: lay around and do nothing, or do something to help. Look what they did: they built Soi Dog Foundation!
It wasn't easy. It seemed like one hardship after another. Animal cruelty seems acceptable to the local people, but being predominately Buddhist, euthanasia was unacceptable. Local people were mostly happy to "let nature take its course," no matter how great the suffering.
About the same time the Dalleys arrived, a woman named Margot Homburg Park also moved there. She was the original founder of the Soi Dog Foundation in 2002. (Soi is the Thai word for street). Using her own funds, Park began sterilizing the stray dogs in her neighborhood, first in the capitol city of Bangkok and then in her new home of Phuket. The Dalleys and Park worked together to create spay/neuter clinics around the island. Slowly the organization grew. The Soi Dog Foundation (SDF) was on its way to becoming a driving force in helping the street dogs of Phuket have better lives.
Tragedy Strikes
In September of 2004, Gill Dalley was attempting to bring a tranquilized stray into the clinic for treatment, but the tranquilized dog escaped into a flooded buffalo field. Gill knew she could not leave the dog there and waded through the water to save it. Shortly afterward, she developed septicemia, infected by an unknown organism in the flooded field she had carried the dog through. The only way to save her life was for doctors to amputate both her legs below the knee.
A few months later in December, the devastating Indian Ocean tsunami ripped through the island, destroying everything within the waves' reach. The months following the tsunami saw the arrival of volunteer veterinarians from around the world. Because of the SDF's strong community presence, international animal organisations were able to get to work quickly and efficiently.This led to SDF receiving a number of awards, including a fully paid two year sterilization program!
During this entire ordeal, Gill Dalley worked from a wheel chair as she recovered from her double amputation surgery. She didn't let the loss of her legs stop her from helping Phuket's animals. She then learned to walk with prosthetic legs and took on dog training at the shelter. She was also instrumental in SDF's educational programs on responsible pet ownership.
In 2006 Park became ill and moved back to Bangkok, leaving the Dalleys to continue on their own. In 2009, Soi Dog purchased approximately half the land on which their buildings sit on. The shelter is on 4.5 acres of land near the village of Mai Khao, close to the island's airport.
Awards
Back in 2008, Soi Dog co-founder Gill Dalley became the first non-Asian to be awarded 'Asian of the Year' for her work with the soi (street) dogs of Thailand.
Each year, CNA (Channel News Asia), Singapore's main news channel broadcasting throughout Asia, nominates candidates for Asians of the Year and a special program is dedicated to this. The following video is the one that was made about Gill.
Gill was also honored with the Asia Canine Hero award which she received in China.
SDF have sterilized over 100,000 dogs and cats in Phuket and Bangkok and saved the lives of thousands. Many of SDF's saved animals have been helped to recover from deliberate acts of horrific cruelty. (Read more: click here.)
Gill's dream becomes a reality.
Gill had a bigger dream which she refused to let go off. She envisioned a state of the art veterinary hospital for Phuket, for all animals to receive the best medical treatment possible. Realizing cats have special needs, she opened a Cat Hospital, while pushing hard for a new animal hospital to treat all animals.
It is heartwarming to know Gill lived to visualize her dream. Soi Dog Foundation have a beautiful brand new state of the art animal hospital which is said to be the very best in Thailand! It houses several internationally trained veterinary surgeons who treat all animals.
With her husband John next to her side, together Gill and John have made Thailand a much better and kinder place for animals.
Soi Dog Foundation's Role In Fighting The Dog Meat Trade

John and Gill Dalley have been instrumental in fighting Thailand's dog meat trade. For years Thailand was a trafficking hub for horrifying numbers of Thai dogs to be illegally smuggled in horrific conditions, through Thai jungles to waiting boats which would ferry the dying dogs across to Vietnam, for slaughter as dog meat.
Soi Dog and other welfare groups presented draft legislation to the Thai Parliament for strong animal welfare laws to be enacted. In late 2011 the Thai government responded by arresting more smugglers than any other time in the past.

Thai authorities take action.
In late 2011 arrests were made in the north-eastern province of Nakhom Phanom with more than 1,000 dogs rescued from tiny cages. Four trucks were intercepted attempting to smuggle the dogs out of the country. 119 had already died of suffocation in the cramped cages!

Since this initial arrest the Royal Thai Police and Royal Thai Navy aided by Soi Dog's undercover investigators have made over 25 more arrests! And it hit international headlines, causing outrage around the world.
Thailand still has a dog and cat meat problem, and trafficking still takes place – however the numbers have been drastically reduced. Thai authorities are very involved in arresting smugglers, and this has definitely impacted the situation.
In Conclusion
Gill Dalley dedicated her life to animals and has left behind an astounding legacy which she and her husband built, through years of struggle, tears, personal loss, heartbreak and sheer grit. Their work has rewarded them with ground breaking strides, as they raised the bar for all of us to attain to.
I never met Gill in person, but always admired her from the distance. Everyone I know who met her personally all say she was a great lady! For all of us fighting for animals, today we have lost a great person.
My deepest condolences to John and his closest team members who worked with Gill every day. What a privilege to have shared your life with such a great person.
To honor Gill Dalley, please consider donating to Soi Dog, at: www.SoiDog.org.
Message from John Dalley, Co-Founder, Soi Dog Foundation:
"I apologize for the lack of personal response but have been overwhelmed with condolences which give an indication of the regard with which she was held throughout the world.
She died in my arms peacefully after fighting to the end, as always, but this was always one battle too far even for her.
I do understand that there are people who would have liked to have said goodbye, but it was Gill's wish that she be remembered as she was and not in her final days.
It is absolutely no exaggeration to say that without Gill there would be no Soi Dog today.
When she lost her legs in 2004 I was fully prepared to end it then. Gill would have none of it. I well remember her head doctor in Bangkok, who was a sikh, telling her that none of the medical team understood how she had survived, and he believed she must still have a purpose to fulfil. Gill's response was; 'I do'.
The current shelter, cat hospital and most recently the new dog hospital, were all designed and exist because of her, and were all built because of her desire to provide a refuge to animals who had nobody else to turn to.
A perfectionist, she was determined that the animals would have the best she could give them. She toiled night and day for 3 years to design and supervise the building of what is Asia's largest and most modern hospital for dogs.
Another doctor back in 2004 told her that double amputees in Thailand rarely wear prosthetics because too difficult and painful to use. He also said to her I think you will be different. Once she had taught herself she told me to get rid of the wheelchair as would never use again.
Nobody was aware of the constant pain she suffered from her legs. Most of the time her stumps were covered in blisters and sores owing to the heat and humidity here not suiting the socks and liners amputees have to wear.
But she never complained and always refused to use her wheelchair when I tried to persuade her to take a break. It has remained in our storeroom for the past 12 years, and only came out this past month.
Thank you again for your kind words and thoughts,"
John Dalley
Co-Founder
Soi Dog Foundation
Thank you for reading,
Michele Brown,
Founder.
Email: contact@fightdogmeat.com
Follow us onFacebook: Fight Dog Meat
Follow our Website: www.FightDogMeat.com
Follow us on You Tube: FDM Campaigns
Follow us on Twitter: @fightdogmeat
Follow us on Instagram: fightdogmeat
#fightdogmeat
PLEASE SIGN AND SHARE FIGHT DOG MEAT'S PETITIONS:

VIETNAM: Stop Dog Meat Abuse
http://www.thepetitionsite.com/818/237/342/vietnam-stop-dog-meat-abuse/
CHINA: Stop Dog Meat Abuse
http://www.thepetitionsite.com/360/473/685/china-stop-dog-meat-abuse/#sign
AFRICA: Evala Dog Eating Festival: Stop Dog Meat Abuse
http://www.thepetitionsite.com/942/070/302/africa-evala-dog-eating-festival-stop-dog-meat-abuse/#sign
PHILIPPINES: Stop Dog Meat Abuse
http://www.thepetitionsite.com/296/247/791/philippines-stop-dog-meat-abuse/#sign
SOUTH KOREA: Stop Dog Meat Abuse
http://www.thepetitionsite.com/873/861/488/south-korea-stop-dog-meat-abuse/
NIGERIA: Stop Dog Meat Abuse
http://www.thepetitionsite.com/229/162/977/nigeria-africa-stop-dog-meat-abuse/
INDONESIA: Stop Dog Meat Abuse
http://www.thepetitionsite.com/561/429/905/indonesia-stop-dog-meat-abuse/#sign
Please visit our sister site:
FACEBOOK: Rescuer's Heart For Animals
WEBSITE: www.HeartForAnimals.com
FACEBOOK: Love Animals Club
(Photo not credited to Fight Dog Meat)
ALL RIGHTS RESERVED
PLEASE CREDIT THE ORGANIZATION WHEN SHARING