Vietnam: Update: Government Permission Sought To Refuse Mina's Owner From Taking Her
Lady Thanh Tran is speaking to the Phu Quoc District Government to protect Mina from her owner taking ownership of her again. The dog is clearly terrified and hides each time the woman owner arrives at the rescue shelter to demand Mina be released back to her.

Mina's leg was hacked off by her woman owner and given no pain relief or medical attention for days! When rescuers attempted to intercept, the owner tried to block the dog receiving much needed medical help.

Eventually Mina's leg was amputated by Dr. Sasaki in Saigon. She was then transferred to the Kien Giang Animal Relief Station after she was released from hospital. Mina was doing well until the owner began appearing and demanding to remove Mina. As a protection for the dog's safety, Thanh Tran has spoken directly with Phu Quoc District Government officials to secure Mina's safety.
English transcript from Than Tran to the Phu Quoc District Government, on behalf of Mina:
Dear Phu Quoc District Government
I'm Thanh Tran am living in Ho Chi Minh City who founded the Sai Gon faith to save abandoned, abused cats
Today I have the trust of the Kien Giang Animal Relief Station agreeing with me and the Animal Love Community to ask deeply the human and humanistic interventions of the Phu Quoc Government to keep the dog [Mina] from suffering. The foot of the snow in Phu Quoc has been Kien Giang station intervention and rescue with a very high cost.
Our community today earnestly asked for help from the Phu Quoc Government so that Mina would not return to her owner, so that Mina would be happy now with the Kien Giang station.
Sincerely thank all the comments
While awaiting the decision of Phu Quoc District, Thanh Tran and the community would like to sincerely thank.
Original transcript from Thanh Tran to the Phu Quoc District Government, on behalf of Mina:
Kính gởi Chính Quyền Huyện Phú Quốc
Tôi : Trần Thị Kim Thanh hiện đang cư ngụ tại Thành Phố Hồ Chí Minh là người đã sáng lập ra Niềm Tin Sài Gòn để cứu các Động vật Chó Mèo bị ngược đãi, bỏ rơi
Hôm nay Tôi được sự tin tưởng của Trạm Cứu Trợ Động Vật tỉnh Kiên Giang đồng ý cùng Tôi và Cộng đồng yêu thương động vật xin sự can thiệp sâu sắc đầy tình nguời và tính nhân văn của Chính Quyền Phú Quốc để giữ con Chó bị chặt chân của Cô Tuyết tại Phú Quốc đã và đang được Trạm Kiên Giang can thiệp và cứu chữa với 1 chi phí rất cao
Cộng đồng chúng Tôi hôm nay đồng lòng tha thiết xin sự trợ giúp của Chính Quyền Phú Quốc để Mina không trở về với Chủ củ, để Mina hạnh phúc như hiện nay với trạm Kiên Giang
Xin chân thành cám ơn tất cả các ý kiến đóng góp
Trong khi chờ đợi quyết định của Huyện Phú Quốc , Thanh Tran và cộng đồng xin chân thành cám ơn .
Video: warning. Graphic footage. Viewer discretion advised!
Fight Dog Meat is in direct contact with Lady Thanh Tran and we'll bring updates on Mina's situation as soon as they become available.
Meanwhile, Mina is learning to smile again, at the Kien Giang Animal Relief Station. She is learning that not all humans want to hurt her and that she doesn't have to be scared. She is learning to trust humans again. Mina is learning what it feels like to be loved by humans.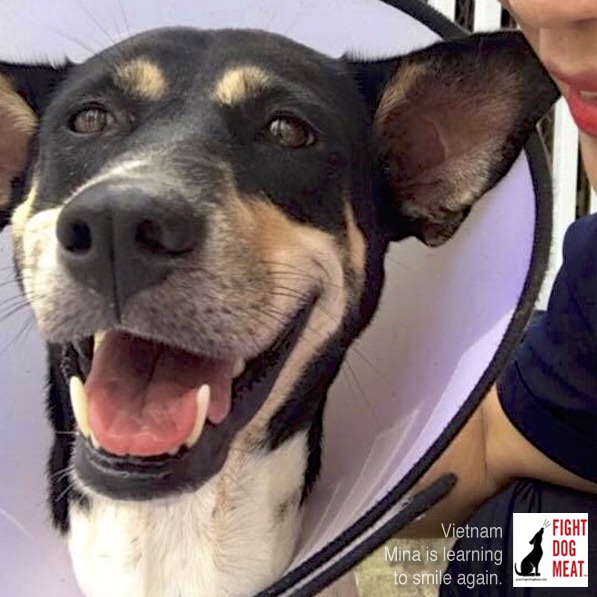 Read Mina's Story:
https://fightdogmeat.com/2017/10/03/vietnam-update-mina-leg-hacked-off-owner/
Thank you for reading,
Michele Brown,
Founder.
Email: contact@fightdogmeat.com
Follow us onFacebook: Fight Dog Meat
Follow our Website: www.FightDogMeat.com
Follow us on You Tube: FDM Campaigns
Follow us on Twitter: @fightdogmeat
Follow us on Instagram: fightdogmeat
#fightdogmeat
PLEASE SIGN AND SHARE FIGHT DOG MEAT'S PETITIONS:

VIETNAM: Stop Dog Meat Abuse
http://www.thepetitionsite.com/818/237/342/vietnam-stop-dog-meat-abuse/
CHINA: Stop Dog Meat Abuse
http://www.thepetitionsite.com/360/473/685/china-stop-dog-meat-abuse/#sign
AFRICA: Evala Dog Eating Festival: Stop Dog Meat Abuse
http://www.thepetitionsite.com/942/070/302/africa-evala-dog-eating-festival-stop-dog-meat-abuse/#sign
PHILIPPINES: Stop Dog Meat Abuse
http://www.thepetitionsite.com/296/247/791/philippines-stop-dog-meat-abuse/#sign
SOUTH KOREA: Stop Dog Meat Abuse
http://www.thepetitionsite.com/873/861/488/south-korea-stop-dog-meat-abuse/
NIGERIA: Stop Dog Meat Abuse
http://www.thepetitionsite.com/229/162/977/nigeria-africa-stop-dog-meat-abuse/
INDONESIA: Stop Dog Meat Abuse
http://www.thepetitionsite.com/561/429/905/indonesia-stop-dog-meat-abuse/#sign
To help Vietnamese animals, please help this Vietnamese vet get the extra training she cannot receive in Vietnam. A small $2 will help her achieve this goal. With extra training she can teach fellow Vietnamese vets better ways to treat dogs and cats, which is not taught in Vietnamese vet schools: https://www.mycause.com.au/page/151374/help-fund-my-dream-vet-internship
Please visit our sister site:
FACEBOOK: Rescuer's Heart For Animals
WEBSITE: www.HeartForAnimals.com
FACEBOOK: Love Animals Club
(Photo not credited to Fight Dog Meat)
ALL RIGHTS RESERVED
PLEASE CREDIT THE ORGANIZATION WHEN SHARING