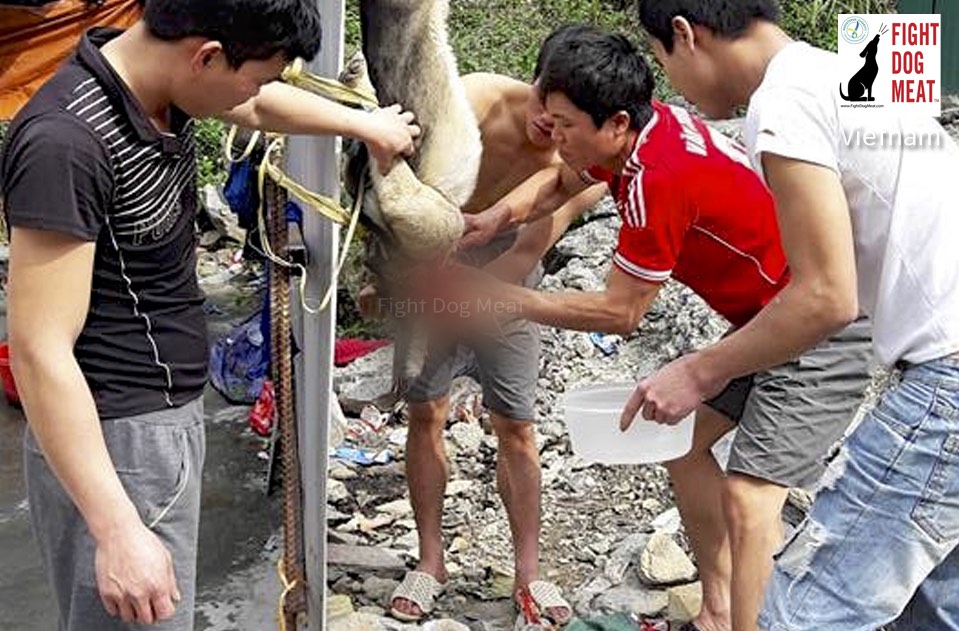 Vietnam: Fb Butcher Showing Off
Van Hien Van is a dog butcher, boasting on his Facebook page about slaughtering dogs for dog meat.He took part in hanging the dog upside down by it's hind legs and gouging it's throat open using a machete. Van Hilen Van held bowls under the dog's throat as it bled out over a period of minutes. Van Hilen Van laughed and whooped it as he excitedly collected the dying dog's blood for cooking later on.
Please feel free to visit his Facebook page and leave a comment for him: https://www.facebook.com/vanhien.van.31
Fight Dog Meat cannot post Van Hein Van's graphic video on Facebook because its against community standards. However, Van Hien Van 'can' post it on his page. Go figure.
Video: viewer discretion advised. May be upsetting to some viewers.
Fight Dog Meat is working to try and help local Vietnamese animal lovers to bring in animal protection laws and end the brutal dog and cat meat trade.
Thank you for reading,
Michele Brown
Founder,
Fight Dog Meat.
Fight Dog Meat is a Registered Charity. We work with a number of animal rescue teams living in dog and cat meat countries, including Vietnam. If you would like to help the animals and rescuers we work with, please consider a small donation.
Email: contact@fightdogmeat.com
Follow us on Facebook: Fight Dog Meat
Follow our Website: www.FightDogMeat.com
Follow us on You Tube: FDM Campaigns
Follow us on Twitter: @fightdogmeat
Follow us on Instagram: fightdogmeat_dot_com
#fightdogmeat
PLEASE SIGN AND SHARE FIGHT DOG MEAT'S PETITIONS:
AUSTRALIA: Legislate To Make It Illegal To Eat Dog Or Cat Meat In Australia
https://www.thepetitionsite.com/takeaction/401/079/031/
VIETNAM: Stop Dog Meat Abuse
http://www.thepetitionsite.com/818/237/342/vietnam-stop-dog-meat-abuse/
CHINA: Stop Dog Meat Abuse
http://www.thepetitionsite.com/360/473/685/china-stop-dog-meat-abuse/#sign
AFRICA: Evala Dog Eating Festival: Stop Dog Meat Abuse
http://www.thepetitionsite.com/942/070/302/africa-evala-dog-eating-festival-stop-dog-meat-abuse/#sign
PHILIPPINES: Stop Dog Meat Abuse
http://www.thepetitionsite.com/296/247/791/philippines-stop-dog-meat-abuse/#sign
SOUTH KOREA: Stop Dog Meat Abuse
http://www.thepetitionsite.com/873/861/488/south-korea-stop-dog-meat-abuse/
NIGERIA: Stop Dog Meat Abuse
http://www.thepetitionsite.com/229/162/977/nigeria-africa-stop-dog-meat-abuse/
INDONESIA: Stop Dog Meat Abuse
http://www.thepetitionsite.com/561/429/905/indonesia-stop-dog-meat-abuse/#sign
Please visit our sister site:
FACEBOOK: Rescuer's Heart For Animals
WEBSITE: www.HeartForAnimals.com
FACEBOOK: Love Animals Club
(Photo not credited to Fight Dog Meat)
ALL RIGHTS RESERVED
PLEASE CREDIT THE ORGANIZATION WHEN SHARING