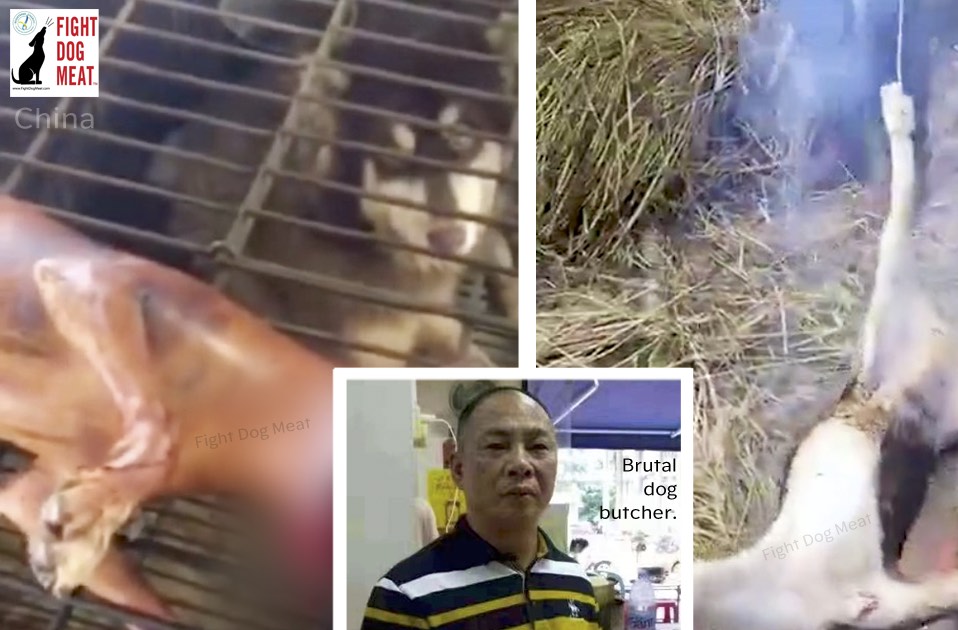 China: Sadistic Dog Butcher
The depth of cruelty this Guangdong butcher inflicts on live dogs is unimaginable. This person should be removed from society and locked up. He suspends dogs over open flames and cooks them on the outside, leaving them alive inside. The 'cooked' dogs ready to be eaten are actually still alive! The butcher is marketing it as a gimmick to drum up business for his dog meat restaurant / slaughterhouse.
The following is original Chinese text revealing the name and address of the butcher's dog meat restaurant / slaughterhouse:
广东茂名市第九中学别墅二巷西 ,就是这个人活烤狗:康叔狗肉店 :13686710108(杀狗电话)这个地址准确吗  打066812345 ,066812331Second Lane West of No. 9 Middle School Villa in Maoming City, Guangdong Province. This is the man who roasts the dog alive: Uncle Kang Dog Meat Shop: 13686710108 (Killing the Dog Phone) 066812345, 066812331
广东省茂名市康叔狗肉店。13686710108
Guangdong Maoming Kangshu Dog Meat Shop. 13686710108
Video: same dog in both videos.
Warning: viewer discretion advised. Graphic footage.
WARNING: Next Video:
WARNING: Distressing Footage.
WARNING: EXTREMELY GRAPHIC.
Volunteer animal lovers in Guangdong are coordinating the best way to bring pressure on this hideous butcher and his premises, to have them shut down for good. We'll update the story when new information becomes available.
Fight Dog Meat is working to help Chinese animal lovers have a louder voice as they call for animal protection laws and an end to the dog and cat meat trade. We post the videos to expose the truth of what animals are being forced to endure in countries with no animal protection laws and governments who try to silence calls for change. Exposing these heinous acts pressures governments that people outside the countries know what is happening. We will not be quiet and will not back down. Animal protection laws are needed now.
Thank you for reading,
Michele Brown
Founder,
Fight Dog Meat.
Fight Dog Meat is a Registered Charity. We work with a number of animal rescue teams living in dog and cat meat countries, including China. If you would like to help the animals and rescuers we work with, please consider a small donation.
Email: contact@fightdogmeat.com
Follow us on Facebook: Fight Dog Meat
Follow our Website: www.FightDogMeat.com
Follow us on You Tube: FDM Campaigns
Follow us on Twitter: @fightdogmeat
Follow us on Instagram: fightdogmeat_dot_com
#fightdogmeat
PLEASE SIGN AND SHARE FIGHT DOG MEAT'S PETITIONS:
AUSTRALIA: Legislate To Make It Illegal To Eat Dog Or Cat Meat In Australia
https://www.thepetitionsite.com/takeaction/401/079/031/
VIETNAM: Stop Dog Meat Abuse
http://www.thepetitionsite.com/818/237/342/vietnam-stop-dog-meat-abuse/
CHINA: Stop Dog Meat Abuse
http://www.thepetitionsite.com/360/473/685/china-stop-dog-meat-abuse/#sign
AFRICA: Evala Dog Eating Festival: Stop Dog Meat Abuse
http://www.thepetitionsite.com/942/070/302/africa-evala-dog-eating-festival-stop-dog-meat-abuse/#sign
PHILIPPINES: Stop Dog Meat Abuse
http://www.thepetitionsite.com/296/247/791/philippines-stop-dog-meat-abuse/#sign
SOUTH KOREA: Stop Dog Meat Abuse
http://www.thepetitionsite.com/873/861/488/south-korea-stop-dog-meat-abuse/
NIGERIA: Stop Dog Meat Abuse
http://www.thepetitionsite.com/229/162/977/nigeria-africa-stop-dog-meat-abuse/
INDONESIA: Stop Dog Meat Abuse
http://www.thepetitionsite.com/561/429/905/indonesia-stop-dog-meat-abuse/#sign
Please visit our sister site:
FACEBOOK: Rescuer's Heart For Animals
WEBSITE: www.HeartForAnimals.com
FACEBOOK: Love Animals Club
(Photo not credited to Fight Dog Meat)
ALL RIGHTS RESERVED
PLEASE CREDIT THE ORGANIZATION WHEN SHARING