Who we are
Fight Dog Meat is a registered charity for animal welfare, working for reform to alleviate animal suffering and help make the world a kinder place for animals.
FDM Board Member Wendy Nguyen

FDM Founder Michele Brown.

Our dog rehab expert Ali Nakhila.

Vet Surgeon Dr. Nghia Ph.D.
Meet The Team
Our Fight Dog Meat team are passionate about helping animals enjoy a kinder world.
Fight Dog Meat founder Michele Brown is a passionate animal rescuer for decades, working with all species. She's traveled to most of the dog and cat eating countries and witnessed the dog and cat meat trade first hand in these countries. She's been inside many slaughterhouses and killing rooms, documenting the trade over many years.
Board member Wendy Nguyen was born in Vietnam and lives in the USA, but remains passionate about animal welfare in her country of birth, Vietnam.
Read about our dog rehab expert Ali Nakhila, veterinary surgeon Dr. Nghia Ph.D. and our Lotus Project shelter below.
Ali and our dog Scooter Roscoe.

(L – R) Wendy, Ali, Michele and Jay.

Our dog rehab expert Ali, in Saigon.

Ali teaching our Mai to swim.
Our Dog Rehab Team
Ali teaches our traumatized meat dogs how to laugh again. He gives them a reason to live. When our dogs leave hospital we transfer them across to Ali, to begin their new lives.
Ali hand picked his local Vietnamese staff and trained them to professional level of dog handling. Ali's staff are passionate animal lovers who take great pride in their job.
There are no kennels at Ali's. The dogs live inside the air conditioned house, in a family environment. They're walked twice a day and go outside every hour. They have a swimming pool and many activities for mental and physical stimulation. It truly is the happy land for dogs in Vietnam.
Ali has worked with some of our most traumatized dogs, such as Cooper, Lily, Gordon and Sammy, to name a few. He's successfully helped them blossom into beautiful happy, loving and trusting pets. He works miracles with our dogs.
Dr. Tien and Michele Brown.

Dr. Nghia and tumor dog Fiona.

(L-R) Dr. Khe and Dr. Nghia.

Dr. Khe, Dr. Tien and our dog Tony.
Our Vet Team
Dr. Nghia Ph.D is the brilliant international vet surgeon who has saved many of our rescued dogs and cats. Dr. Khe and Dr. Tien are also surgeons working alongside Dr. Nghia.
Dr. Nghia studied abroad in France in 2000, then moved to the University of Bristol, in the UK. He completed a Ph.D. and returned to Vietnam in 2008. He's very passionate about helping animals of all species, including endangered wildlife.
Dr. Khe has been practicing vet surgery alongside Dr. Nghia for over a decade. Dr. Khe also handles the export of animals around the world. Dr. Tien consults with clients every day. She also goes into the operating room with Dr. Nghia and Dr. Khe.
Saigon Pet Veterinary Hospital is located in Thao Dien, District 2, Ho Chi Minh City.
What we do
Fight Dog Meat rescue animals and provide the best medical care available for them. When our rescued dogs are ready to leave hospital we transfer them into rehabilitation, often for months. We find wonderful loving families to adopt them as family members.
Our Lotus Project is a shelter for rescued dogs and cats in Vietnam which we're working toward transferring into a peaceful sanctuary. Its a long term project to make life better for animals rescued from the meat trade. When our rescued cats leave hospital they go to our Lotus Project cat safe house which is located away from the shelter.
Rescued wildlife are taken for specialist medical treatment and when possible, released back into the wild to join their waiting families. Our Fight Dog Meat team work globally, rescuing domestic pets and wildlife, large and small.
We advocate for dogs and cats trapped in terrible circumstances such as the dog and cat meat trades in various countries around the world.
Fight Dog Meat promote responsible pet ownership and pet health. We endeavor to be a voice for animals whose cries for help are not heard. As a Registered Charity Fight Dog Meat is working toward animal welfare reform and an end to animal suffering.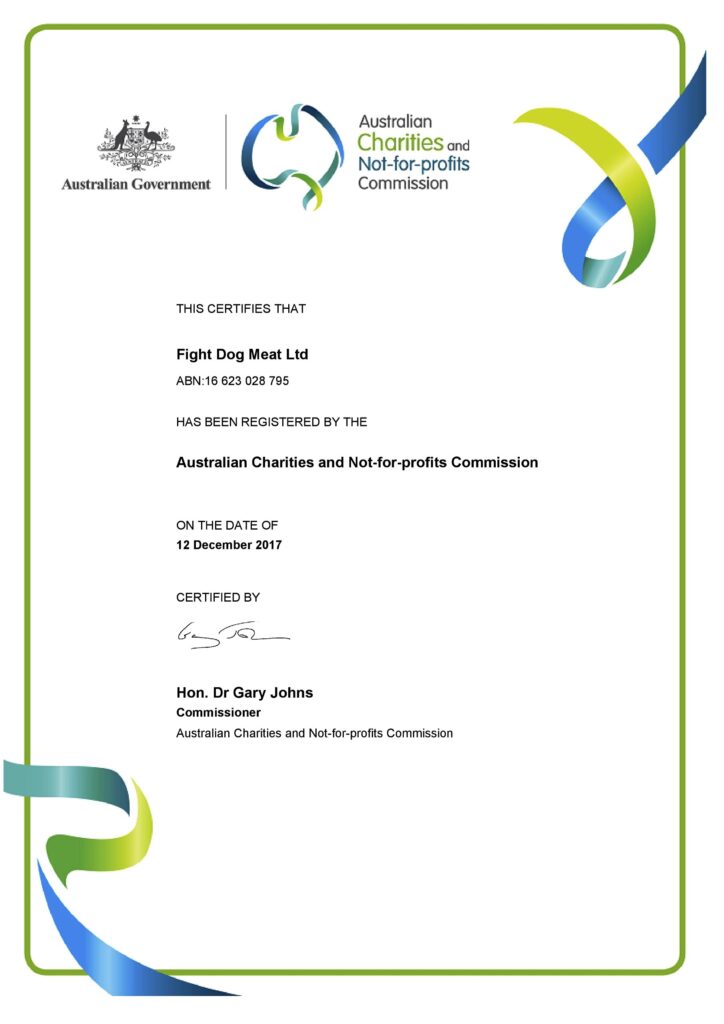 Our Lotus Project Shelter
Fight Dog Meat is now in a long term project with a dog and cat shelter in Saigon. We're starting at ground zero. We've just helped secure a lease on the land next to the shelter to give the dogs more room to run around and play. We call the shelter our Lotus Project.
Its a big undertaking for us to transform a crowded shelter of 150+ dogs and cats into a peaceful animal sanctuary. There's sure to be ups and downs but its a worthwhile long term project. We're determined to help make life better for these dogs and cats from the meat trade.
(L-R) Michele, rescuer Mai and Wendy.

Some of our Lotus Project dogs.

One of our Lotus Project dogs.

Some of our Lotus Project cats.