The butcher's deliberate cruelty is despicable. This poor dog is alive as the butcher uses a hand held blow torch to slowly cook the dog from the outside, inwards. The butcher is blow torching the dog's face to burn off it's tongue and voice box, so it's screams become silent. From previous videos I've seen of dog meat dogs being blow torched alive, some dogs are still conscious an hour later and still being blow torched
New information reports that the husband killed their family pet dog and his wife videoed him brutally burning the dog alive with his hand held blow torch. The dog was a white haired dog; it looks dark because it's fur is burnt black. The toddler in the photos is their son. The wife posted her video of their deliberate cruelty on her Chinese social media account. Chinese activists have her details and are contacting her directly (in Chinese.)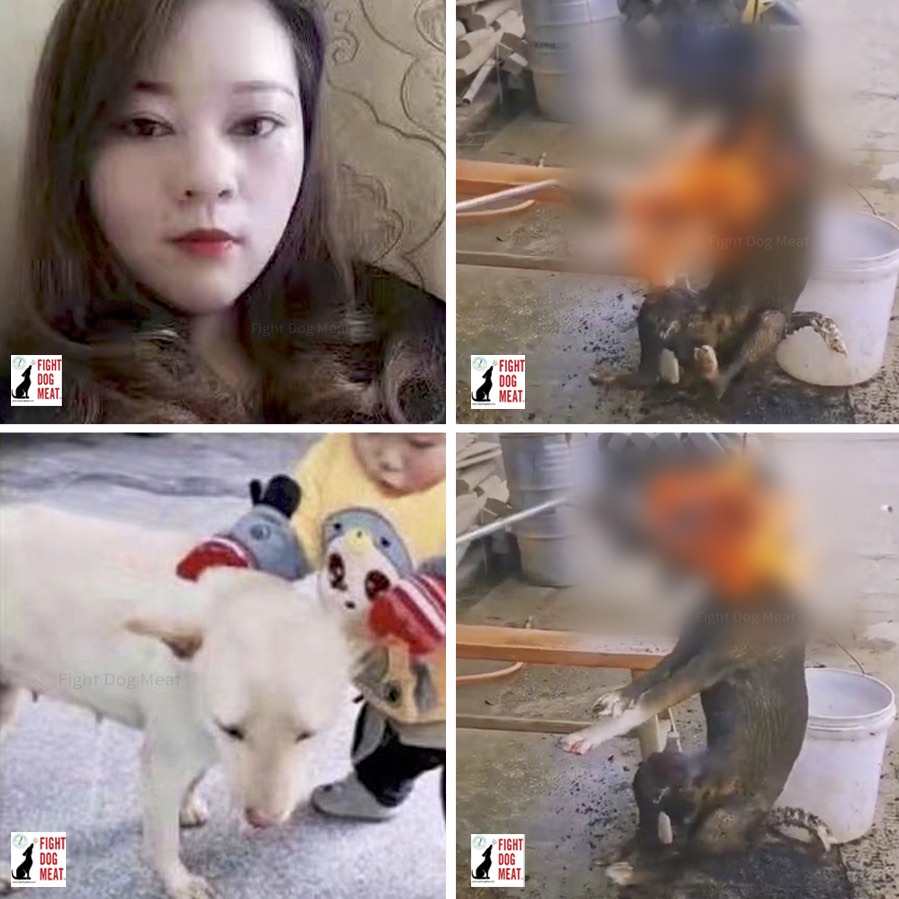 What sort of human being is unaffected by the screams of agony which they're inflicting on a living creature? People capable of this depth of depravity need to be removed from society. There is nothing to justify this type of cruelty. With no animal protection laws, the butcher answers to no one. (Video taken in Zhejiang, China.)
Video: WARNING: viewer discretion strongly advised. Upsetting footage.
Fight Dog Meat will continue to bring you reports from dog and cat meat countries and the wonderful work their rescuers are doing despite no animal protection laws. Turning away or sitting quietly does not end the trade. We'll keep exposing what is taking place to these animals. We're helping local volunteers have a louder voice on a world platform. Ultimately it's the voice of the country's own people whom their government will eventually be forced to listen to, for positive change for animals.
Thank you for reading,
Michele Brown
Founder,
Fight Dog Meat.
PLEASE SIGN AND SHARE FIGHT DOG MEAT'S PETITIONS:
AUSTRALIA: Legislate To Make It Illegal To Eat Dog Or Cat Meat In Australia
https://www.thepetitionsite.com/takeaction/401/079/031/
VIETNAM: Stop Dog Meat Abuse
http://www.thepetitionsite.com/818/237/342/vietnam-stop-dog-meat-abuse/
CHINA: Stop Dog Meat Abuse
http://www.thepetitionsite.com/360/473/685/china-stop-dog-meat-abuse/#sign
Please visit our other site:
FACEBOOK: FDM Vietnam Doggie Ranch
(Photo not credited to Fight Dog Meat)
ALL RIGHTS RESERVED
PLEASE CREDIT THE ORGANIZATION WHEN SHARING