The unsuspecting Golden Retriever was tied by the neck to a rope then bludgeoned by a police officer. Swinging a lump of wood the officer repeatedly struck the dog across it's head. In the first part of the video the dog was still sitting up and fully conscious after being hit three times. At no time does the dog show any aggression at all. The Golden Retriever did not know to be scared of humans so he must have been a loved pet who had strayed.
Police left the critically injured dog still alive, sitting up hemorrhaging blood from its cracked skull. Appalling.
A complaint from a poultry butcher at the busy market was the reason the dog was bludgeoned by police. The butcher said the dog had bitten one of his chickens. As the dog sat injured, the butcher began to bludgeon the dog with the side of his meat clever!
Even this second bludgeoning did not kill the dog. Eventually the dog hemorrhaged to death.
Video: warning: graphic. Viewer discretion advised.
Nanchong Police  bludgeoned the dog on a public street at busy market in Nanchong City, Sichuan Province. We are posting the video here because it is too graphic to be posted on our social media pages.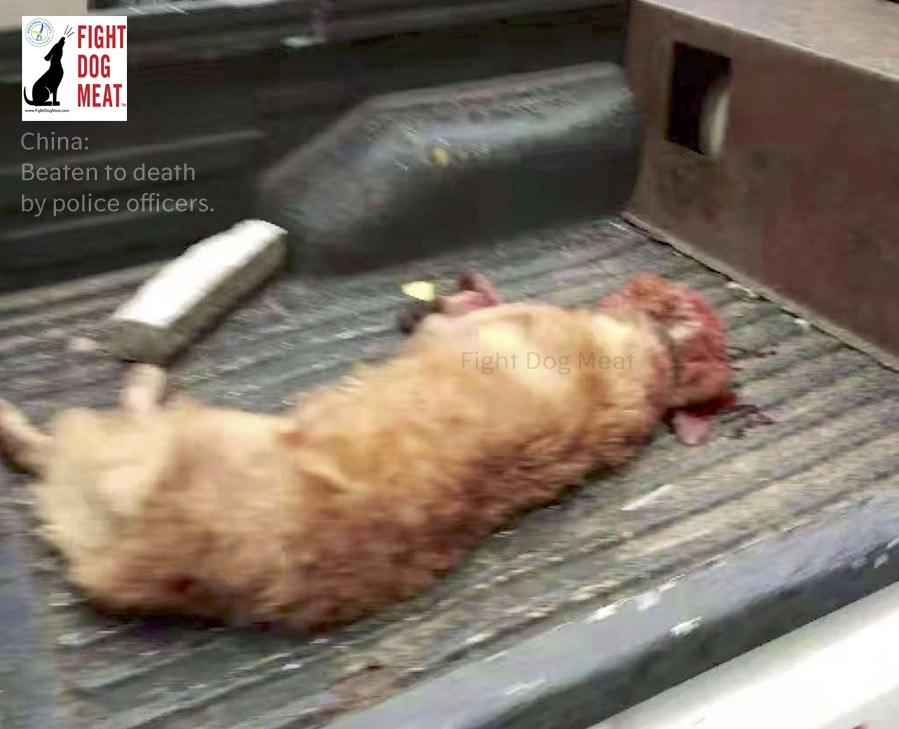 Fight Dog Meat will continue to bring you reports from dog and cat meat countries and the wonderful work their rescuers are doing despite no animal protection laws. Turning away or sitting quietly does not end the trade. We'll keep exposing what is taking place to these animals. We're helping local volunteers have a louder voice on a world platform. Ultimately it's the voice of the country's own people whom their government will eventually be forced to listen to, for positive change for animals.
Thank you for reading,
Michele Brown
Founder,
Fight Dog Meat.
PLEASE SIGN AND SHARE FIGHT DOG MEAT'S PETITIONS:
AUSTRALIA: Legislate To Make It Illegal To Eat Dog Or Cat Meat In Australia
https://www.thepetitionsite.com/takeaction/401/079/031/
VIETNAM: Stop Dog Meat Abuse
http://www.thepetitionsite.com/818/237/342/vietnam-stop-dog-meat-abuse/
CHINA: Stop Dog Meat Abuse
http://www.thepetitionsite.com/360/473/685/china-stop-dog-meat-abuse/#sign
Please visit our other site:
FACEBOOK: FDM Vietnam Doggie Ranch
(Photo not credited to Fight Dog Meat)
ALL RIGHTS RESERVED
PLEASE CREDIT THE ORGANIZATION WHEN SHARING