The dog known as Braveheart survived a horrific attack from people who hacked through both her front legs, leaving them blood soaked, shattered with swinging exposed bones. She was laying on the edge of a road in the dirt, tied by a rope to a pole for a dog butcher to pick her up. As the rescuer approached she was determined to stand and defend herself but instead she screamed in agony and terror, unable to escape or fend for herself. After a number of attempts she was eventually rescued.

December 22, 2017: She was driven to the Yiwu veterinary clinic and xrays were taken. She went straight into surgery where both front legs had to be amputated. One amputation is higher up than the other leg because infection had already set into that leg due to her being tied up in the dirt. [Following video viewed 26,000 times on Facebook.]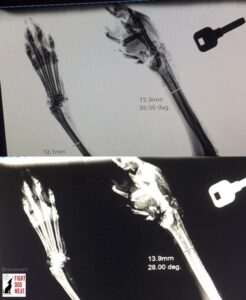 December 23, 2017: As soon as Braveheart regained consciousness she defied the odds and stood up in her cage, on her amputated stump legs. But the pain was too great and she lay down and cried. We all wept for her. This girl was fighting to live.

December 26, 2017: The vet team tied Braveheart into a metal walking-aid with her front end hoisted up. For the first time she shuffled along the hallway on her shaky hind legs, determined to be mobile again. She was making remarkable progress and her surgical were amazed. She 'loves' people and cried when she had to go back into her cage.
December 28, 2017: Look at her now! Her tail is wagging and she's getting stronger each day. She has a family in Scotland waiting to adopt her. Amanda Leask, husband Tobias and son Kyle can't wait to welcome Braveheart into their family. Amanda owns the famous dog meat survivor Miracle, who won a number of awards in the UK.
December 29, 2017: Braveheart's unstoppable now. She took herself outside the vet clinic. Imagine when she gets her wheelchair! She is named Braveheart because 1) she has a white heart in the middle of her forehead, 2) she is being incredibly brave! 3) and do you remember the dog First Day Braveheart, the dog in China who was skinned alive? First Day Braveheart was unable to survive her horrific injuries but this Braveheart is named in honor of First Day Braveheart.

December 31, 2017:  Braveheart has worked out how to use the walking aid so she'll grasp her wheelchair very quickly. She's astounded us all by her determination. Given what she's been through, her recovery is miraculous.
January 1, 2018: Braveheart got her first vaccinations in preparation for moving to Scotland. She has to wait three months before she gets her passport, but she's got a great life waiting for her with an international family who will love her to bits!
January 5, 2018: In the last couple of days Braveheart discovered she can sit up and balance on her haunches. Then she got up and started walking UPRIGHT on her hind legs! Her wheelchair should be arriving soon. She's determined to go outside and run around but she won't get to do that until after she arrives to her new family overseas. She is such a little champion! Everyone around her loves her. REMEMBER: she was left tied up with two shattered front legs, to be sold for dog meat. She was broken, terrified and in agony, then had both front legs amputated. What an amazing and beautiful animal she is.

January 14, 2018: Braveheart walked in her wheelchair by herself for the first time! If you shake a bag of dog treats she can zoom across the room to get the treat. She received her Chinese wheelchair a couple of days ago but wasn't sure about it. Today she worked out how to use it. After she arrives in Scotland Fight Dog Meat will be buying her a new lightweight wheelchair from the USA. She'll also begin the process toward new  prosthetic 'blade legs.'
January 14, 2018: Braveheart is getting the hang of her wheelchair. She has the vet team alongside her so no one can steal her. In China she is seen as broken, but she'll have a wonderful new life in Scotland. She's determined to live! Yesterday was the first day she realized she can move forward by herself in her wheelchair. 
January 15 and 16, 2018: Braveheart's team helpl her practice every day to walk in her wheelchair. She loves being outside and wags her tail and smiles. She's worked out she can turn corners and even reverse in her wheelchair, to get where she wants to go.

January 19, 2018: A lot of tears were shed when Braveheart's team had to said goodbye to her, when she left the vet clinic for Beijing. Her Chinese first rescuers and her Chinese vet team were all very emotional but thrilled she was leaving for a good life ahead of her. [The man in the tan coat is the rescuer who caught Braveheart and lifted her into the cardboard box. He didn't give up on her!]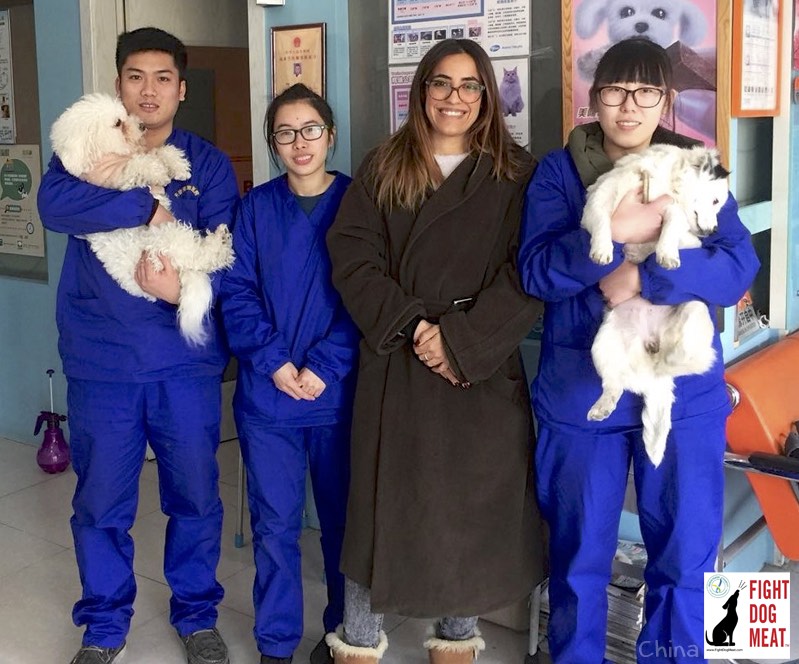 January 19, 2018: Braveheart's second rescuer, Rose, was unexpectedly awarded an Award Of Honor by the City Of Yiwu for good work helping Yiwu's animals in need. A giant mural was unveiled of Rose and Braveheart together! Certainly a well deserved award for Rose!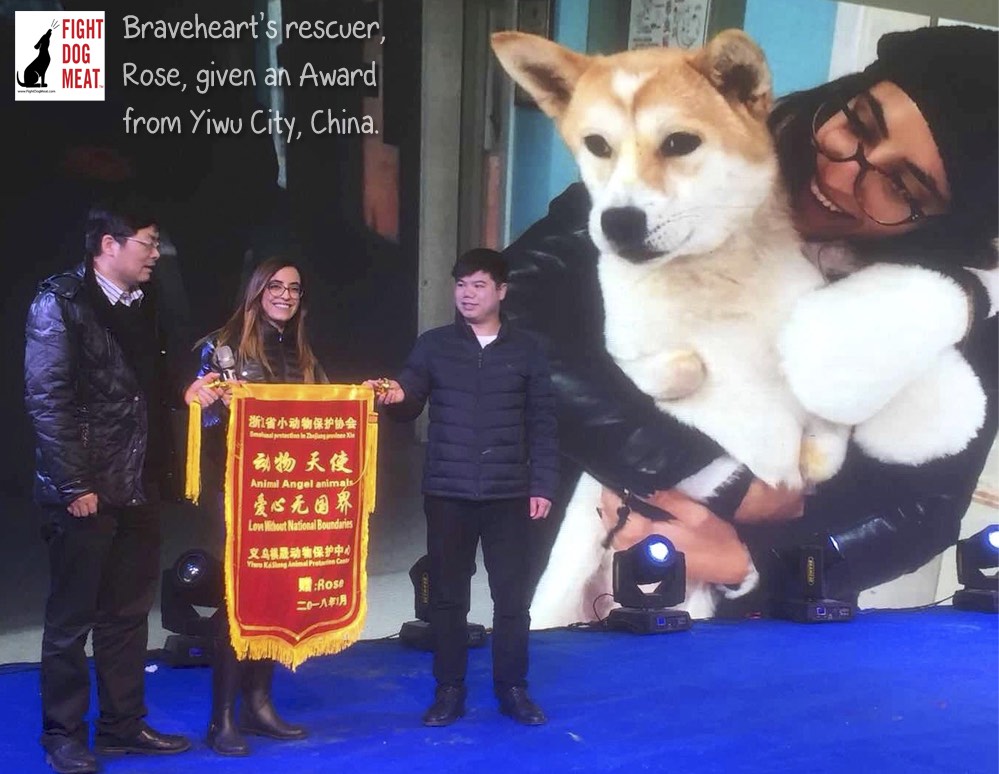 January 20, 2018: Rose and her husband visited Braveheart every single day she was in hospital and willed her to live more than anyone. Rose wept many tears in her farewell to Braveheart, after driving Braveheart over five hours to the airport in Shanghai, to hand her over to the pet transport company.
PS: It was probably Braveheart's first time traveling in a car and an hour after this video was taken she threw up everywhere all over the seats. lol.
January 22, 2018: A big thank you to Candy Cane for offering to to help when Braveheart's foster family in Shanghai fell through at the last minute. 
Could Braveheart be any cuter?  After a couple of days of travel she arrived at Candy Cane's boarding facility in Beijing. She'll be there for approx 10 weeks, preparing to fly to Scotland for her new life. Thank you Candy Cane for allowing Braveheart to stay at your awesome facility.

January 23, 2018: Braveheart's first day settled in Beijing. Today they're letting her rest and adjust. Tomorrow they'll handle her and remove her yellow harness. In a day or two they'll put her in her wheelchair to have a zoom around. She's going to do great here! Thank you Candy Cane for allowing her to stay with you.
January 31, 2018: Braveheart is learning to use her wheelchair again, at the boarding facility in Beijing. She'll get the hang of it again pretty quickly.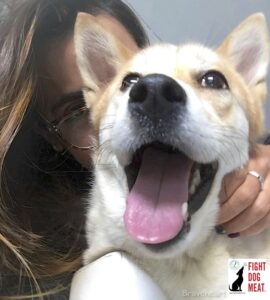 Huge thank you to Candy Cane for letting Braveheart stay at their boarding facility until she leaves for Scotland. Their team are taking great care of her.
Update: Braveheart Leaves China and Arrives In Scotland.
April 28, 2018, Braveheart flew out of China, as part of Candy Cane's group of greyhounds leaving China. The dogs all arrived in Paris and were then driven to Birmingham, UK.
April 29, 2018, Braveheart was passed to her new mom, Amanda Leask.Braveheart slept on Amanda's bed that night then together, they traveled by train from Birmingham, UK to Inverness, Scotland. Braveheart was utterly exhausted.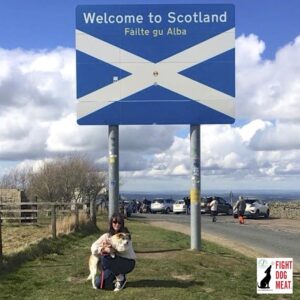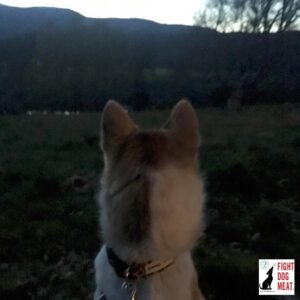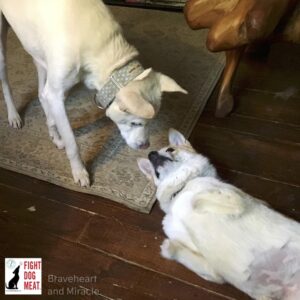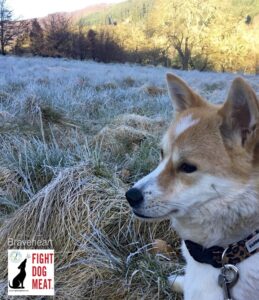 Later that day, April 29,  Braveheart met her new family members, including Miracle, one of Amanda's other dog meat survivors. Braveheart immediately got on with everyone! For a dog who was terrified of humans, especially men, she has truly bonded quickly with her new family. She especially loves playing games with Amanda's husband, Tobias.
Braveheart loves walking through the property's pastures to look at the river:
Braveheart playing games with Tobias:
Fight Dog Meat has been part of Braveheart's rescue since day one when she was bundled into the cardboard box, with her shattered legs swinging. Fight Dog Meat is saving to purchase Braveheart a new lightweight wheelchair from the USA, specifically for dogs with no front legs. It will have all-terrain wheels so as soon as she adjusts to it, she'll be able to run across grassy pastures or zoom around in the snow. Our aim is for Braveheart to be able to run and have the best life possible with her new family in Scotland.
Fight Dog Meat will continue to bring you reports from dog and cat meat countries and the wonderful work their rescuers are doing despite no animal protection laws. Turning away or sitting quietly does not end the trade. We'll keep exposing what is taking place to these animals. We're helping local volunteers have a louder voice on a world platform. Ultimately it's the voice of the country's own people whom their government will eventually be forced to listen to, for positive change for animals.

Thank you for reading,
Michele Brown
Founder,
Fight Dog Meat.
PLEASE SIGN AND SHARE FIGHT DOG MEAT'S PETITIONS:
AUSTRALIA: Legislate To Make It Illegal To Eat Dog Or Cat Meat In Australia
https://www.thepetitionsite.com/takeaction/401/079/031/
VIETNAM: Stop Dog Meat Abuse
http://www.thepetitionsite.com/818/237/342/vietnam-stop-dog-meat-abuse/
CHINA: Stop Dog Meat Abuse
http://www.thepetitionsite.com/360/473/685/china-stop-dog-meat-abuse/#sign
Please visit our other site:
FACEBOOK: FDM Vietnam Doggie Ranch
(Photo not credited to Fight Dog Meat)
ALL RIGHTS RESERVED
PLEASE CREDIT THE ORGANIZATION WHEN SHARING