Worldwide outrage to the brutal killing of the Golden Retriever in Changsha is coming under the glare of the Chinese government, in 'support' of the officer. The assistant policeman who beat the Golden Retriever to death has been awarded a medal of honor for being a "Defender of the People." 打狗英雄人民卫土
The officer's award puts people on notice that they do not have any influence over the Chinese government. As my friends living in China reminded me today: "when America held strong anti-Yulin dog meat festival demonstrations, the next day the Cheng guang went around taking dogs, even from vets and tasering vets if they refused to give up the dogs!"
Today a statement was issued by government officials warning admins on Chinese social media that anti-government material criticizing the government and police will not be tolerated and groups which choose to violate this will be closed.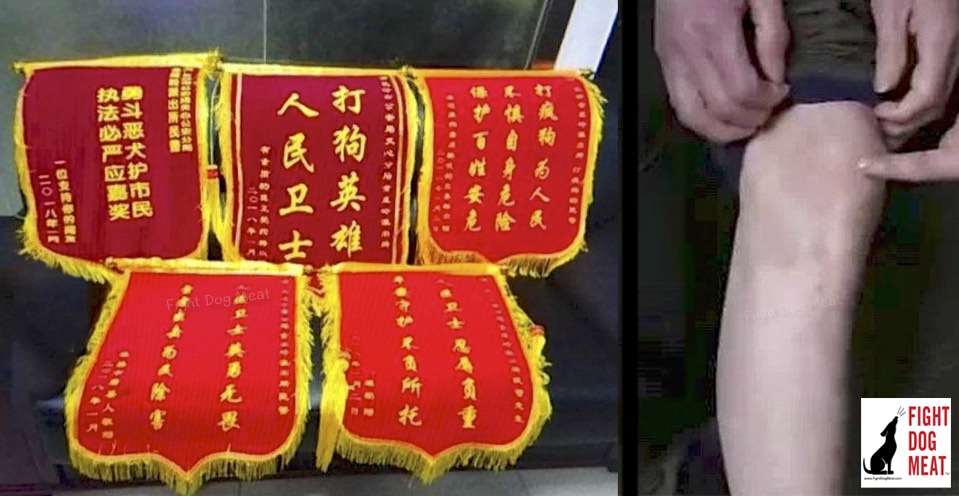 I am in direct contact with many Chinese animal rescuers and expat animal rescuers living in China, including a lady (name withheld) who is close to this case.
The following was written directly to Fight Dog Meat from a Chinese rescuer living in China:
"There are many people who eat dogs and cats, especially in less developed cities such as Changsha (where the dog was beaten to death.) Coke is the name of the Golden Retriever and I'm still trying to contact his owner (I think Coke is a boy.)"

"We animal activists have been receiving much pressure from the media and other organizations. There are a great number of people hired to post fake comments in support of the local police. Those people are either paid or they eat dog meat themselves."
"Illegal dog meat vendors are on the police side and attacking animal activists. They also infiltrate and hide people in the animal activist groups [online Chinese social media] to obtain information from us. The local police are proud of what they have done to Coke (no kidding.) They've made themselves flags."
"The so-called policeman indeed is not a formal policeman. There isn't a standard name for such role – he's more like an assistant to the police. It is highly debatable whether he is qualified as a law enforcer. This is a fact even the government do not argue about."

"I understand Coke's case is not the worst and there are real sick cases here in China. But our argument is this cruel execution was done in public in broad daylight with many children and elderly people standing watching this horror. People were trying to stop the assistant policeman but were instead threatened. In the video clips recorded onsite you can hear people crying in the background."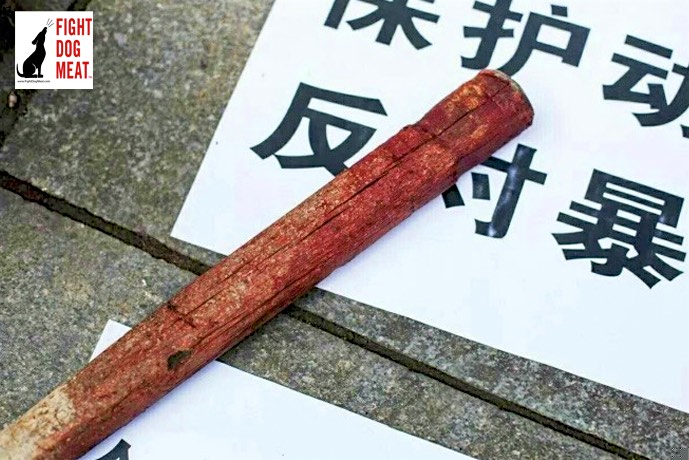 "After all this, media started to distort the facts and make people believe the assistant policeman did nothing wrong. It's like an official message to the public that animal abuse is acceptable."
"I'm not sure about the impact Coke's case is going to make on the grand scheme of things. I just hope it's going to help push the government to establish policies and laws against animal cruelty. We're all feeling miserable after these few days but we're still fighting. Chinese media has managed to turn the whole story upside down now. "
This Morning, January 7:

"Things are getting even worse. Some people have been arrested trying to be a voice for Coke. As much as I want to seek justice for Coke, I must protect my family…" [end of private conversation.]
Video: viewer discretion advised.
Where Is The Dog's Owner?
Waters are becoming muddy in relation to facts about the story of the Golden Retriever. Originally the dog was said to be a girl now it's become a boy.
Story One (the original story):
[Paraphrased:] The dog was taken to the groomers without a collar or leash.
After a few days of vagrancy the dog was sent to a PET SHOP for half a month.
On the day of the dog's death he was picked up by his new owner, the adopter, and left temporarily tied to a rail on the sidewalk pathway.
Over two or three hours the dog rushed out to say hello to several people, including the old man who said he was attacked. The dog was then beaten to death by the assistant officer.
源自麻麻带它去洗澡,忘了带戴犬牌和牵引绳。流浪了几天后被好心人送到宠物医院寄养了半个月,出事那天正好被新主人(领养人)托付朋友领走,后来临时有事便栓在路边隔离墩上暂时离开。大概时隔两三个小时,便发生了一只被拴住的金毛扑人、被"咬"者讹钱、讹钱不成报警、警察到场后残忍虐杀
Story Two (newer story):
The owner took the dog to the groomers and then became busy.
The groomers were closing and the owner was not out of work yet.
The owner sent a friend to collect the dog who tied the dog up to the rail on the sidewalk and went shopping for around three hours.
During that time the dog rushed out to say hello to several people, including the old man who said he was attacked. The dog was then beaten to death by the assistant officer.
Reading the paragraph titled Story Two: I would have thought the owner would have attended local memorials to thank local animal lovers for trying to help her dog. They would have put their arms around her and emotionally supported her. To my knowledge the owner has not surfaced.
Video: not graphic. Memorial for the beaten dogs.
Conclusion
This story continues to escalate. People's emotions are raw and tensions are running high. Fear is now being used as a weapon by the Chinese government to throw the brakes on posts slamming the government and its officers. They will not be intimidated or influenced by emotional animal lovers within China or internationally.
On this website I have received a number of what I perceive as staged comments on my previous two articles about this dog's death. The staged comments have been in support of the officer and the killing of the dog. Some of the comments were polite and some very aggressive and vicious.
Fight Dog Meat will continue to track this story. It was a shocking act of inhumane brutality. Sadly China has no animal protection laws and instead of the assistant officer being charged, he was awarded a medal of honor. Fight Dog Meat sees this an another reason to keep fighting for animal protection laws and fighting to end the dog and cat meat trade.
Fight Dog Meat will continue to bring you reports from dog and cat meat countries and the wonderful work their rescuers are doing despite no animal protection laws. Turning away or sitting quietly does not end the trade. We'll keep exposing what is taking place to these animals. We're helping local volunteers have a louder voice on a world platform. Ultimately it's the voice of the country's own people whom their government will eventually be forced to listen to, for positive change for animals.
Thank you for reading,
Michele Brown
Founder,
Fight Dog Meat.
PLEASE SIGN AND SHARE FIGHT DOG MEAT'S PETITIONS:
AUSTRALIA: Legislate To Make It Illegal To Eat Dog Or Cat Meat In Australia
https://www.thepetitionsite.com/takeaction/401/079/031/
VIETNAM: Stop Dog Meat Abuse
http://www.thepetitionsite.com/818/237/342/vietnam-stop-dog-meat-abuse/
CHINA: Stop Dog Meat Abuse
http://www.thepetitionsite.com/360/473/685/china-stop-dog-meat-abuse/#sign
Please visit our other site:
FACEBOOK: FDM Vietnam Doggie Ranch
(Photo not credited to Fight Dog Meat)
ALL RIGHTS RESERVED
PLEASE CREDIT THE ORGANIZATION WHEN SHARING