Christian faith Frengky is a self professed man of God, active in his bible based Christian church. He's also a dog and cat butcher. Many Indonesians are Muslim and would never harm cats, but as a Christian Frengky's not bound by Islamic laws, which also forbid alcohol.  A number of Indonesian Christian men believe eating dog and cat meat when drinking alcohol helps them "get even more drunk." Pictured wearing the white shirt and hat, Frengky lives in Manado, Sulawesi, Indonesia.
This article is in reference to some Christian faith people living in dog and cat eating countries (not USA, UK, etc;) It shows you more of what we're up against in trying to shut down the trade and bring it to an end (in dog and cat eating countries, not USA, UK, etc;)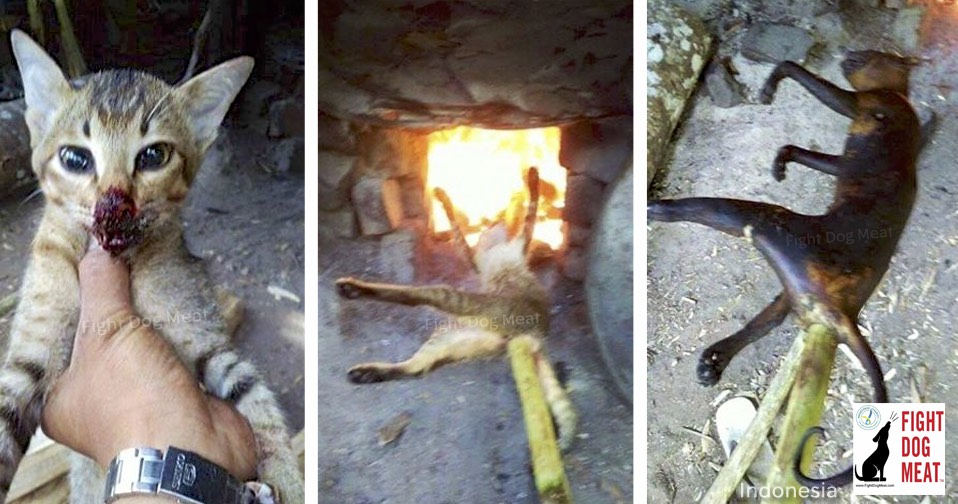 Animal cruelty is rampant in Manado. The huge Sulawesi animal market has become a morbid tourist destination for shock and horror, as dogs and cats fearfully wait their turn for a brutal agonizing death. Tourists snap photos and turn away in giggles of horror. All sorts of animals are killed and displayed at Sulawesi market, including monkeys, rats and more.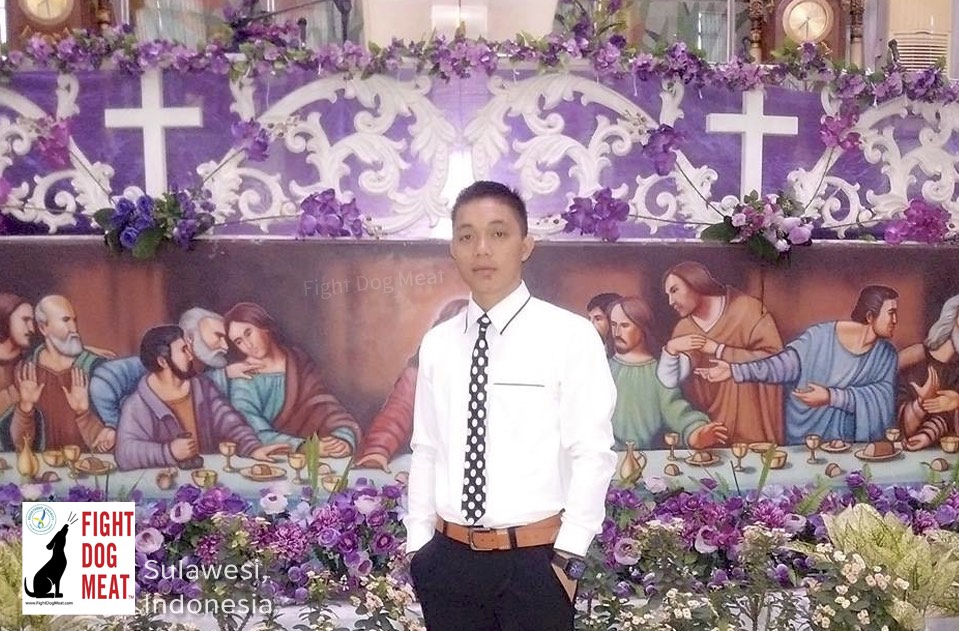 The brutality of Sulawesi's market is mimicked across the Manado community, which has become immune to the suffering of live animals screaming in pain and pleading for a shred of mercy. It is heartbreaking for local animal lovers living in Manado, who feel helpless to stop the ongoing cruelty which surrounds them.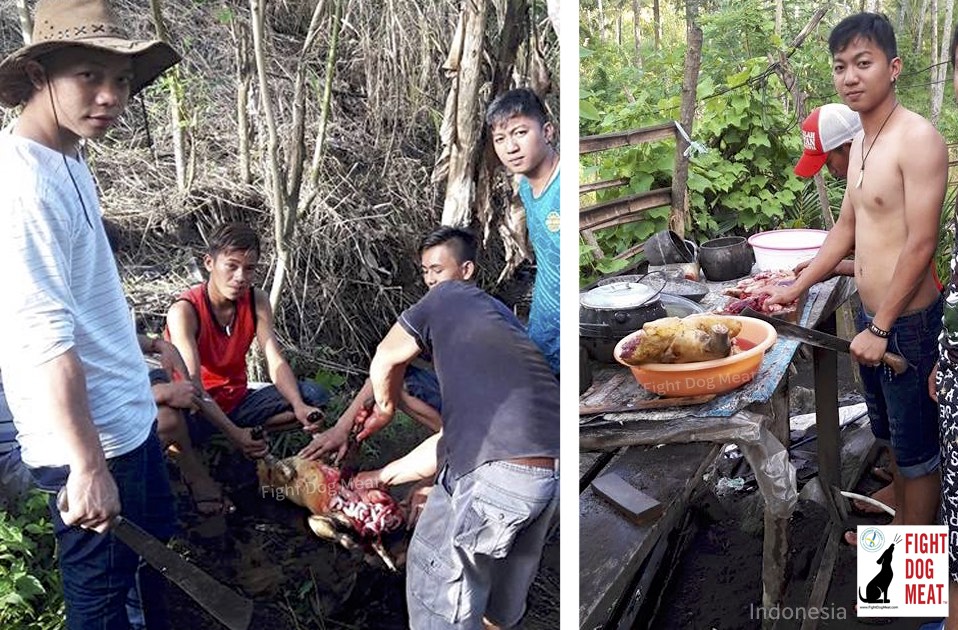 It doesn't stop with dogs and cats, all animals are at risk in Manado. Fengky recently attended a wedding where he took part in the slaughter of a live pig. The live pig was tied upside down to a bamboo pole for hours and paraded around for wedding guests to see. The pig was publicly slaughtered in front of little children, in the most horrific manner that I could barely watch the videos. The hogtied pig was held down and a thin metal skewer slowly pushed into its rib cage, as the pig screamed in gut wrenching agony. Minutes later the writhing pig was still alive and suffering unimaginable agony. Sulawesi wedding guests were thrilled. [Videos below.]
Videos: Christian Wedding Pig, as little children watch on.
viewer discretion advised.
Part 1.
Part 2.
Part 3.
A number of Christian churches across Indonesia promote dog meat by supplying dog meat at church gatherings and events. Some of these Christian churches are lead by westerners who use the lure of providing dog meat meals to bring in parishioners to bible study groups.
Fight Dog Meat will continue to bring you reports from dog and cat meat countries and the wonderful work their rescuers are doing despite no animal protection laws. Turning away or sitting quietly does not end the trade. We'll keep exposing what is taking place to these animals. We're helping local volunteers have a louder voice on a world platform. Ultimately it's the voice of the country's own people whom their government will eventually be forced to listen to, for positive change for animals.
Thank you for reading,
Michele Brown
Founder,
Fight Dog Meat.
PLEASE SIGN AND SHARE FIGHT DOG MEAT'S PETITIONS:
AUSTRALIA: Legislate To Make It Illegal To Eat Dog Or Cat Meat In Australia
https://www.thepetitionsite.com/takeaction/401/079/031/
VIETNAM: Stop Dog Meat Abuse
http://www.thepetitionsite.com/818/237/342/vietnam-stop-dog-meat-abuse/
CHINA: Stop Dog Meat Abuse
http://www.thepetitionsite.com/360/473/685/china-stop-dog-meat-abuse/#sign
Please visit our other site:
FACEBOOK: FDM Vietnam Doggie Ranch
(Photo not credited to Fight Dog Meat)
ALL RIGHTS RESERVED
PLEASE CREDIT THE ORGANIZATION WHEN SHARING