Two Vietnamese animal lovers, Nikki and her friend, attempted to halt a truck loaded with howling live dog meat dogs, heading to a dog slaughterhouse. The ladies phoned quarantine services to report the truck, but officials were not interested, and when they told Nikki the truck was legal, she screamed in emotional pain and the official hung up on her.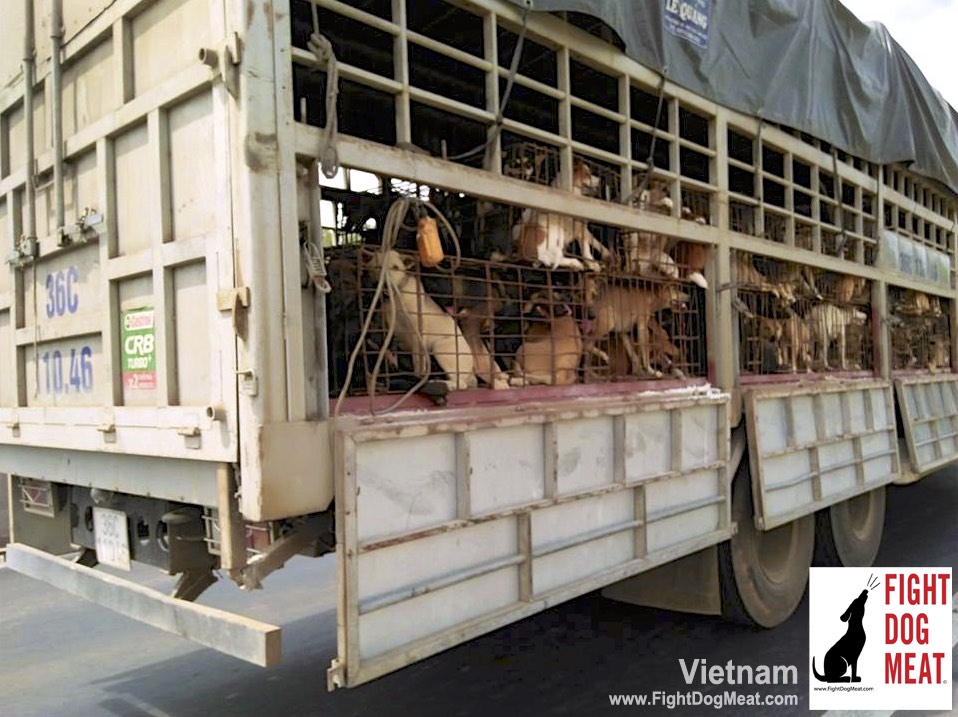 Look carefully at the above photograph, at the white dog on the far left, sitting down. This dog is wearing a house collar and has been someone's loved pet, Tonight many households across Vietnam will be grieving the loss of their loved pet, knowing the cruel fate which awaits him/her. Many pets would be trapped on this truck. People in the Western World will not be used to seeing a truck for this purpose.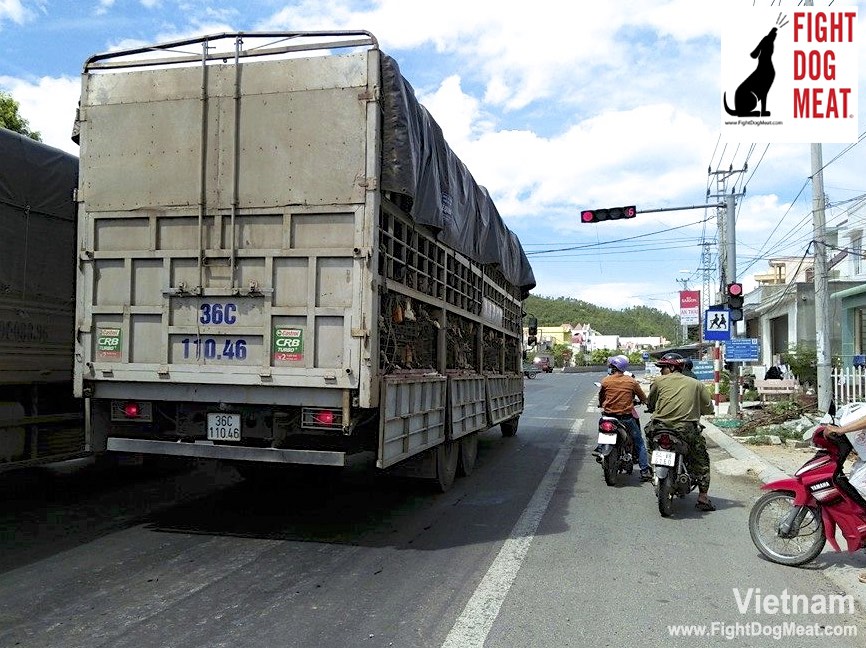 Nikki and her friend were not giving up. Driving along the road following the dog truck, the girl's saw a police car in the distance and decided to flag it down. The local police officers listened to her story and made some brief calls and ruffled some papers, and said the truck is legal. Without properly checking, the officers said the paperwork is correct and warned the ladies off from continuing to pursue the truck and it's cargo of dogs.
Although the ladies didn't succeed in stopping the dogs being transported to a dog slaughterhouse, they did succeed in stopping a police car and raising awareness with the police officers, of the cruelty within Vietnam's dog and cat meat trade. Nikki and her friend's bravery was driven by an inner fear of her own dog being stolen one day, for meat. Looking at the loaded truck of pleading dog meat dogs which she was unable to help, was close to Nikki's worst nightmare. It could only be worse if her own dog was on board the truck.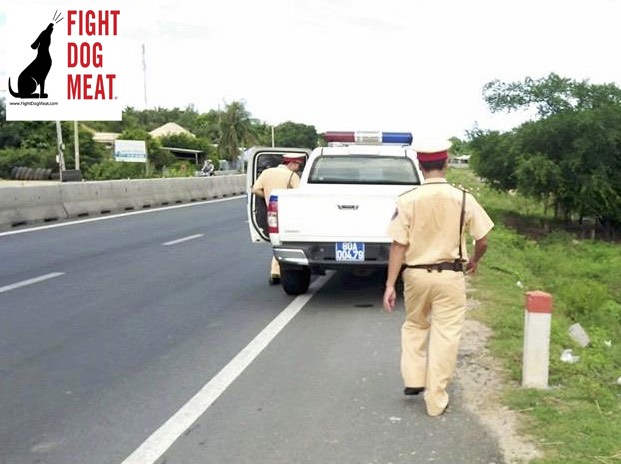 Fight Dog Meat want to send Nikki and her friend a big thank you for their bravery in doing their best to stop the truck and save the dogs on board. We hope more animal lovers will follow suit and this one act could be the start of something big in the future.
Fight Dog Meat will continue to bring you reports from dog and cat meat countries and the wonderful work their rescuers are doing despite no animal protection laws. Turning away or sitting quietly does not end the trade. We'll keep exposing what is taking place to these animals. We're helping local volunteers have a louder voice on a world platform. Ultimately it's the voice of the country's own people whom their government will eventually be forced to listen to, for positive change for animals.
Thank you for reading,
Michele Brown
Founder,
Fight Dog Meat.
Email: contact@fightdogmeat.com
Follow us on Facebook: Fight Dog Meat
Follow our Website: www.FightDogMeat.com
Follow us on You Tube: FDM Campaigns
Follow us on Twitter: @fightdogmeat
Follow us on Instagram: fightdogmeat_dot_com
#fightdogmeat
PLEASE SIGN AND SHARE FIGHT DOG MEAT'S PETITIONS:
AUSTRALIA: Legislate To Make It Illegal To Eat Dog Or Cat Meat In Australia
https://www.thepetitionsite.com/takeaction/401/079/031/
VIETNAM: Stop Dog Meat Abuse
http://www.thepetitionsite.com/818/237/342/vietnam-stop-dog-meat-abuse/
CHINA: Stop Dog Meat Abuse
http://www.thepetitionsite.com/360/473/685/china-stop-dog-meat-abuse/#sign
Please visit our sister site:
FACEBOOK: Rescuer's Heart For Animals
WEBSITE: www.HeartForAnimals.com
FACEBOOK: Love Animals Club
(Photo not credited to Fight Dog Meat)
ALL RIGHTS RESERVED
PLEASE CREDIT THE ORGANIZATION WHEN SHARING