Fight Dog Meat is now in a long term project with a dog and cat shelter in Saigon. We're starting at ground zero. We've just helped secure a lease on the land next to the shelter to give the dogs more room to run around and play. We call the shelter our Lotus Project.
Its a big undertaking for us to transform a crowded shelter of 150+ dogs and cats into a peaceful animal sanctuary. There's sure to be ups and downs but its a worthwhile long term project. We're determined to help make life better for these dogs and cats from the meat trade.
All the dogs and cats will be available for adoption.
Soon they'll be available for sponsors while they wait their turn to be adopted.
Local animal rescuer Mai's been one of our main Fight Dog Meat rescuer's for a long time. We've seen her struggle to keep her shelter going for years. She rescued most of the dogs and cats at her place from the local meat trade. Some were betrayed by their owners and sold to butchers to get rid of them, or thrown to the streets as fodder for dog and cat thieves. We've been meeting with Mai each time we go to Vietnam.
Our dog rehab expert Ali is part of our team. He'll be helping us with special case dogs and available to advise us as needed. Ali's help will be invaluable as we work on turning this situation around. We want smiling dogs and cats, healthy and ready to start their new lives.
We will post regular update articles on our Lotus Project. Really hope you will get involved and get to know the dogs and cats. Each animal at the shelter has a story from their terrible past. We want to make sure their future story has a happy ending.
When the virus situation settles down and international flights are allowed to resume, we'll have two destinations for you to visit in Saigon:
(1) Visit our rehab expert Ali and his team, to spend time with our critical case rescued meat dogs and our dogs being prepared to fly to families abroad.
(2) Visit our Lotus Project shelter and volunteer to spend some time with Mai and the rescued dogs and cats at the shelter.
Phase One: completed.
Phase One was clearing the newly leased land from prickles and vines. Then we fenced and roofed it, to make it dog proof. Its now cleared, fenced and roofed. Inside the fence, the ground surface is about to be concreted; just waiting on the rain to hold off.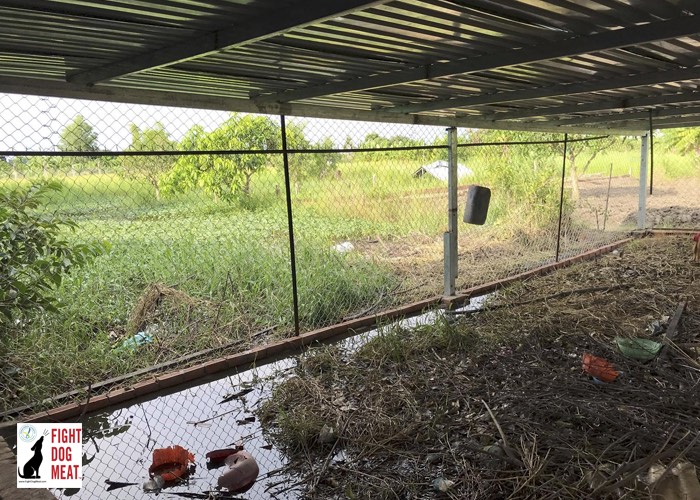 Image (above) shows the new area fenced and roofed; waiting to be concreted. The concreting team are on standby, ready to work as soon as the weather allows.
Meet our team working to make this long term goal a success: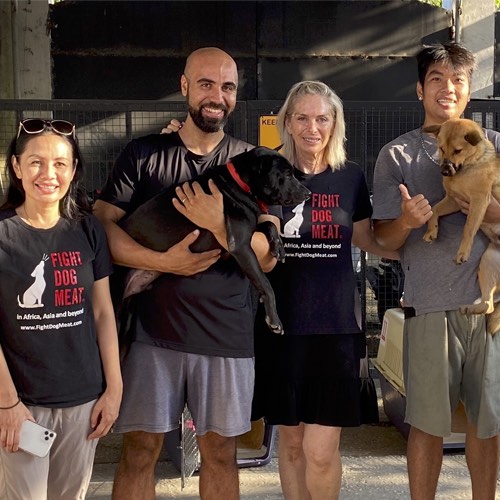 Please join us on this positive journey of transformation.
We're starting the project at ground zero.
There's sure to be some tough days but we're super optimistic of a great outcome.
Its ambitious but I believe with your help we can do it.
Thank you for reading,
Michele Brown
Founder,
Fight Dog Meat
Registered Charity.
Due to Covid-19 flight cancellations Fight Dog Meat has a number of rescued meat dogs and cats in hospital and in rehabilitation in Vietnam. Until international flights start up again we're under great financial strain to maintain our rescued animals. FDM is still accepting critically injured meat dogs; if we don't they will die! Many of our dogs have some of the worst injuries in the meat trade. Please consider helping us during this special time.
Email: contact@fightdogmeat.com
Follow us on Facebook: Fight Dog Meat
Follow our Website: www.FightDogMeat.com
Follow us on You Tube: FDM Campaigns
Follow us on Twitter: @fightdogmeat
Follow us on Instagram: fightdogmeat_dot_com
#fightdogmeat
PLEASE SIGN AND SHARE FIGHT DOG MEAT'S PETITIONS:
AUSTRALIA: Legislate To Make It Illegal To Eat Dog Or Cat Meat In Australia
https://www.thepetitionsite.com/takeaction/401/079/031/
VIETNAM: Stop Dog Meat Abuse
http://www.thepetitionsite.com/818/237/342/vietnam-stop-dog-meat-abuse/
CHINA: Stop Dog Meat Abuse
http://www.thepetitionsite.com/360/473/685/china-stop-dog-meat-abuse/#sign
Please visit our sister site:
FACEBOOK: Rescuer's Heart For Animals
WEBSITE: www.HeartForAnimals.com
FACEBOOK: Love Animals Club
(Photo not credited to Fight Dog Meat)
ALL RIGHTS RESERVED
PLEASE CREDIT THE ORGANIZATION WHEN SHARING