Christmas Day
On December 25 please pause for a moment and consider the unknown thousands of dogs and cats brutally slaughtered across Vietnam for Christmas celebrations.

Every year I publish an article about Christmas dog and cat meat in Vietnam. It results in messages of abuse directed at myself for putting the words Christianity and dog meat in the same sentence. Many of these people are the same people who weep over China's Yulin festival. I make no apologies for publishing yet another Christmas article on this subject.
Vietnamese animal lovers weep at Christmas, knowing the suffering their animals are going through. Each year Vietnamese animal lovers see the outpouring of grief from around the world for China's Yulin festival*, but are met with silence for the unknown thousands of Vietnamese dogs and cats slaughtered each year in connection to Christmas. Per ratio per population Vietnam has the largest dog meat trade and the largest cat meat trade. Vietnam's animals deserve a voice!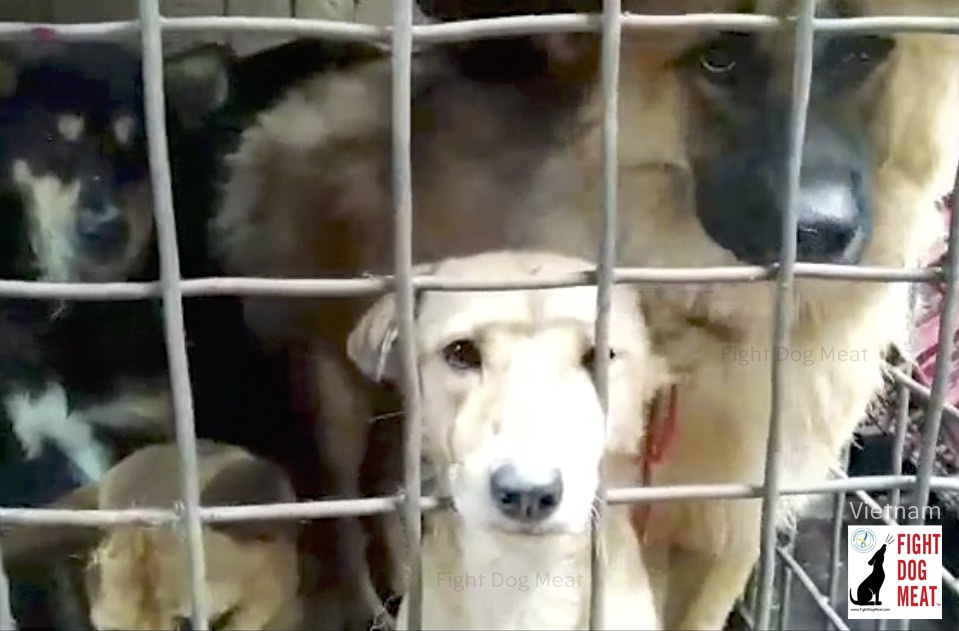 Over 5 million dogs and over 2 million cats are brutally slaughtered for meat each year in Vietnam. Christmas is the busiest time of the year for Vietnamese dog butchers and cat butchers. Christian churches of all denominations order bulk amounts of dog meat and cat meat as party food for their religious functions. According to dog and cat butchers, Christians are the main customers for dog and cat meat at this time of year. The two main religions in Vietnam are Buddhism and Christianity. Buddhists are vegetarian and do not eat any meat at all. International tourists continue to fuel Vietnam's dog and cat meat trade by eating it under the pathetic mantra "when in Rome."
Many international tourists eating dog and cat meat have pets waiting for them back home. They justify it by saying its "exotic" to eat dogs and cats when traveling in Vietnam. Its disheartening to Vietnamese animal lovers who are forced to witness western and European tourists in a hurry to buy dog meat and cat meat. Laughing tourists often video themselves eating it and recommend it to their friends back home. There are no dog farms in Vietnam so they probably just ate someone's loved pet.
Video: viewer discretion advised. Inside a slaughterhouse, where a Vietnamese rescuer arrived to save the dogs.
Video: viewer discretion advised. Inside the same slaughterhouse where a Vietnamese rescuer arrived to save the dogs.
Overnight the 46 dogs in these videos were rescued from inside the slaughterhouse by wonderful Vietnamese rescuer Quyen. The dogs will live in safety at Quyen's Farm Sanctuary on the outskirts of Saigon. Quyen has over 100 dogs and hundreds of cats; all rescued from butchers. She has the ONLY true "Farm Sanctuary" in Vietnam, with rescued pigs, goats, rabbits and assorted bird life.
Fight Dog Meat has been helping Quyen for a long time. In the new year we look forward to helping her dogs and cats finding new homes abroad when we commence international adoptions for her animals. If you would like to help, please click on this link: Donate.
Video: 46 saved dogs in the rescuer's truck. The dogs will live at her shelter. These are the same dogs as the previous two videos, above.
Update to article:
December 24, 2018: Day Before Xmas
Busiest day of the year for dog butchers and dog meat vendors, to fill the demand for Christians wanting dog meat for Christmas dinner and Christian religious celebrations and gatherings. A Vietnamese animal lover said: "Noel. Its a bad day for innocent dogs and cats."
Video: viewer discretion advised. Dog meat seller selling dogs to dog meat vendors.
Read More On Vietnam's Christmas Dog And Cat Meat:
Vietnam: Cat Meat For Christmas In Vietnam
https://fightdogmeat.com/2016/12/21/christian-churches-endorse-dog-meat-for-christmas/
Fight Dog Meat will continue to bring you reports from dog and cat meat countries and the wonderful work their rescuers are doing despite no animal protection laws. Turning away or sitting quietly does not end the trade. We'll keep exposing what is taking place to these animals. We're helping local volunteers have a louder voice on a world platform. Ultimately it's the voice of the country's own people whom their government will eventually be forced to listen to, for positive change for animals.
Thank you for reading,
Michele Brown
Founder,
Fight Dog Meat.
PLEASE SIGN AND SHARE FIGHT DOG MEAT'S PETITIONS:
AUSTRALIA: Legislate To Make It Illegal To Eat Dog Or Cat Meat In Australia
https://www.thepetitionsite.com/takeaction/401/079/031/
VIETNAM: Stop Dog Meat Abuse
http://www.thepetitionsite.com/818/237/342/vietnam-stop-dog-meat-abuse/
CHINA: Stop Dog Meat Abuse
http://www.thepetitionsite.com/360/473/685/china-stop-dog-meat-abuse/#sign
Please visit our other site:
FACEBOOK: FDM Vietnam Doggie Ranch
(Photo not credited to Fight Dog Meat)
ALL RIGHTS RESERVED
PLEASE CREDIT THE ORGANIZATION WHEN SHARING