This dog would be in pain. He's wrapped tightly in heavy chain with his mouth bound tightly shut. His front legs are wrenched backward and tied across his spine! This maneuver is incredibly cruel and inhumane. In another step of cruelty the wrenched front legs are used as carry handles to carry the dog from the motorbike to inside the slaughterhouse.
Imagine the pain searing across the dog's neck and spine, with his entire body weight suspended by the heavy chain tied around him looping onto the motorbike. This is incredibly cruel. The dog's hind legs would also be trussed and tied.
This poor dog is a 'vegetable dog.' Vegetable dogs are treated as a vegetable, forced to survive on a heavy short chain with no shelter from blistering sun or driving rain. This dog would have never known kindness. He would have had food thrown at him and water supplied.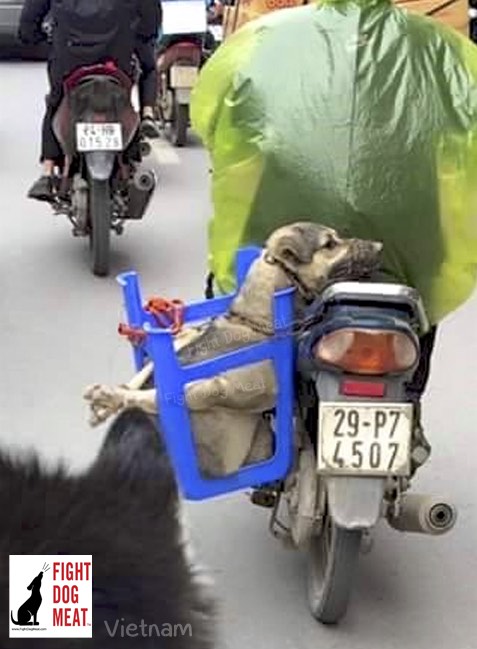 I have witnessed Vietnamese vegetable dogs with my own eyes and they're truly pitiful. They live in fear and anguish, hunger and gut wrenching loneliness. They never get to run or play. They never know a kind word or a warm touch from a human being. Their mind becomes broken and eyes haunted. Death becomes a welcome stranger.
The local animal lover who took the photos while driving their motorbike was left very distressed and saddened. Out of all the hideous things in the dog meat trade, wrenching a dog's front legs backwards and tying them across the spine is one of the things I find very distressing about the dog and cat meat trade.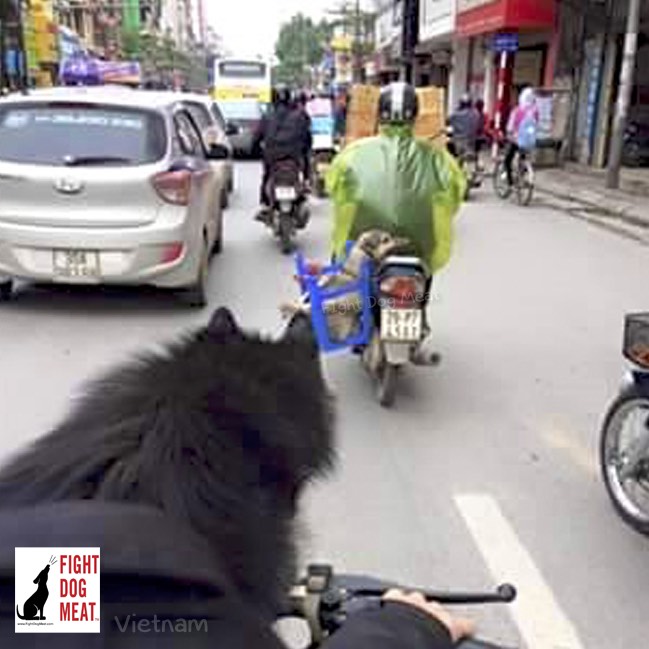 It is not illegal to treat your own animals with gross cruelty in Vietnam. There are no animal protection laws so therefore no accountability is enforced.
Fight Dog Meat will continue to bring you reports from dog and cat meat countries and the wonderful work their rescuers are doing despite no animal protection laws. Turning away or sitting quietly does not end the trade. We'll keep exposing what is taking place to these animals. We're helping local volunteers have a louder voice on a world platform. Ultimately it's the voice of the country's own people whom their government will eventually be forced to listen to, for positive change for animals.
Thank you for reading,
Michele Brown
Founder,
Fight Dog Meat.
Email: contact@fightdogmeat.com
Follow us on Facebook: Fight Dog Meat
Follow our Website: www.FightDogMeat.com
Follow us on You Tube: FDM Campaigns
Follow us on Twitter: @fightdogmeat
Follow us on Instagram: fightdogmeat_dot_com
#fightdogmeat
PLEASE SIGN AND SHARE FIGHT DOG MEAT'S PETITIONS:
AUSTRALIA: Legislate To Make It Illegal To Eat Dog Or Cat Meat In Australia
https://www.thepetitionsite.com/takeaction/401/079/031/
VIETNAM: Stop Dog Meat Abuse
http://www.thepetitionsite.com/818/237/342/vietnam-stop-dog-meat-abuse/
CHINA: Stop Dog Meat Abuse
http://www.thepetitionsite.com/360/473/685/china-stop-dog-meat-abuse/#sign
Please visit our sister site:
FACEBOOK: Rescuer's Heart For Animals
WEBSITE: www.HeartForAnimals.com
FACEBOOK: Love Animals Club
(Photo not credited to Fight Dog Meat)
ALL RIGHTS RESERVED
PLEASE CREDIT THE ORGANIZATION WHEN SHARING