Dog meat is sold across Vietnam with dog paws as snack food. Its mostly eaten by chauvinist men who falsely believe it increases their libido. Speaking directly with dog eaters in the past, I've been told by some that only men can handle the powerful effects of eating dog meat. Completely ridiculous! Dog meat has NO supernatural powers to increase libido or fix any medical problems.
Dog and cat paws and tails are seen as snack food, the same way westerners eat chicken wings. Sometimes the paws are fried to make them crunchy; especially cat paws which are smaller.
The butcher who slaughtered the dogs for the dog meat in these photos has been teaching his young daughter the family business. She's no doubt been exposed to shocking animal cruelty since she was born. If a western or European child saw what some of these Vietnamese children have to see, they'd probably have a breakdown.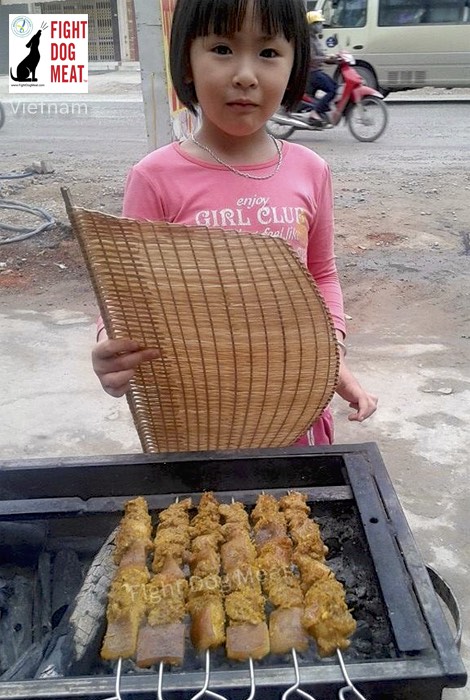 Cooked dog intestines are popular among dog eaters. The cooked intestines look even worse in real life! Every time I see them I feel a moment of revulsion go through me. It is hideous seeing intestines plated up and proudly displayed in shop windows, ready to be bought and eaten.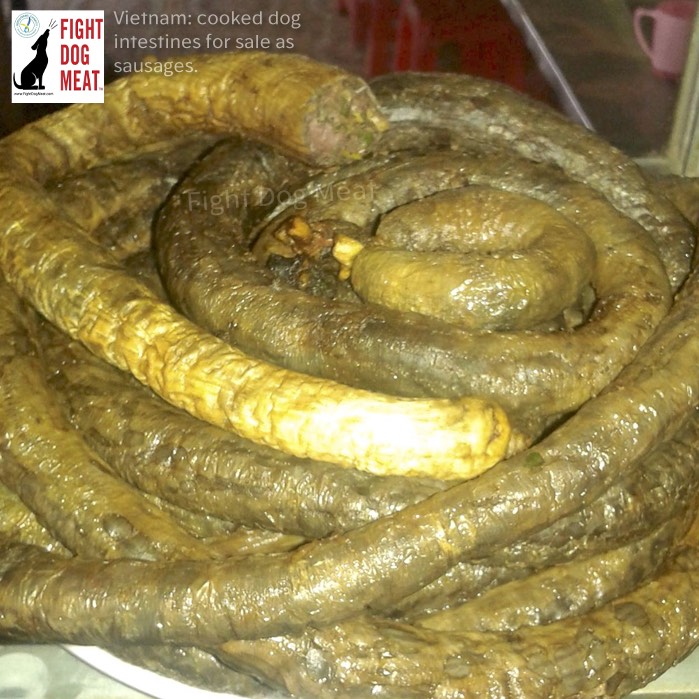 If only Vietnam would bring in animal protection laws dog and cat slaughterhouses would be out of business.
Read more: Vietnam: Shut The Trade Down Vs Regulating It.
Fight Dog Meat will continue to bring you reports from dog and cat meat countries and the wonderful work their rescuers are doing despite no animal protection laws. Turning away or sitting quietly does not end the trade. We'll keep exposing what is taking place to these animals. We're helping local volunteers have a louder voice on a world platform. Ultimately it's the voice of the country's own people whom their government will eventually be forced to listen to, for positive change for animals..
Thank you for reading,
Michele Brown
Founder,
Fight Dog Meat.
PLEASE SIGN AND SHARE FIGHT DOG MEAT'S PETITIONS:
AUSTRALIA: Legislate To Make It Illegal To Eat Dog Or Cat Meat In Australia
https://www.thepetitionsite.com/takeaction/401/079/031/
VIETNAM: Stop Dog Meat Abuse
http://www.thepetitionsite.com/818/237/342/vietnam-stop-dog-meat-abuse/
CHINA: Stop Dog Meat Abuse
http://www.thepetitionsite.com/360/473/685/china-stop-dog-meat-abuse/#sign
Please visit our other site:
FACEBOOK: FDM Vietnam Doggie Ranch
(Photo not credited to Fight Dog Meat)
ALL RIGHTS RESERVED
PLEASE CREDIT THE ORGANIZATION WHEN SHARING