Dog thieves in Thanh Hoa were caught red handed poisoning dogs and cats. The man and woman were arrested by Thanh Hoa Police after stealing and killing 21 dogs and 9 cats. A lot of the dogs were pregnant females and a number of dogs were wearing house collars. Some of the poisoned dogs were puppies, murdered alongside their mothers. The thieves tried to conceal the animals by stuffing them into large sacks on their motorbikes.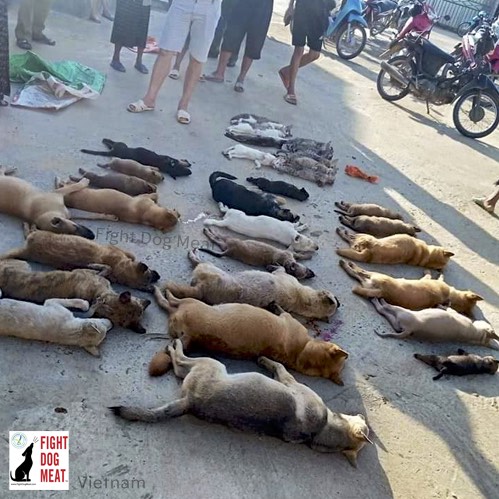 The man and woman admitted to using poisonous baits to kill as many dogs and cats as possible, to sell the carcasses for dog and cat meat. Thanh Hoa is located out of Hanoi.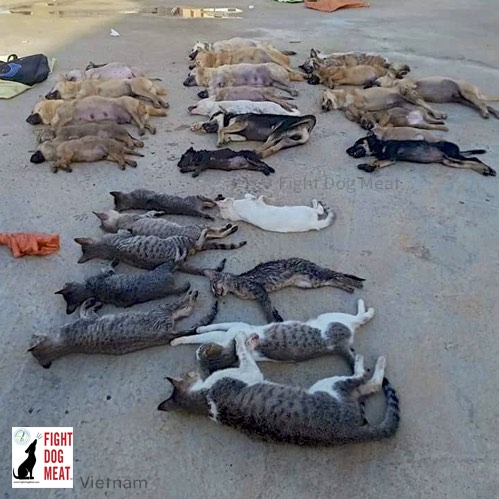 More information on this case will become available to the public when police go to court to prosecute the two dog and cat thieves.
Fight Dog Meat will continue to bring you reports from dog and cat meat countries and the wonderful work their rescuers are doing despite no animal protection laws. Turning away or sitting quietly does not end the trade. We'll keep exposing what is taking place to these animals. We're helping local volunteers have a louder voice on a world platform. Ultimately it's the voice of the country's own people whom their government will eventually be forced to listen to, for positive change for animals.
Thank you for reading,
Michele Brown
Founder,
Fight Dog Meat.
PLEASE SIGN AND SHARE FIGHT DOG MEAT'S PETITIONS:
AUSTRALIA: Legislate To Make It Illegal To Eat Dog Or Cat Meat In Australia
https://www.thepetitionsite.com/takeaction/401/079/031/
VIETNAM: Stop Dog Meat Abuse
http://www.thepetitionsite.com/818/237/342/vietnam-stop-dog-meat-abuse/
CHINA: Stop Dog Meat Abuse
http://www.thepetitionsite.com/360/473/685/china-stop-dog-meat-abuse/#sign
Please visit our other site:
FACEBOOK: FDM Vietnam Doggie Ranch
(Photo not credited to Fight Dog Meat)
ALL RIGHTS RESERVED
PLEASE CREDIT THE ORGANIZATION WHEN SHARING