This is a remarkable story between a man and a dog. Last month I sat down with Dr. Nghia and his famous machete dog known as Nau. In 2018 Dr. Nghia stunned specialist vet surgeons around the world when he successfully reconstructed the dog's face after it was sliced into two after being struck in the head by a man with a machete.
January 2018
A dog had been hacked in the head with a machete, slicing his face down the middle from his eye, down his snout and right through his nose. The dog wandered the streets for around five days, as infection set into the critical injury. We cannot begin to imagine the blinding pain this dog was forced to endure as he staggered through each day and night, with no pain relief and no help.
The rescuer said the dog ate two plates of rice, but with great difficulty because it's jaws were sliced in half down the middle and infection has set into the entire wound area. The dog survived by some sipping water each day, but was very weak and malnourished.
Video: the day the dog was saved.
The dog was in critical distress when he was rescued by Vietnamese husband and wife Hoang Nhon and his wife Truc Linh Vo. The attack took place in Xuyen Moc – Ba Ria Vung Tau, a rural province out of Saigon.

The husband drove 50 kms to Vung Tau to take the dog to the nearest vet clinic for the wound to be disinfected. Due to the gravity of the injury the man then drove the dog another 100kms to bring the dog to Dr. Nghia, at his Saigon Pet Veterinary Hospital.
Surgery For The Dog
Dr. Nghia is an internationally trained vet surgeon. After the dog arrived at his hospital he immediately he consulted with his international  team of five specialist surgeon colleagues based in London, France and America. They each felt the surgery was impossible for the dog to have a good outcome.

After lengthy consultations with his colleagues, Dr. Nghia told me he sat down with a pen and paper and painstakingly drew out each part of the surgery on paper. He then took the critically injured dog into surgery.
Dr. Nghia successfully reconstructed the dog's face!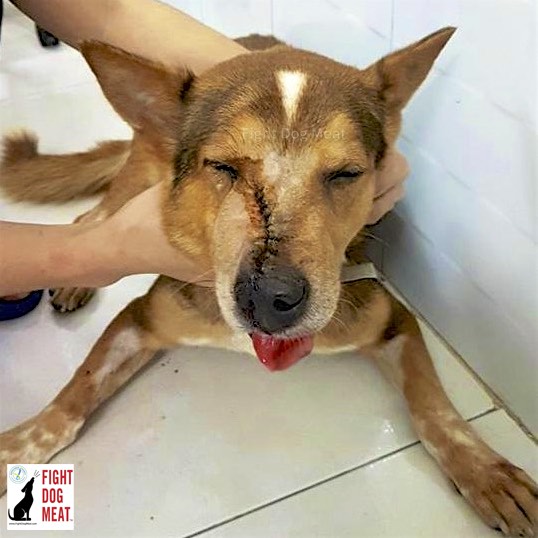 Something Magical Happened After Surgery
From the time the dog arrived at the hospital he was clearly depressed. After surgery he remained depressed. By now the dog had been named Nau. As his healing progressed it was hoped he would be adopted into a loving family. But Nau had other plans!
Nau had no intention of being adopted and bit everyone who thought about adopting him. The only time Nau's eyes lit up and he smiled was when he saw Dr. Nghia. It quickly became evident he would only let Dr. Nghia be close to him. When he was with Dr. Nghia he laughed and was an affectionate normal dog.
Dr. Nghia fell in love with Nau the same time Nau fell in love with Dr. Nghia. To everyone's delight Dr. Nghia adopted Nau and they've remained inseparable. Nau goes to work every day with Dr. Nghia. Nothing has changed. Nau only allows Dr. Nghia to cuddle him. He'll bite anyone else who tries. A truly remarkable love story.
Video: happy and healthy machete dog Nau, who I videoed last month.
The man behind the remarkable surgery: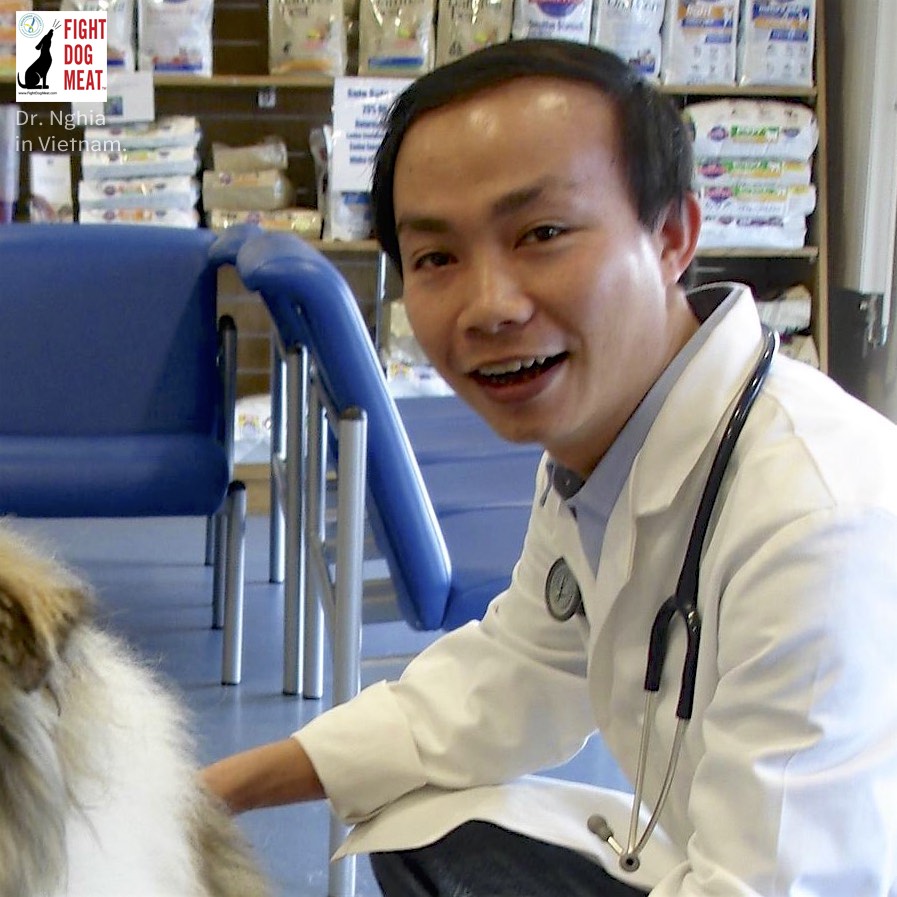 Vietnamese vet surgeon Dr. Nghia dedicated to helping Vietnam's animals. As well as his passion for complicated life saving surgery, he also has a keen desire to help educate local animal lovers learn to better care for their animals and be responsible pet owners. Dr Nghia is the vet for our Fight Dog Meat dogs and cats. Thank you Dr. Nghia for all you're doing!
Fight Dog Meat will continue to bring you reports from dog and cat meat countries and the wonderful work their rescuers are doing despite no animal protection laws. Turning away or sitting quietly does not end the trade. We'll keep exposing what is taking place to these animals. We're helping local volunteers have a louder voice on a world platform. Ultimately it's the voice of the country's own people whom their government will eventually be forced to listen to, for positive change for animals.
Thank you for reading,
Michele Brown
Founder,
Fight Dog Meat.
PLEASE SIGN AND SHARE FIGHT DOG MEAT'S PETITIONS:
AUSTRALIA: Legislate To Make It Illegal To Eat Dog Or Cat Meat In Australia
https://www.thepetitionsite.com/takeaction/401/079/031/
VIETNAM: Stop Dog Meat Abuse
http://www.thepetitionsite.com/818/237/342/vietnam-stop-dog-meat-abuse/
CHINA: Stop Dog Meat Abuse
http://www.thepetitionsite.com/360/473/685/china-stop-dog-meat-abuse/#sign
Please visit our other site:
FACEBOOK: FDM Vietnam Doggie Ranch
(Photo not credited to Fight Dog Meat)
ALL RIGHTS RESERVED
PLEASE CREDIT THE ORGANIZATION WHEN SHARING