On New Years Eve a terrified black dog with her mouth bound tightly shut, who had escaped from a dog butcher, was finally captured after two weeks of dodging rescuers. Known as NewYear, the skin on the dog's mouth had rotted and disintegrated.
Members of the Saigon Animal Rescue group knew it was a race against time as they immediately transported the terrified and critically injured dog to the Petpro Animal Clinic in Saigon, where she is still in treatment.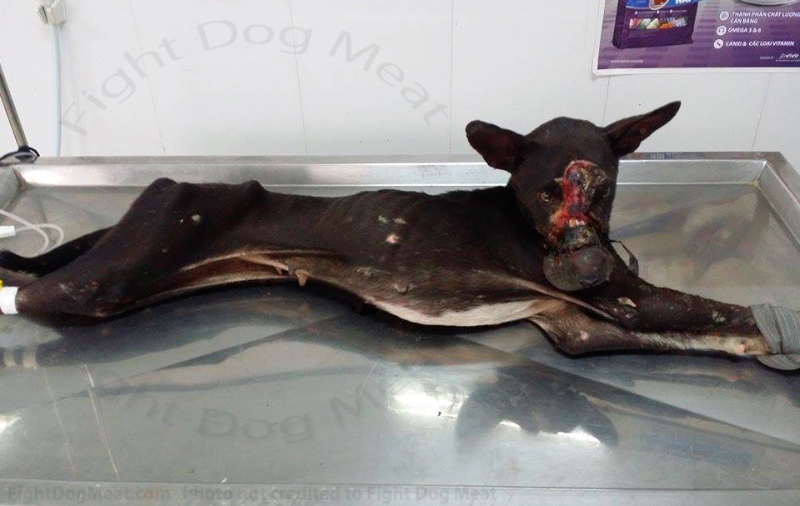 She has lost all the flesh and muscle from her mouth, upper and lower jaws, plus her face, up into her forehead. She was critically dehydrated and had numerous infections raging in her frail body. She had not eaten for at least two weeks and was reduced to a skeleton.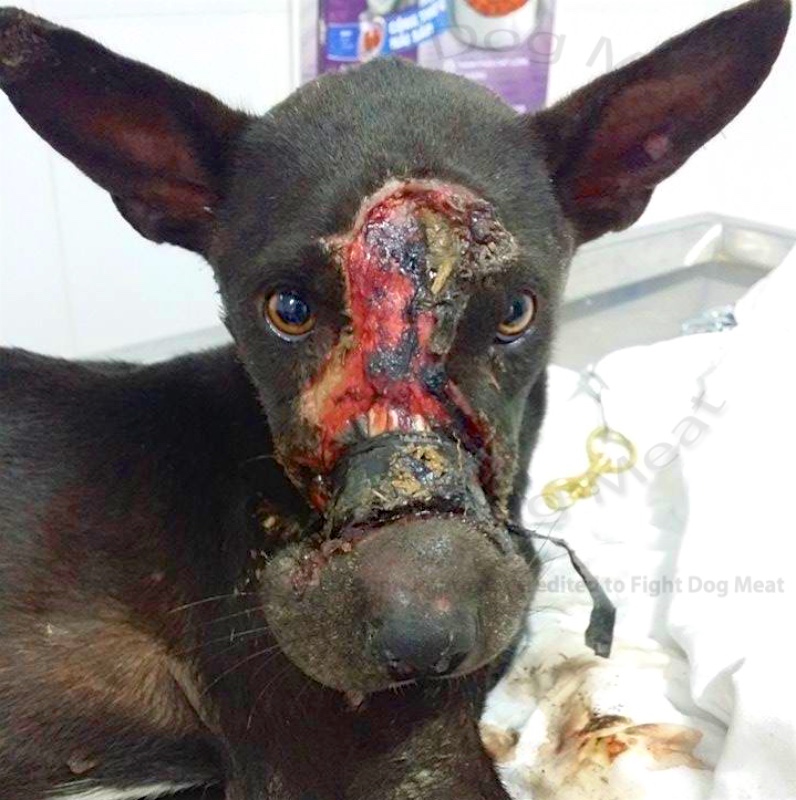 You can see the terror in her eyes. This dog had already escaped a dog butcher once so she probably thought she was about to be killed – she didn't know she had been rescued. NewYear was a street dog, who has probably never known a kind word or a warm pat from a human being.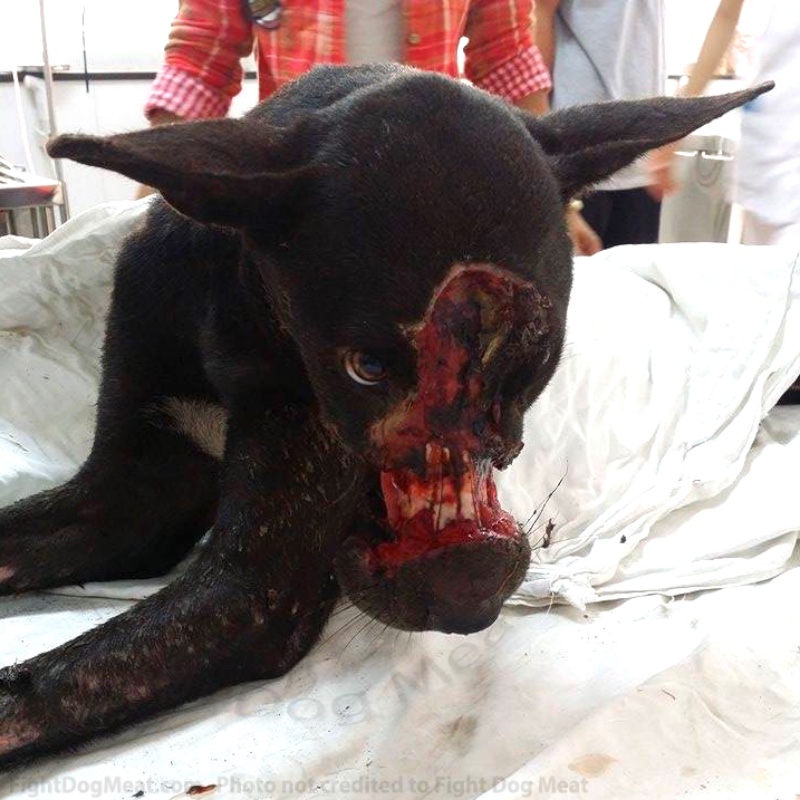 NewYear is petrified of humans, but the animal rescue group who rescued her are making sure she is receiving love and comfort. Vet's fitted NewYear's facial wound with medical gauze, to give it some protection. However, the gauze has to be changed very regularly to monitor infections. At this point she was still surprisingly bright and strong.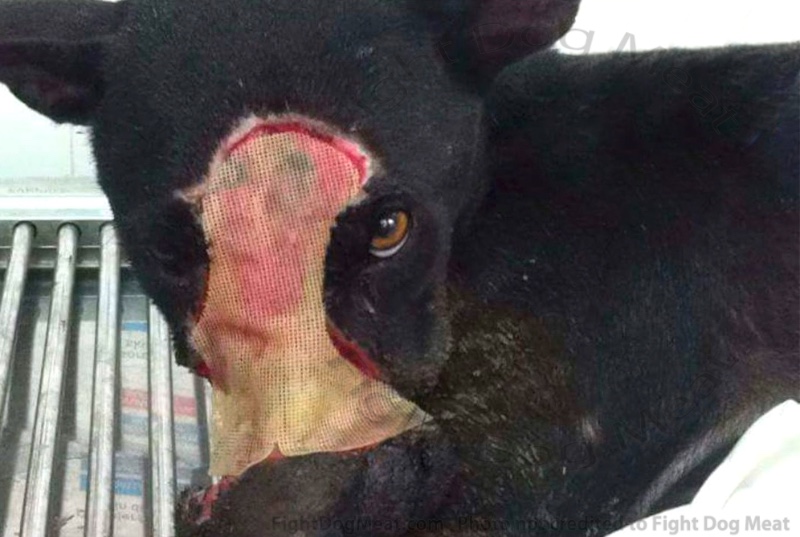 Yesterday, January 3, 2016
NewYear was making remarkable progress up until yesterday, when she took a grave turn for the worse. She quickly became weak and semi-unresponsive. Her rescuer's were told to brace themselves and expect the worst, by the treating vet.
NewYear is battling infections and has been unable to eat since being rescued. It was unknown if she would even live through the night. But then another miracle seemed to take place.
Today, January 4, 2016
Good news!
This morning NewYear appears brighter and stronger again!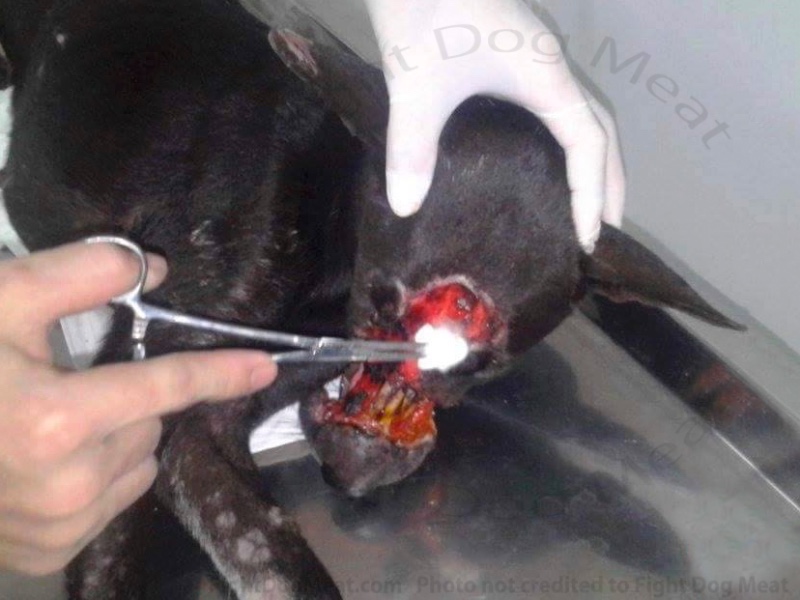 The above and below photographs are from NewYear's treatment this morning, which is remarkable because she was not expected to live though the night. Fight Dog Meat are in direct contact with NewYear's rescuers and will continue to bring you her latest updates. She still in critical condition and has a long way to go before being considered stable.
Fight Dog Meat will continue to bring you reports from dog and cat meat countries and the wonderful work their rescuers are doing despite no animal protection laws. Turning away or sitting quietly does not end the trade. We'll keep exposing what is taking place to these animals. We're helping local volunteers have a louder voice on a world platform. Ultimately it's the voice of the country's own people whom their government will eventually be forced to listen to, for positive change for animals.
Thank you for reading,
Michele Brown
Founder,
Fight Dog Meat.
Email: contact@fightdogmeat.com
Follow us on Facebook: Fight Dog Meat
Follow our Website: www.FightDogMeat.com
Follow us on You Tube: FDM Campaigns
Follow us on Twitter: @fightdogmeat
Follow us on Instagram: fightdogmeat_dot_com
#fightdogmeat
PLEASE SIGN AND SHARE FIGHT DOG MEAT'S PETITIONS:
AUSTRALIA: Legislate To Make It Illegal To Eat Dog Or Cat Meat In Australia
https://www.thepetitionsite.com/takeaction/401/079/031/
VIETNAM: Stop Dog Meat Abuse
http://www.thepetitionsite.com/818/237/342/vietnam-stop-dog-meat-abuse/
CHINA: Stop Dog Meat Abuse
http://www.thepetitionsite.com/360/473/685/china-stop-dog-meat-abuse/#sign
Please visit our sister site:
FACEBOOK: Rescuer's Heart For Animals
WEBSITE: www.HeartForAnimals.com
FACEBOOK: Love Animals Club
(Photo not credited to Fight Dog Meat)
ALL RIGHTS RESERVED
PLEASE CREDIT THE ORGANIZATION WHEN SHARING