Mina the dog is a victim of an owner with no understanding of training or owning dogs. Despite strong efforts to have Mina internationally adopted, it was believed she would have been returned to the woman who owns her. The facts of Mina's story are horrifying and totally unacceptable. It's the owner's responsibility that Mina was untrained and unruly, and not the dog's fault.
Three year old Mina was allowed to roam around, annoy the neighbors and chase their chickens and ducks. When neighbors would run at Mina for killing their birds, she started biting some of them. Furious neighbors told her owner they would kill Mina if they got hold of her.
To stop Mina biting people and to stop neighbors threatening to slash her with a knife or beat her to death for killing their birds, Mina's owner decided the next day she would cut her dog's leg off. [See video below. ]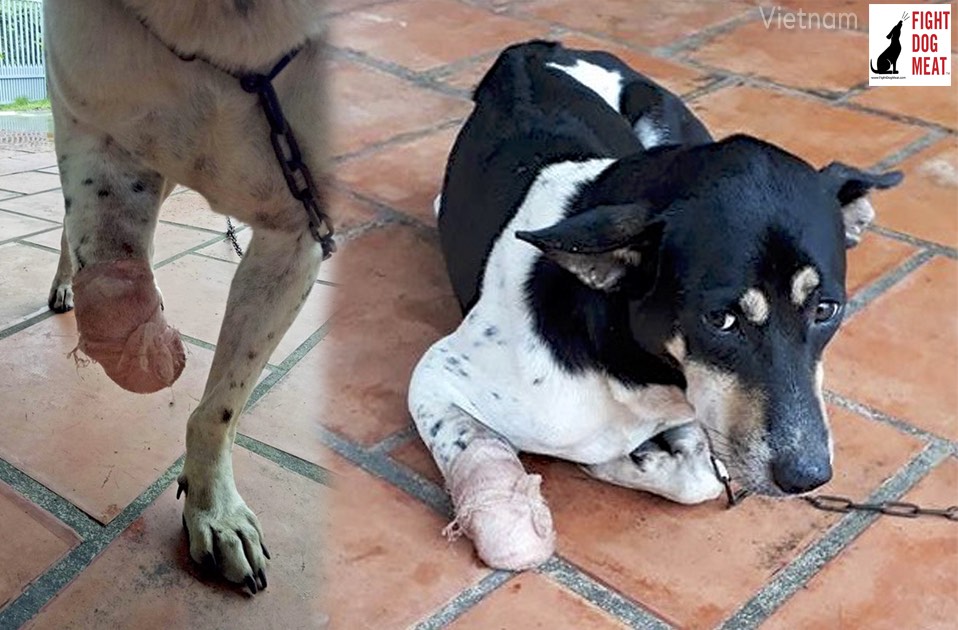 There are no animal protection laws in Vietnam so nothing governs this type of calculated brutality, as long as you own the animal. Under no circumstances should aggressive violence be used on any animal. If the dog was acting badly perhaps the woman should have cut her own leg off as a punishment to herself for irresponsible ownership.
Today Mina had surgery on her hacked off leg by a local vet. She'll be crippled for the rest of her life. Hacking off the dog's leg was a cruel calculated act of brutality by a woman who in my opinion, should not be rewarded by having the dog returned to her. [Note: this was a failed surgery which brought more pain and suffering to the dog. Infection had already set in and the first surgery was not comprehensive in dealing with the injury. At this stage the owner was still refusing for Mina to be allowed to travel to Saigon for life saving surgery!]
The woman may have put a bandage on the dog's hacked leg, but Mina suffered for three days without pain relief. Some local people are saying Mina should be returned to her owner 'because the owner loves the dog, otherwise she wouldn't still be alive.'
Video Warning: Graphic Content:
I hope someone will take the time to educate Mina's owner about the correct way to look after a dog; to treat it with love and respect, as a "someone" and not a 'something.'
Previous update videos:
September 23, 2017: video not graphic. Mina in Saigon, about to go in for her second surgery, with an international vet. The surgery was successful and Mina's leg was amputated at her shoulder, due to infection.
October 26, 2018: video not graphic. Mina's original owner arrived to visit Mina. The dog did not want to be around her old owner!
November 1, 2017:
Mina doing well at the rescue shelter, where she now lives.

Update On Mina's Situation
March 29, 2018: Mina the dog is still living with her rescuers at their animal rescue shelter in Kien Giang.
Mina is loved at the shelter and has many friends; human friends and dog friends. She has NOT been returned to her original owner, and will not be going back to her. This information was confirmed today, March 29, 2018, by Mina's rescuers who look after her every day. Anything contrary to this is misinformation.
Mina is not for sale and although there have been many offers of international adoption from Fight Dog meat supporters, Mina will be staying in Vietnam. These days she is a happy dog surrounded by buddies.
September 2019
Video: Mina at the shelter, September 10, 2019.
Mina's Update: 1st June, 2020
Mina continues to do live a good life at the Kien Giang shelter of her rescuers. She's surrounded by her closest dog friends, and her rescuers who love and cuddle her each day.
Mina will live out her life at this shelter, surrounded by people and dogs who all love her. She will "not" be returned to her original owner.
Fight Dog Meat will continue to bring you reports from dog and cat meat countries and the wonderful work their rescuers are doing despite no animal protection laws. Turning away or sitting quietly does not end the trade. We'll keep exposing what is taking place to these animals. We're helping local volunteers have a louder voice on a world platform. Ultimately it's the voice of the country's own people whom their government will eventually be forced to listen to, for positive change for animals.
Thank you for reading,
Michele Brown
Founder,
Fight Dog Meat.
Email: contact@fightdogmeat.com
Follow us on Facebook: Fight Dog Meat
Follow our Website: www.FightDogMeat.com
Follow us on You Tube: FDM Campaigns
Follow us on Twitter: @fightdogmeat
Follow us on Instagram: fightdogmeat_dot_com
#fightdogmeat
PLEASE SIGN AND SHARE FIGHT DOG MEAT'S PETITIONS:
AUSTRALIA: Legislate To Make It Illegal To Eat Dog Or Cat Meat In Australia
https://www.thepetitionsite.com/takeaction/401/079/031/
VIETNAM: Stop Dog Meat Abuse
http://www.thepetitionsite.com/818/237/342/vietnam-stop-dog-meat-abuse/
CHINA: Stop Dog Meat Abuse
http://www.thepetitionsite.com/360/473/685/china-stop-dog-meat-abuse/#sign
Please visit our sister site:
FACEBOOK: Rescuer's Heart For Animals
WEBSITE: www.HeartForAnimals.com
FACEBOOK: Love Animals Club
(Photo not credited to Fight Dog Meat)
ALL RIGHTS RESERVED
PLEASE CREDIT THE ORGANIZATION WHEN SHARING