Vietnamese woman Ngân Cúnn enjoys eating dog meat and recommends other people should eat it as well. She's recently come under the angry glare of Vietnamese animal lovers who let her know what they think of her taste for dog meat.
22 year old Ngân Cúnn had a number of dog meat photographs on her Facebook page, which has over 14,000 followers, but yesterday she removed photos after pressure from angry Vietnamese animal lovers.
At a time when many younger Vietnamese people are tuning away from dog and cat meat, its a shame people like Ngân Cúnn are still openly promoting eating dogs and cats.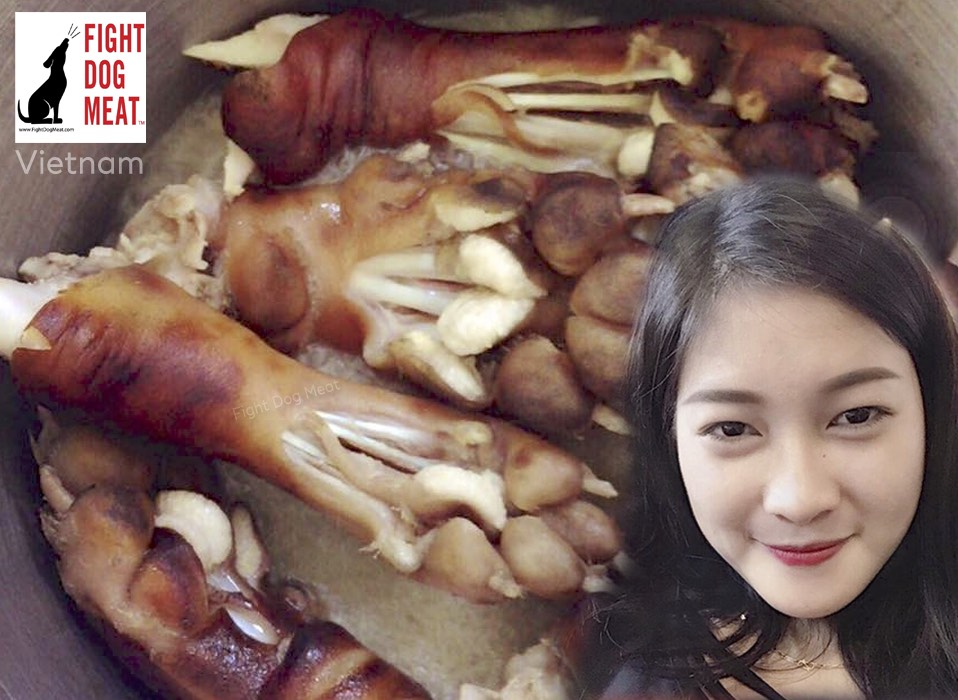 Two examples of her descriptions attached to her dog meat photos:
The range is craving to be hốc oh it's so happy to know.
Original text:
Cái tầm đang thèm mà được hốc ôi nó sung sướng biết bảo ????
Month miss soul is real ????????
Eat dogs are also guilty people ????????
So also got caught phốt were you mean at scolded for sml ????
Original text:
Tháng cô hồn là có thật ????????
Ăn thịt chó cũng có tội mọi người ơi ????????
Vậy mà cũng bị dính phốt bị các bạn ý vào chửi cho sml ????????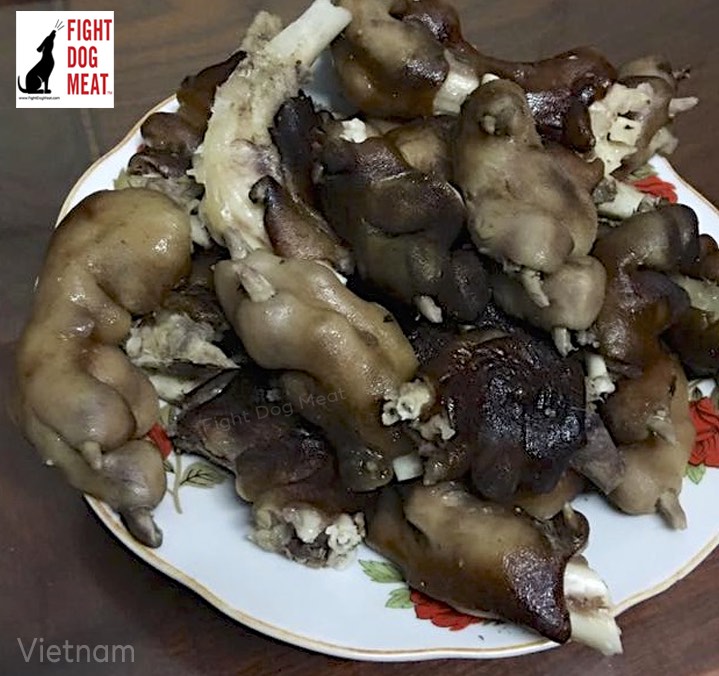 Each year over 5 million dogs and millions of cats are brutally slaughtered each year in Vietnam, for human consumption. There are no animal cruelty laws in Vietnam and dog eaters demand tough meat in the false belief that "eating tough meat makes a man tough." Tough meat is falsely beloved to enhance a man's libido and hold supernatural medicinal powers.
The only way to produce tough meat is to flood the conscious animal's body with adrenaline, by inflicting gross pain and suffering and terror on the fully conscious animal.
Growing number of animal lovers in Vietnam:
Fight Dog Meat is in daily communication with local Vietnamese animal lovers to help them bring in animal protection laws and end the brutal dog and cat meat trade. Vietnam has a growing number of wonderful animal lovers who are taking a stand for their countries animals and they are desperate for the pet meat trade to be shut down and ended.
Fight Dog Meat will continue to bring you reports from dog and cat meat countries and the wonderful work their rescuers are doing despite no animal protection laws. Turning away or sitting quietly does not end the trade. We'll keep exposing what is taking place to these animals. We're helping local volunteers have a louder voice on a world platform. Ultimately it's the voice of the country's own people whom their government will eventually be forced to listen to, for positive change for animals.
Thank you for reading,
Michele Brown
Founder,
Fight Dog Meat.
Email: contact@fightdogmeat.com
Follow us on Facebook: Fight Dog Meat
Follow our Website: www.FightDogMeat.com
Follow us on You Tube: FDM Campaigns
Follow us on Twitter: @fightdogmeat
Follow us on Instagram: fightdogmeat_dot_com
#fightdogmeat
PLEASE SIGN AND SHARE FIGHT DOG MEAT'S PETITIONS:
AUSTRALIA: Legislate To Make It Illegal To Eat Dog Or Cat Meat In Australia
https://www.thepetitionsite.com/takeaction/401/079/031/
VIETNAM: Stop Dog Meat Abuse
http://www.thepetitionsite.com/818/237/342/vietnam-stop-dog-meat-abuse/
CHINA: Stop Dog Meat Abuse
http://www.thepetitionsite.com/360/473/685/china-stop-dog-meat-abuse/#sign
Please visit our sister site:
FACEBOOK: Rescuer's Heart For Animals
WEBSITE: www.HeartForAnimals.com
FACEBOOK: Love Animals Club
(Photo not credited to Fight Dog Meat)
ALL RIGHTS RESERVED
PLEASE CREDIT THE ORGANIZATION WHEN SHARING