Fight Dog Meat invite you to download our free posters, banners, flyers, bumper stickers and tee-shirt logos to use during FDM events and demonstrations, to help expose the dog and cat meat trade. A huge thank you to FDM's Graphic Designers for their excellent work! (Flyers are at the bottom of the page.) Each graphic is available in PDF or Jpeg files. Email us for more info: contact@fightdogmeat.com.
[Some boring stuff: each graphic is still registered under my original Registration No: 49 860 343 527, of which I am the sole owner, and copyright protected under Fight Dog Meat, against usage which involves removal of our name or logo.]
Bumper Stickers
Banners
Posters
Tee Shirt Logos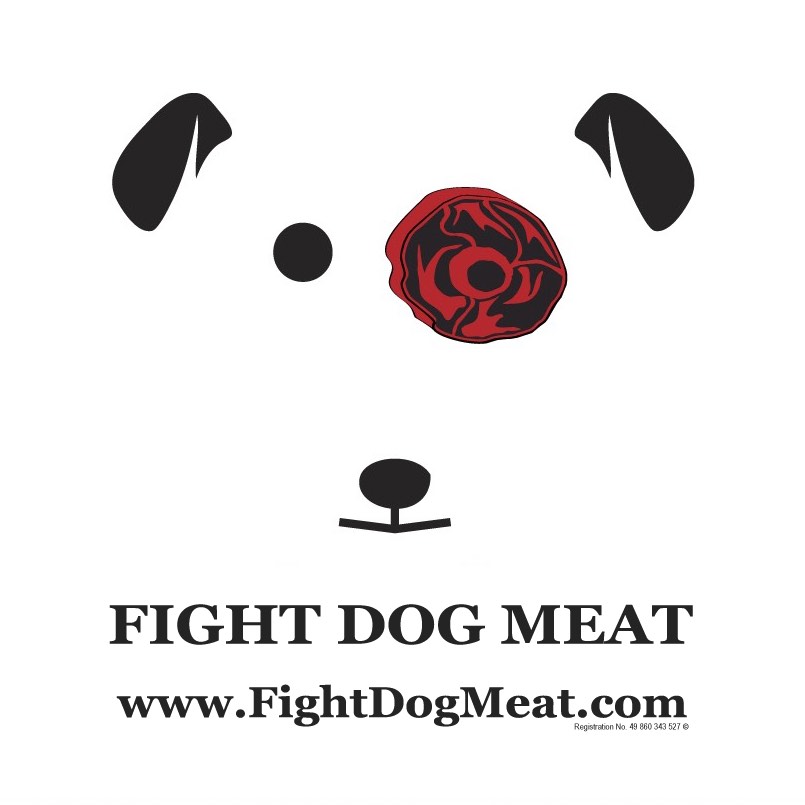 Dog Coats and Bandanas
Dog Coats: https://www.etsy.com/listing/506397596/fight-dog-meat-friend-not-food-dog-meat?ref=shop_home_active_2
 Bandanas: https://www.etsy.com/listing/520207311/fight-dog-meat-dog-meat-trade-awareness?ref=listing-shop-header-2
Flyers – English language (more languages being added)
The  flyers are for free use in Fight Dog Meat campaigns and awareness events. Please distribute them to help raise awareness. Both flyers print up well in black and white, which is very cheap to have done, and are just as effective as color flyers (without the burden of the cost.) The information is written by myself and remains the property of FightDogMeat©.
The graphics were originally sent to my private email, where the designers and myself went back and forth discussing designs, before I later shard any of them with my previous organization, which is now closed. Thank you to the designers for moving across to Fight Dog Meat with me, so we can raise awareness toward ending the dog and cat meat trade, with a new start.
Thank you,
Michele Brown,
Founder.
Email: contact@fightdogmeat.com
Follow us on Facebook: Fight Dog Meat
Follow our Website: www.FightDogMeat.com
Follow us on YouTube: Fight Dog Meat
Follow us on Twitter: @fightdogmeat
Instagram: fightdogmeat
#fightdogmeat
PLEASE SIGN AND SHARE FIGHT DOG MEAT'S PETITIONS:

Vietnam: Stop Dog Meat Abuse
http://www.thepetitionsite.com/818/237/342/vietnam-stop-dog-meat-abuse/
Nigeria: Stop Dog Meat Abuse
http://www.thepetitionsite.com/229/162/977/nigeria-africa-stop-dog-meat-abuse/
Philippines: Stop Dog Meat Abuse
http://www.thepetitionsite.com/296/247/791/philippines-stop-dog-meat-abuse/#sign
DONATIONS: Fight Dog Meat does NOT accept donations.
WE HIGHLY RECOMMEND the Vietnam Animal Welfare Organization (VAWO), who save dog meat dogs and cats and run a Vet Training School to teach local vets humane practice on pets within Vietnam. Many local Vietnamese vets do NOT USE ANESTHETIC ON DOGS OR CATS DURING OPEN SURGERY!
VAWO urgently need financial help! if you are thinking of donating to an animal organization, please consider these wonderful people. VAWO website: http://vnanimalwelfare.org/take-action/
Please visit our sister site:
FACEBOOK: Rescuer's Heart For Animals
WEBSITE: www.HeartForAnimals.com
(Photo not credited to Fight Dog Meat)
ALL RIGHTS RESERVED
PLEASE CREDIT THE ORGANIZATION WHEN SHARING