The vicious gang of teenage dog thieves shot a 10 year old pet dog as he walked with his owner in the middle of the day. The distraught owner desperately tried to prevent the thieves taking his loved pet for meat. The teens reloaded their electric steel arrow head gun and aimed it directly at the distressed owner and threatened to kill him.

The callously brutal attack against the pet owner and his 10 year old loved pet was caught on ctv street security cameras in Saigon (which was the dog thieves undoing!)

After viewing camera footage Ho Chi Minh Criminal Police Division coordinated with police in District 12 to arrest two 17 year old males and two 18 year old males, on charges of property theft and robbery. The dog thieves are: Le Anh Hao (17 years old), Nguyen Tan Duy (18 years old), Nguyen Trong Nhan (18 years old), Nguyen Thanh Loc (17 years old.)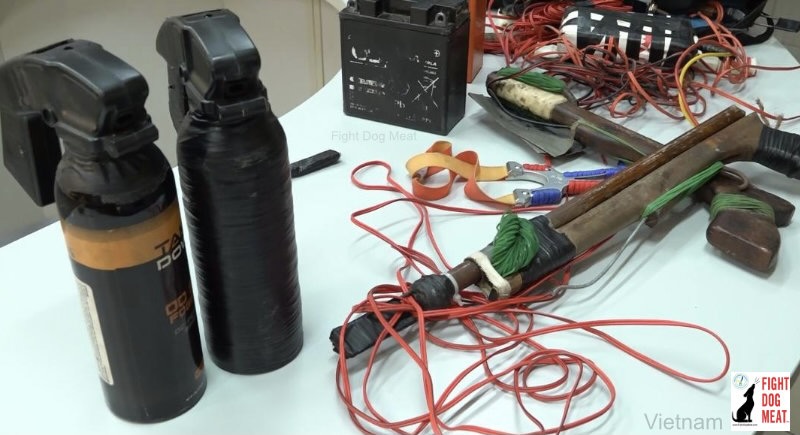 Stealing dogs between 4am to 7am every day, the dog thief gang admitted to stealing over 1,200 dogs during October, November and December. They averaged 12 dogs a day and sold them to butchers for quick cash. Then divided the money equally between themselves for drinking and gambling.

Arresting police officers uncovered tear gas canisters and pepper sprays, for use on any people or police who dared to get in their way.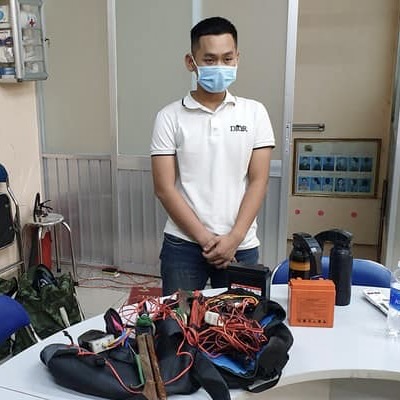 "From theft to robbing people's property. This is the first time that the Ho Chi Minh City Police have caught and handled such a group of dog thieves and robbers. This is unprecedented," said an investigator.
Fight Dog Meat will continue to bring you reports from dog and cat meat countries and the wonderful work their rescuers are doing despite no animal protection laws. Turning away or sitting quietly does not end the trade. We'll keep exposing what is taking place to these animals. We're helping local volunteers have a louder voice on a world platform. Ultimately it's the voice of the country's own people whom their government will eventually be forced to listen to, for positive change for animals.

Thank you for reading,

Michele Brown
Founder,
Fight Dog Meat.
PLEASE SIGN AND SHARE FIGHT DOG MEAT'S PETITIONS:
AUSTRALIA: Legislate To Make It Illegal To Eat Dog Or Cat Meat In Australia
https://www.thepetitionsite.com/takeaction/401/079/031/
VIETNAM: Stop Dog Meat Abuse
http://www.thepetitionsite.com/818/237/342/vietnam-stop-dog-meat-abuse/
CHINA: Stop Dog Meat Abuse
http://www.thepetitionsite.com/360/473/685/china-stop-dog-meat-abuse/#sign
Please visit our other site:
FACEBOOK: FDM Vietnam Doggie Ranch
(Photo not credited to Fight Dog Meat)
ALL RIGHTS RESERVED
PLEASE CREDIT THE ORGANIZATION WHEN SHARING