Cages crammed with live cats are slowly submerged in water, as a bulk method to kill cats in Vietnam, for cat meat. The ginger cat in the main photo has already been submerged under water once and is surrounded by his drowned cage mates. He is pleading for mercy but his little screams of panic fall on deaf ears as the cage is slowly submerged one more time.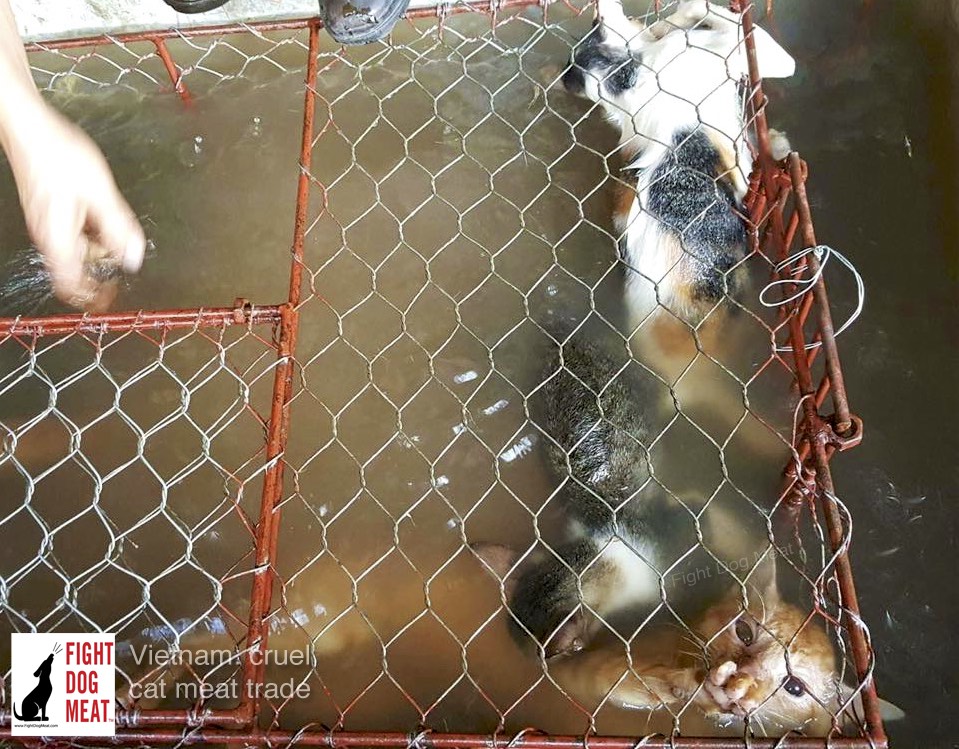 The ginger cat drowned after his cage went under water for the second time (see the photograph below.) All the cats in his cage drowned. As soon as the ginger cat's cage was unloaded, more live cats were crammed into the cage-tomb, to suffer the same fate of drowning.
Cats in Vietnam are often feared and seen as evil because of their (falsely believed) supernatural power over luck and bad luck. Known as "Little Tiger", local superstition says eating cat meat at the start of each month wards off bad luck.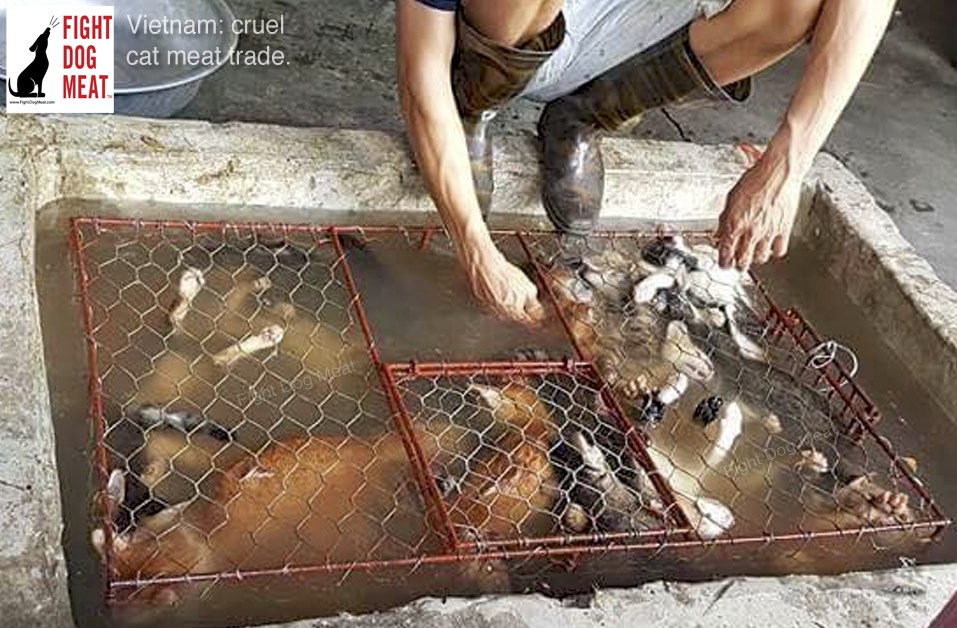 Once the dead cats are strewn on the concrete floor, another worker (possibly the butcher's wife), starts loading the cats into the poultry de-feathering machine to remove their fur. The inside of the machine agitates like a spin dryer, with a large number of projecting rubber knobs which rub the fur off as the animals spin around in swirling boiling water. [NOTE: these machines are 'not' manufactured by Samsung.]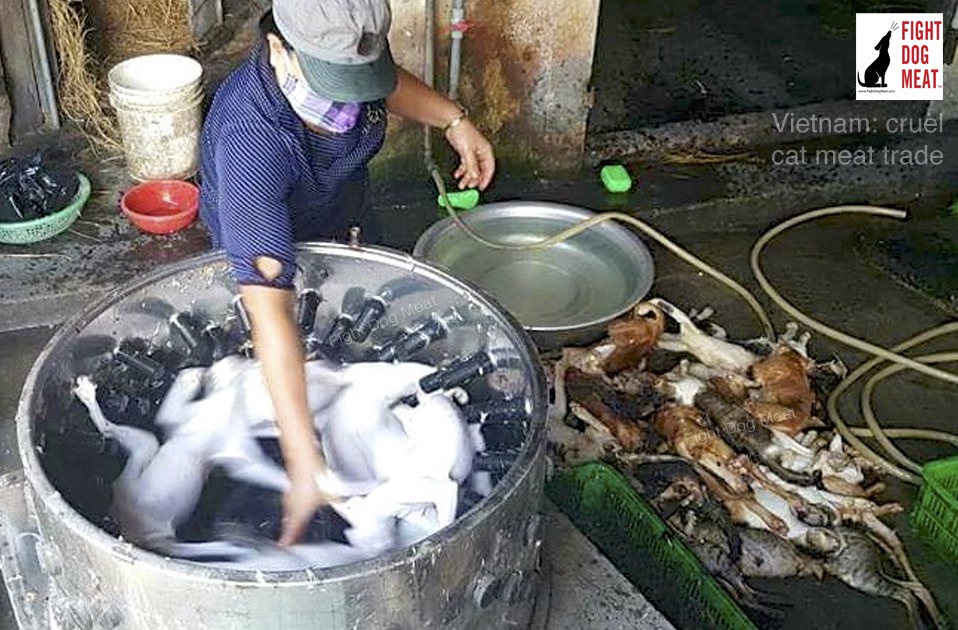 Cats are the forgotten victims of the dog meat trade. They receive very little attention which allows the trade to fly comfortably under the radar. Per ratio per population, Vietnam has the largest cat meat trade and the largest dog meat trade.
A dog and cat butcher in Vietnam told me that when you eat a cat's spine once a month you end up with the cat's agility. Vietnam Cat Welfare recently reported that in central Vietnam drops of cat urine into a person's ears were being prescribed to cure hearing and deafness problems.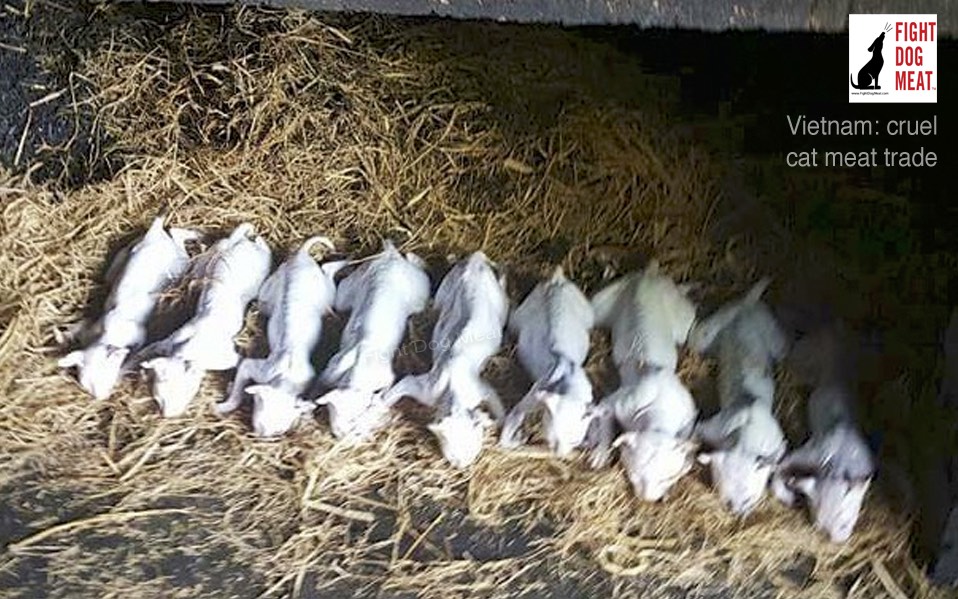 In the late 1990s so many cats were eaten in Vietnam that rodents took over farms in plague proportions and destroyed the year's crops. In 1998 the Vietnamese government introduced a "Rat Eradication" law to shut down cat meat restaurants and "seriously deal with" cat smugglers. In 2017 cat meat is still freely available across Vietnam.
To read more about cats in Vietnam: Superstitions About Cats And Eating Cat Meat.
Fight Dog Meat will continue to bring you reports from dog and cat meat countries and the wonderful work their rescuers are doing despite no animal protection laws. Turning away or sitting quietly does not end the trade. We'll keep exposing what is taking place to these animals. We're helping local volunteers have a louder voice on a world platform. Ultimately it's the voice of the country's own people whom their government will eventually be forced to listen to, for positive change for animals.
Thank you for reading,
Michele Brown
Founder,
Fight Dog Meat.
PLEASE SIGN AND SHARE FIGHT DOG MEAT'S PETITIONS:
AUSTRALIA: Legislate To Make It Illegal To Eat Dog Or Cat Meat In Australia
https://www.thepetitionsite.com/takeaction/401/079/031/
VIETNAM: Stop Dog Meat Abuse
http://www.thepetitionsite.com/818/237/342/vietnam-stop-dog-meat-abuse/
CHINA: Stop Dog Meat Abuse
http://www.thepetitionsite.com/360/473/685/china-stop-dog-meat-abuse/#sign
Please visit our other site:
FACEBOOK: FDM Vietnam Doggie Ranch
(Photo not credited to Fight Dog Meat)
ALL RIGHTS RESERVED
PLEASE CREDIT THE ORGANIZATION WHEN SHARING