Dog thieves worked as a gang stealing residents pet dogs in Binh Thuan. The gang of seven men was caught red handed by police with 13 stolen dead pet dogs. Today they were sentenced to over 10 years prison for "Theft of Property." In Vietnam dogs are classed as "property."
The gang leader provided tools and transport for each dog thief, including slingshots, nooses, chili powder, etc. They deliberately targeted larger valuable pet dogs; thinking those dogs would bring more money as meat.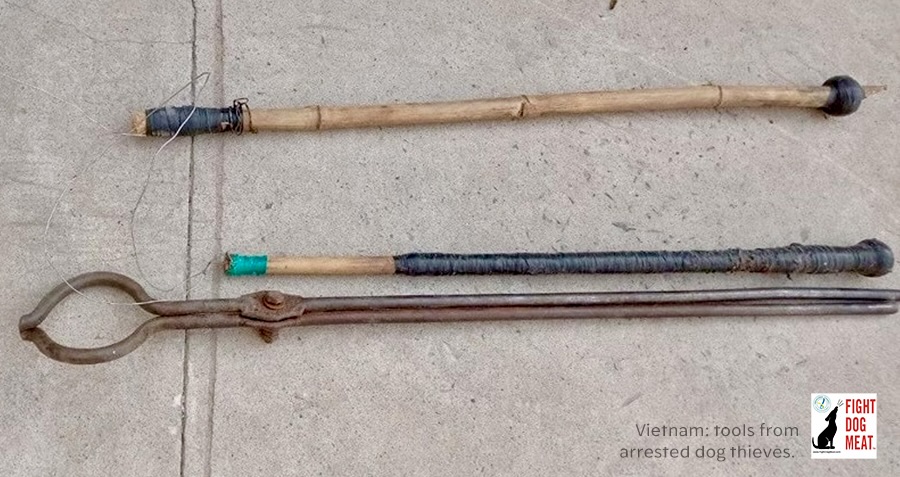 The gang leader and the main dog thief were each sentenced to 2.6 years prison. The remaining five dog thieves were sentenced to 2 years prison each.
Sentencing dog thieves to prison sends a clear message that things are starting to change. There was a time not too long ago when this sentencing would have been non-existent. Thank you to Binh Thuan Police and the Judge for taking this matter seriously!
Local animal lovers should not have to live in fear in their own country, in their own house. Vietnam needs animal protection laws.
In Conclusion
Fight Dog Meat will continue exposing what is happening to the animals and the struggles imposed on local animal lovers. FDM is helping local animal lovers have a louder voice on a world platform. Ultimately it's the voice of the country's own people whom their government will eventually be forced to listen to, for positive change for animals.
Fight Dog Meat rescues dogs and cats in Vietnam. We rescue some of the most critically injured anywhere, from Vietnam's brutal meat trade. We have our own FDM Doggie Ranch facility in Saigon.
Thank you for reading,
Michele Brown
Founder,
Fight Dog Meat.
Fight Dog Meat is a Registered Charity in USA and Australia. USA Charity EIN No. 84-3542109
FDM Aus Charity No. 16623028795
PLEASE SIGN AND SHARE FIGHT DOG MEAT'S PETITIONS:
AUSTRALIA: Legislate To Make It Illegal To Eat Dog Or Cat Meat In Australia
https://www.thepetitionsite.com/takeaction/401/079/031/
VIETNAM: Stop Dog Meat Abuse
http://www.thepetitionsite.com/818/237/342/vietnam-stop-dog-meat-abuse/
CHINA: Stop Dog Meat Abuse
http://www.thepetitionsite.com/360/473/685/china-stop-dog-meat-abuse/#sign
Please visit our other site:
FACEBOOK: FDM Vietnam Doggie Ranch
(Photo not credited to Fight Dog Meat)
ALL RIGHTS RESERVED
PLEASE CREDIT THE ORGANIZATION WHEN SHARING
.