The city of Binh Thanh has declared war on unleashed dogs. If a dog is not in it's fenced house yard or inside the house, or walking with it's owner on a leash, it will be seized. Pet dogs sitting out the front of owner's shops are seized. Pet dogs laying in alleys outside their family home are seized. All dogs wandering by themselves are being seized.
Dogs are only held for 48 hours then brutally killed!
Most likely bludgeoned then burned.
To redeem your dog from Binh Thanh city's Ward People's Committee costs 1.500,000 VND ($60 USD.) This is a lot of money for many local Vietnamese owners on very low wages. Many owners could not afford this. Binh Thanh is located a short 30 minute drive from Saigon [Ho Chi Minh City.]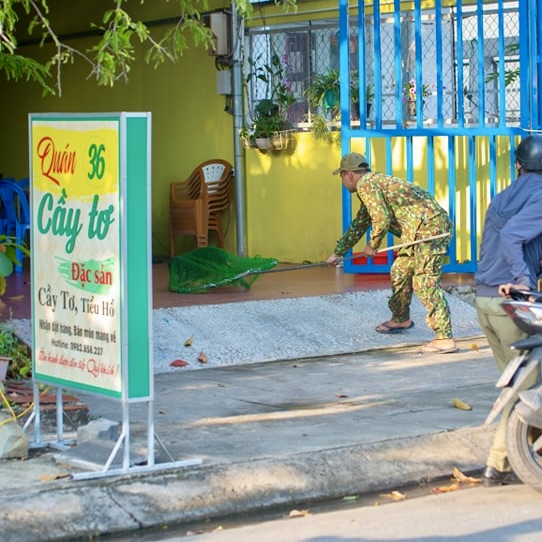 Pet owner's fear of neuter/spaying dogs due to bad vets.
A high quantity of unwanted litters are constantly being born and left to wander the streets, begging for food and breeding. Vietnam has very few truly 'qualified' vets. Vietnam has many pretending vets who would never be recognized abroad. In fact, many of these would be arrested abroad for appalling animal cruelty.
A large number of dog owners are scared to have their pet dog neutered or spayed. Not unusual for what [we] call 'pretending vets' to operate with no anesthetic and unsterilized instruments! Pet owners with a fear of sterilizing their pet means puppies are being born at an alarming rate. The litters go on to become fodder for dog thieves!
Fight Dog Meat only uses Dr. Nghia P.h.D., located in Saigon and Da Nang. Dr. Nghia studied and graduated abroad and is truly an international level world acclaimed Veterinary Surgeon.
Rabies fears.
Each year a number of people in Vietnam die of rabies. The city of Binh Thanh is attempting to lessen the odds by forcing dog owners to become more responsible in their pet ownership. Sadly it is the dogs who will pay with their life for people to wake up and do the right thing.
Vietnam has no animal protection laws so pet owners have very little recourse in fighting to save their pet dog if they can not afford the ransom cost.
Fight Dog Meat will continue to bring you reports from dog and cat meat countries and the wonderful work their rescuers are doing despite no animal protection laws. Turning away or sitting quietly does not end the trade. We'll keep exposing what is taking place to these animals. We're helping local volunteers have a louder voice on a world platform. Ultimately it's the voice of the country's own people whom their government will eventually be forced to listen to, for positive change for animals.
Thank you for reading,
Michele Brown
Founder,
Fight Dog Meat.
PLEASE SIGN AND SHARE FIGHT DOG MEAT'S PETITIONS:
AUSTRALIA: Legislate To Make It Illegal To Eat Dog Or Cat Meat In Australia
https://www.thepetitionsite.com/takeaction/401/079/031/
VIETNAM: Stop Dog Meat Abuse
http://www.thepetitionsite.com/818/237/342/vietnam-stop-dog-meat-abuse/
CHINA: Stop Dog Meat Abuse
http://www.thepetitionsite.com/360/473/685/china-stop-dog-meat-abuse/#sign
Please visit our other site:
FACEBOOK: FDM Vietnam Doggie Ranch
(Photo not credited to Fight Dog Meat)
ALL RIGHTS RESERVED
PLEASE CREDIT THE ORGANIZATION WHEN SHARING