Dr. Nghia explains N-coronavirus and answers important questions concerning the virus and our pets.
Dr. Nghia Van Nguyen, DVM, PhD
from University of Bristol, United Kingdom,
Faculty of Medical and Veterinary Sciences,
School of Clinical Veterinary Medicine.
NOVEL CORONAVIRUS 2019 AND OUR PETS
by Dr. Nghia:
Recently I have had phone calls from many pet owners worrying that their dogs and cats can pass coronaviruses to them and so they want to get rid of their pets. This is a dangerous rumour. Please stop this rumour spreading by carefully considering the advice from scientists and the World Health Organisation (WHO).
On behalf of dogs and cats I would like to share knowledge about this new virus and to confirm that there is no evidence that companion animals, or pets such as cats and dogs, have been infected or have spread 2019-nCoV and there have not been any cases of people passing human virus to their pets.
I will consider the following questions:
1. What is a corona virus?
2. What is novel Coronavirus 2019 (2019-nCoV)?
3. Why are people worried about 2019-nCoV?
4. I heard dogs and cats could get dog and cat coronavirus. Can my dog or cat get it?
5. Can I get 2019-nCoV from my pets?
6. Should my pet wear a face-mask?
7. Can human get infected with the novel Coronavirus 2019 from any animal source?
8. How to prevent the spread of any viruses including corona virus and flu viruses?
1. WHAT IS CORONA VIRUS?
Coronaviruses are a large family of viruses found in both animals and humans. The name "coronavirus" is derived from the Latin corona, meaning crown, which refers to the characteristic appearance of the virus particles (virions) under electron microscope. Coronaviruses (CoV) cause illness ranging from the common cold to more severe diseases such as Middle East Respiratory Syndrome (MERS-CoV) and Severe Acute Respiratory Syndrome (SARS-CoV).
2. WHAT IS THE NOVEL CORONA VIRUS 2019 (2019-nCoV)?
The novel Corona Virus 2019 is a new strain of coronavirus that has not been previously identified in humans. Novel means new. This new virus belongs to the same family as the virus that causes severe acute respiratory syndrome, or SARS. It causes a respiratory illness, can spread from person to person, and emerged in the Chinese city of Wuhan in December 2019. Researchers worldwide are working hard to understand the pathogen's biology in detail and to test drugs and develop vaccines.
3. WHY IS THERE SO MUCH CONCERN ABOUT NOVEL CORONA VIRUS 2019?
The problem with 2019-nCoV is that there are a lot of unknowns because it is so new. Scientists have studied seasonal flu (influenza) for decades. It is dangerous but we know much about flu viruses and what to expect each season. Because of this there are new flu vaccines developed each year to help protect against flu viruses. In contrast, very little is known about 2019-nCoV.
Coronaviruses are zoonotic, meaning they are transmitted between animals and people. Detailed investigations found that SARS-CoV was transmitted from civet cats to humans and MERS-CoV from dromedary camels to humans. Several known coronaviruses are circulating in animals that have not yet infected humans. Usually these are animal species that are not in close proximity to humans. Scientists are working hard to find out more about 2019-nCoV, and the understanding of the virus and the threat it poses may change as new information becomes available.
The 2019-nCoV outbreak has not yet been declared a pandemic, as the majority of cases have occurred in China. But on Jan. 30, the WHO declared the 2019-nCoV outbreak a "public health emergency of international concern." The declaration was primarily due to concern that the virus could spread to countries with weaker health systems.
4. I HEARD DOGS AND CATS CAN GET CORONAVIRUS. CAN MY DOG OR CAT GET IT?
Yes, your pets can get some types of coronavirus. But not the new scary one – 2019-nCoV. We should understand from research that lots of animals are vulnerable to coronavirus, a large family of pathogens. Birds get avian coronavirus. Pigs get porcine coronavirus. Cows get bovine coronavirus. Horses get equine coronavirus. Dogs and cats are sickened by canine coronavirus disease, and feline coronavirus. In most cases the disease is short lived and resolves by itself.
5. CAN I GET 2019-NCoV FROM MY PETS?
"At present there is no evidence that companion animals or pets such as cats and dogs have been infected or have spread 2019-nCoV." WHO Report
However, it is always a good idea to wash your hands with soap and water after contact with pets. This protects you against various common bacteria such as E.coli and Salmonella that can pass between pets and humans (WHO).
Pets can't give you 2019-nCoV. Corona virus from cats, dogs and the 2019-nCoV are just too different. There have been no reported cases of pets getting the new human virus. And there don't seem to be any cases of people giving the human virus to their pets.
Scientists have shown that viruses don't respect species boundaries and can spread between species, so if an animal virus can bind to a human cell receptor, it makes us sick [according to Peter Daszak, president of EcoHealth Alliance, which studies the origins of viruses]. HOWEVER, analysis shows the 2019-nCoV genetic makeup is 96% and 99% identical to that of a coronavirus found in bats and pangolins respectively not in cats and dogs. This is important because we share similar cell receptors with bats, known carriers of the new virus, whereas cats, dogs and humans are just too different. In the same way you need a specific key to open a lock, we do not share similar cell receptors (lock) with dogs and cats, and so aren't susceptible to their viruses (the key). Scientists believe that the current outbreak resulted from people eating wild animals, most likely bats and pangolins, in Wuhan, China.
6. SHOULD MY PET WEAR A FACE-MASK?
As for pet owners who want to put face masks on their dogs, there's no evidence that dogs can even catch the new coronavirus. Hence, you do not need to put face masks on your dogs.
7. CAN HUMANS GET INFECTED WITH THE NEW CORONAVIRUS 2019 FROM ANY ANIMAL SOURCE?
Detailed investigations found that SARS-CoV was transmitted from civet cats to humans in China in 2002 and MERS-CoV from dromedary camels to humans in Saudi Arabia in 2012. Several known coronaviruses are circulating in animals that have not yet infected humans. As surveillance improves around the world, more coronaviruses are likely to be identified.
The animal source of the 2019-nCoV is suspected to be from a live animal market in China selling wild animal species and is responsible for some of the first reported human infections. Scientists currently think that the virus came from pangolin and bats, which were handled and eaten. To protect yourself, when visiting live animal markets, avoid direct unprotected contact with live animals and surfaces in contact with animals. The consumption of raw or undercooked animal products should be avoided. Raw meat, milk or animal organs should be handled with care, to avoid cross-contamination with uncooked foods, as per good food safety practices. Because the breeding and capture of wild species is unregulated, there is a greater chance for the spread of viruses and bacteria, and to contract diseases from non-domestic animals. Handling or eating wild (non-domestic) should be avoided.
8. HOW TO PREVENT THE SPREAD OF ANY VIRUSES INCLUDING CORONA VIRUS AND FLU VIRUSES?
In general, the WHO recommends the following to prevent the spread of respiratory viruses, which include both coronaviruses and flu viruses:
 Wash your hands often with soap and water for at least 20 seconds;
 Avoid touching your eyes, nose and mouth with unwashed hands;
 Avoid close contact with people who are sick;
 Stay at home when you are sick;
 Clean and disinfect frequently touched objects and surfaces.
To sum up, at present, there is no evidence that companion animals/pets such as dogs or cats can be infected with, nor spread or transmit, the new coronavirus to human. Hence, there is no reason to abandon your pets. We have evidence that virus can spread from person to person but we do not abandon our human friends! In the same way, please DO NOT stop caring for your animal friends.
Thank you.
Best wishes,
Dr Nghia NGUYEN VAN, DVM, PhD
References:
1. WHO – World Health Organization
2. Nature-The international Journal of Science
3. Lancet Journal
4. Centers for Disease Control and Prevention, USA
5. Personal communication and science advice from Dr. Mary Chambers, PhD- Oxford University Clinical Research Unit, Hospital for Tropical Diseases, Ho Chi Minh city, Vietnam
To read more about Dr. Nghia, please read the following article: Vietnam: Dr. Nghia Saved The Machete Dog.  Its the best dog recovery story! Make sure to read the paragraph headed: Something Magical Happened After Surgery. It will make you cheer with happiness.
Vietnam: Dr. Nghia Saved The Machete Dog
Dr. Nghia is Fight Dog Meat's main veterinary surgeon. He's also a dear friend. He truly lives for animals and does all he can to help build a kinder world for all animals. Dr. Nghia is located in Ho Chi Minh City, Vietnam.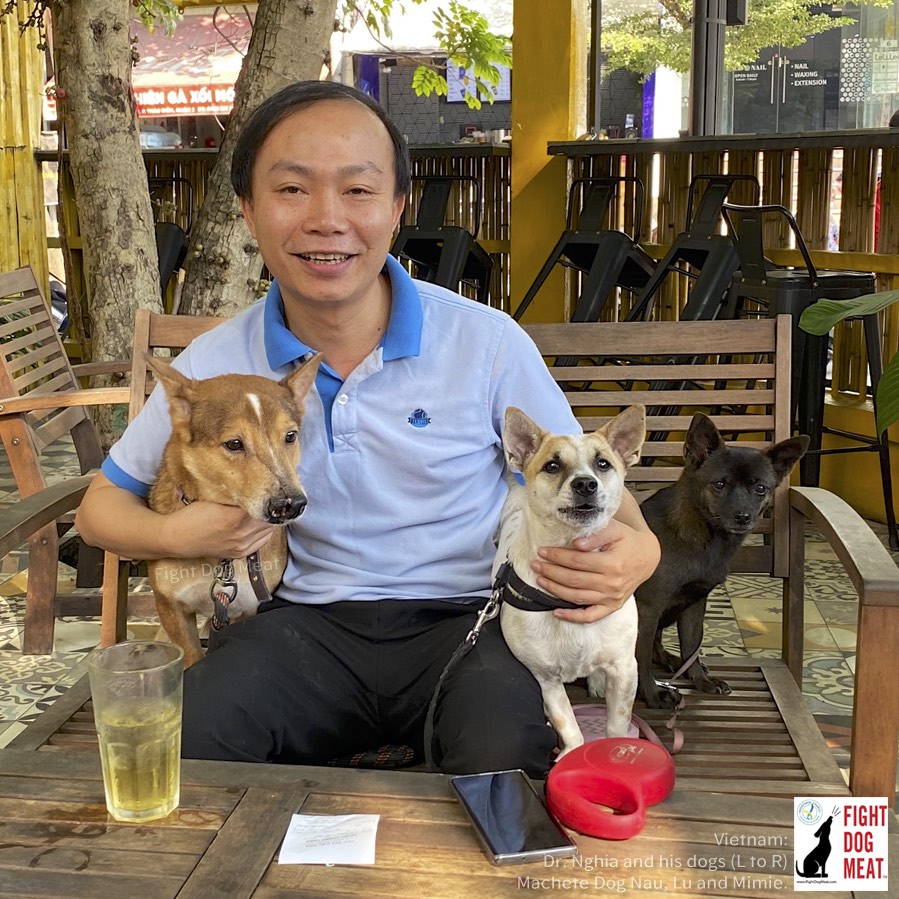 Fight Dog Meat will continue to bring you reports from dog and cat meat countries and the wonderful work their rescuers are doing despite no animal protection laws. Turning away or sitting quietly does not end the trade. We'll keep exposing what is taking place to these animals. We're helping local volunteers have a louder voice on a world platform. Ultimately it's the voice of the country's own people whom their government will eventually be forced to listen to, for positive change for animals.
Thank you for reading,
Michele Brown
Founder,
Fight Dog Meat.
Email: contact@fightdogmeat.com
Follow us on Facebook: Fight Dog Meat
Follow our Website: www.FightDogMeat.com
Follow us on You Tube: FDM Campaigns
Follow us on Twitter: @fightdogmeat
Follow us on Instagram: fightdogmeat_dot_com
#fightdogmeat
PLEASE SIGN AND SHARE FIGHT DOG MEAT'S PETITIONS:
AUSTRALIA: Legislate To Make It Illegal To Eat Dog Or Cat Meat In Australia
https://www.thepetitionsite.com/takeaction/401/079/031/
VIETNAM: Stop Dog Meat Abuse
http://www.thepetitionsite.com/818/237/342/vietnam-stop-dog-meat-abuse/
CHINA: Stop Dog Meat Abuse
http://www.thepetitionsite.com/360/473/685/china-stop-dog-meat-abuse/#sign
Please visit our sister site:
FACEBOOK: Rescuer's Heart For Animals
WEBSITE: www.HeartForAnimals.com
FACEBOOK: Love Animals Club
(Photo not credited to Fight Dog Meat)
ALL RIGHTS RESERVED
PLEASE CREDIT THE ORGANIZATION WHEN SHARING