Fantastic news! The cat trader and cat butcher in Quan Binh Tan, Saigon, has quit being a cat butcher and quit selling and killing cats after she saw the world wide outrage at her for what she did for a living, in the international news article which went viral, March 15, 2018. Also, officials in Quan Binh Tan were shocked at the level of world wide public outrage at their town and have decided to clamp down to rid their town of dog and cat meat vendors and markets. They do not want such negative publicity for their town.
We're very pleased to receive the news about Quan Binh Tan making moves to remove dog and cat meat vendors and markets. Thank you to city officials for this positive step forward.
The ex-cat butcher said when she saw the news article with her in it, she was shocked at how much hate there was toward her. Congratulations to this lady for having the courage to make a change in her life for the better of animals in Vietnam.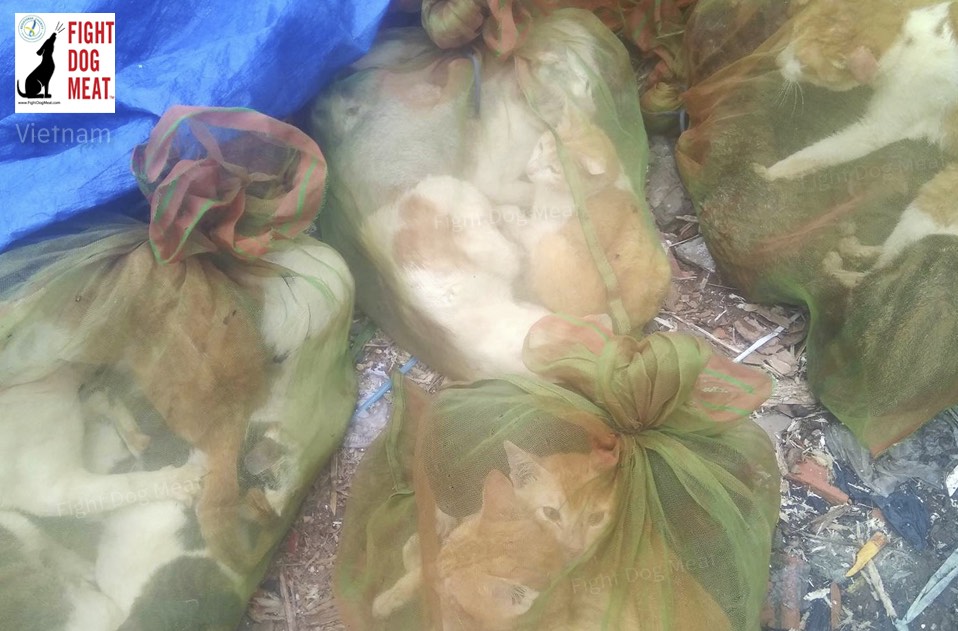 She went out of her way to contact Quyen directly to tell her the good news that she will not sell or harm any more cats. This is a wonderful result from the article and from everyone sharing it worldwide. She has a new fruit and vegetable stand in another market, where she also sells eggs. She is very happy with her new job and proud it does not harm any animals.
The article was published March 15, 2018 and shared over 60,000 times. The article was published in five international news media sources. To read the main article: Inside Vietnamese Cat Meat Market.
Video: not graphic. Ex-cat butcher with her new fruit and vegetable stand in Quan Binh Tan.
Quyen has 776 rescued cat meat cats and over 30 rescued dog meat dogs. She has been told to vacate her current premises and although she has a new location to move her animals to, she needs financial help to build the new enclosures for all the cats and dogs. Please consider making a small donation to help Quyen's rescue animals: https://fightdogmeat.com/donate/. Paypal: Donate@fightdogmeat.com.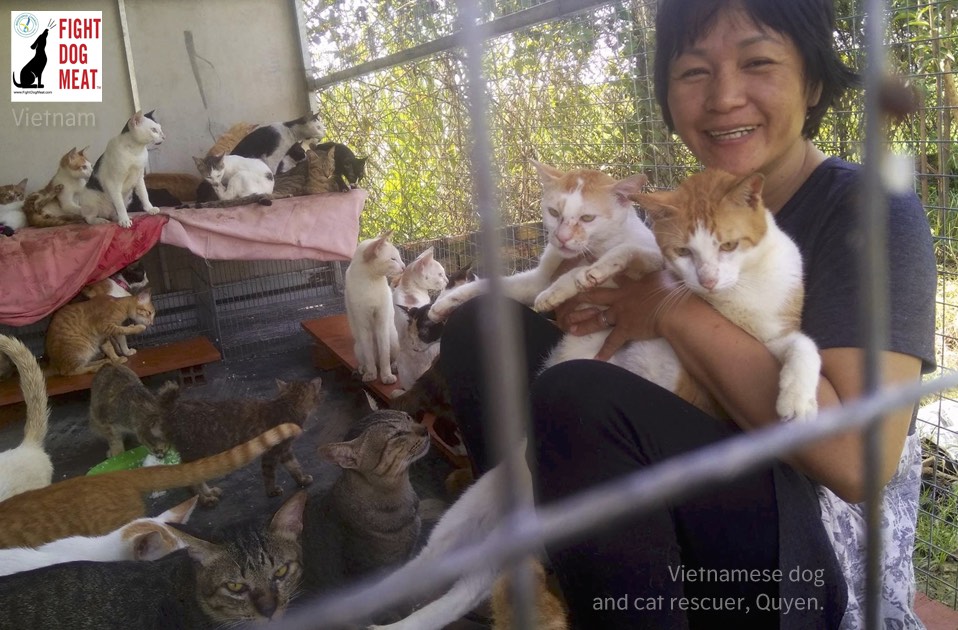 Fight Dog Meat will continue to bring you reports from dog and cat meat countries and the wonderful work their rescuers are doing despite no animal protection laws. Turning away or sitting quietly does not end the trade. We'll keep exposing what is taking place to these animals. We're helping local volunteers have a louder voice on a world platform. Ultimately it's the voice of the country's own people whom their government will eventually be forced to listen to, for positive change for animals.
Thank you for reading,
Michele Brown
Founder,
Fight Dog Meat.
PLEASE SIGN AND SHARE FIGHT DOG MEAT'S PETITIONS:
AUSTRALIA: Legislate To Make It Illegal To Eat Dog Or Cat Meat In Australia
https://www.thepetitionsite.com/takeaction/401/079/031/
VIETNAM: Stop Dog Meat Abuse
http://www.thepetitionsite.com/818/237/342/vietnam-stop-dog-meat-abuse/
CHINA: Stop Dog Meat Abuse
http://www.thepetitionsite.com/360/473/685/china-stop-dog-meat-abuse/#sign
Please visit our other site:
FACEBOOK: FDM Vietnam Doggie Ranch
(Photo not credited to Fight Dog Meat)
ALL RIGHTS RESERVED
PLEASE CREDIT THE ORGANIZATION WHEN SHARING