The children's aunt is a kindergarten teacher. She found it amusing to watch her nephews torturing a defenseless kitten for four minutes. She found it so funny she posted the video on her own Facebook page, along with a smiley face emoji. Please scroll further down the page to watch the video in full.
Local Vietnamese animal lovers are outraged! They stormed her Facebook page with rage filled comments in defense of the little kitten. The woman quickly locked her social media page.
Her name is in the image at the bottom of this post, but she has already locked up her Facebook page.
Following two weeks in hospital (we do not know which hospital), the kitten was sent back to the same family. The clinic said that after many attempts, they could not do anything more to help the kitten. In other words they sent the kitten back to the family to die. [This is common from many local vets clinics in Vietnam.]
Due to ongoing outrage from local Vietnamese animal lovers, the kitten has been re-admitted into a different vet clinic. An outrageous situation in every way.
PLEASE NOTE: this is 'not' our rescue or we would have sent the kitten directly to Dr. Nghia. But it is not our rescue so we have no say.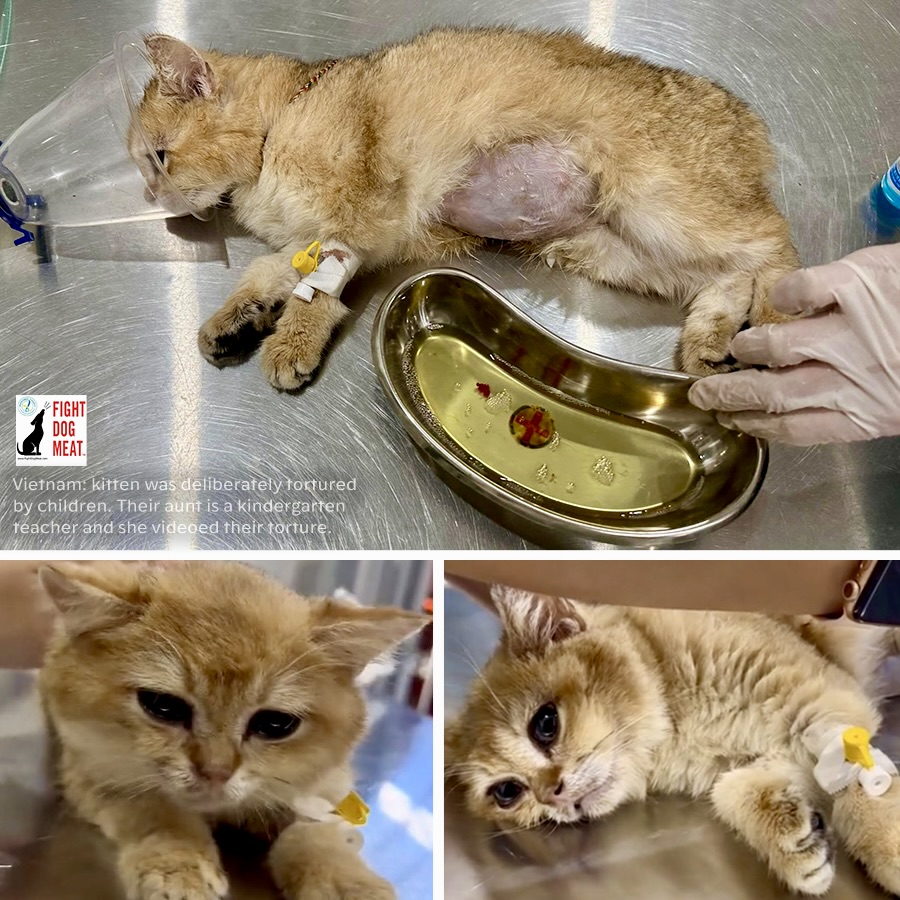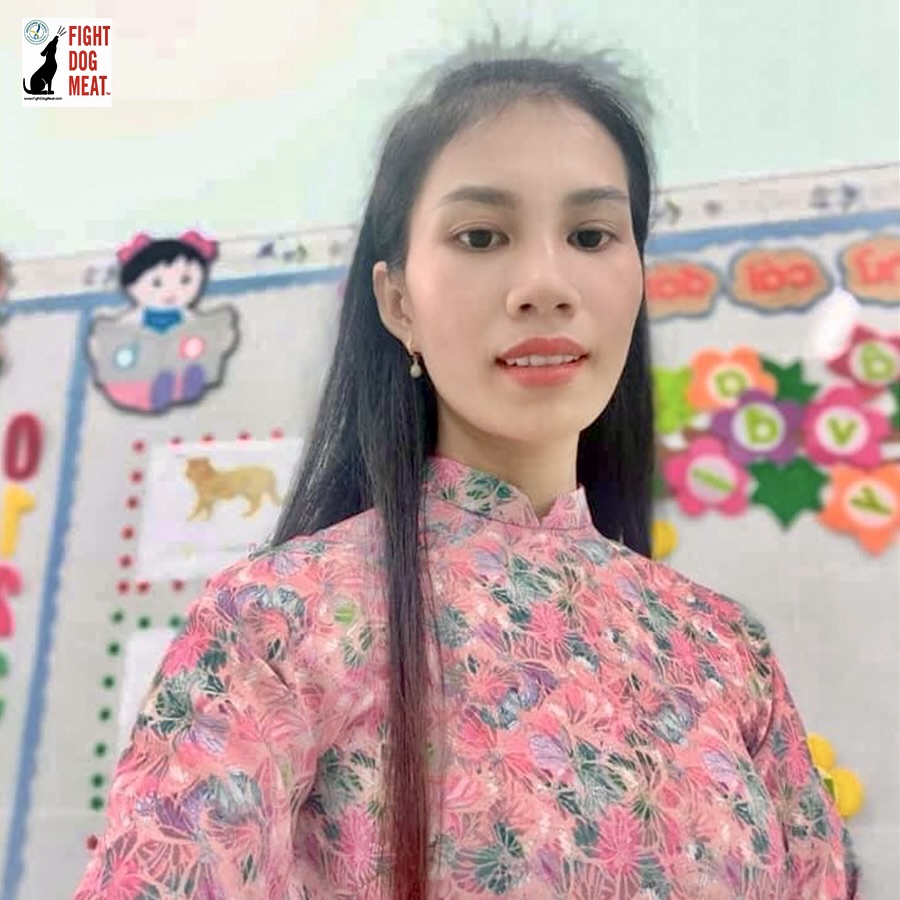 Video Warning: Viewer discretion advised.
4 minute video includes upsetting torture of the kitten.
Below is a screenshot from the aunt's Facebook page, of what she said about HER OWN VIDEO which she videoed: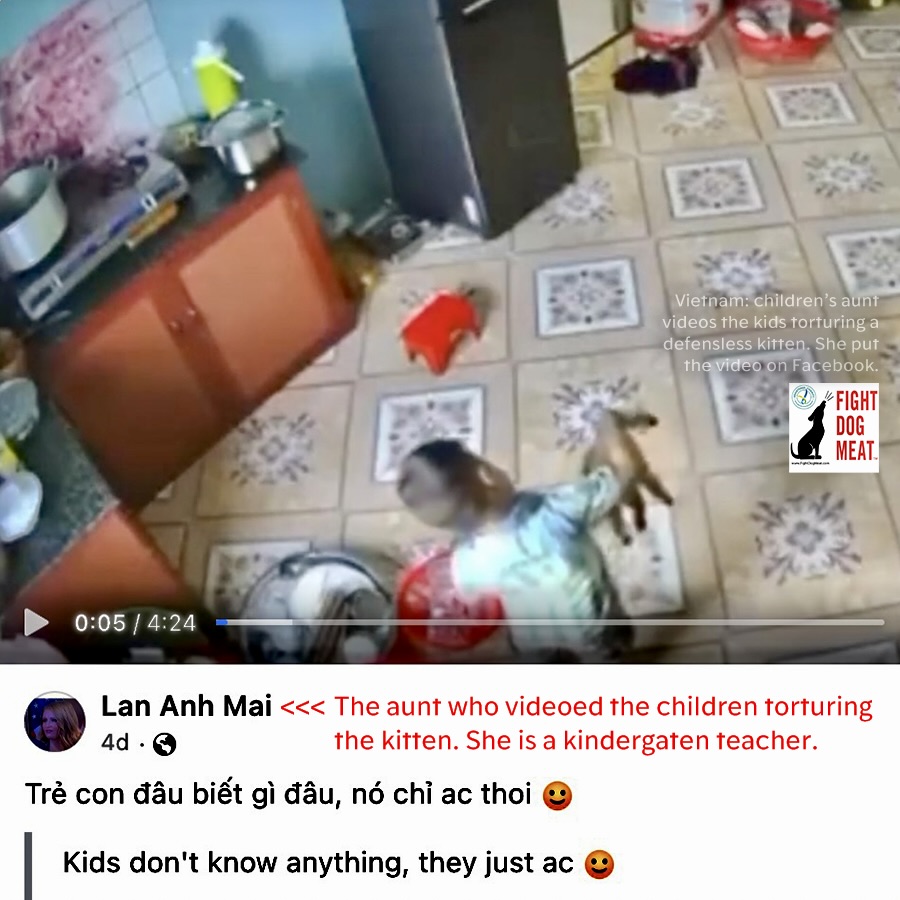 In Conclusion
Another example of Vietnam needing animal protection laws. The children are of an age to know torturing an animal is wrong behavior. However, their parents don't need to bother to teach their children right from wrong in relation to animals because they never have to answer to anyone for their actions. Even the kindergarten aunt thought the video was amusing. Vietnam has such a long way to go in animal welfare reform.
Fight Dog Meat rescues dogs and cats in Vietnam. We rescue some of the most critically injured anywhere, from Vietnam's brutal meat trade. We have our own FDM Doggie Ranch facility in Saigon. FDM will continue exposing what is happening to the animals and the struggles imposed on local animal lovers. FDM is helping local animal lovers have a louder voice on a world platform. Ultimately it's the voice of the country's own people whom their government will eventually be forced to listen to, for positive change for animals.
Thank you for reading,
Michele Brown
Founder,
Fight Dog Meat.
PLEASE SIGN AND SHARE FIGHT DOG MEAT'S PETITIONS:
AUSTRALIA: Legislate To Make It Illegal To Eat Dog Or Cat Meat In Australia
https://www.thepetitionsite.com/takeaction/401/079/031/
VIETNAM: Stop Dog Meat Abuse
http://www.thepetitionsite.com/818/237/342/vietnam-stop-dog-meat-abuse/
CHINA: Stop Dog Meat Abuse
http://www.thepetitionsite.com/360/473/685/china-stop-dog-meat-abuse/#sign
Please visit our other site:
FACEBOOK: FDM Vietnam Doggie Ranch
(Photo not credited to Fight Dog Meat)
ALL RIGHTS RESERVED
PLEASE CREDIT THE ORGANIZATION WHEN SHARING