This took place years ago, before we knew Dr. Nghia. It's an important article on the difficulty of finding humane vet treatment in Vietnam, and the difficulty facing animal rescuers with infectious dying animals. A couple of nights ago Fight Dog Meat was instrumental in helping a paralyzed dog which had been left in a plastic bag on the side of the road.
Seeing the photographs with the dog placed in the plastic bag, to me it meant someone had cared about this dog. This was a form of affection, Vietnamese style. It was Vietnamese New News Eve, the busiest night of the year.
The dog, known as Gau (Bear), was owned by an elderly lady who didn't know what to do when he became paralyzed, so she put him in the bag and placed him on the edge of the road, still alive, in Binh Thanh (Saigon suburb). She did not understand what was happening or the horror this dog was about to endure. Gau's suffering could've been avoided if he'd only been vaccinated.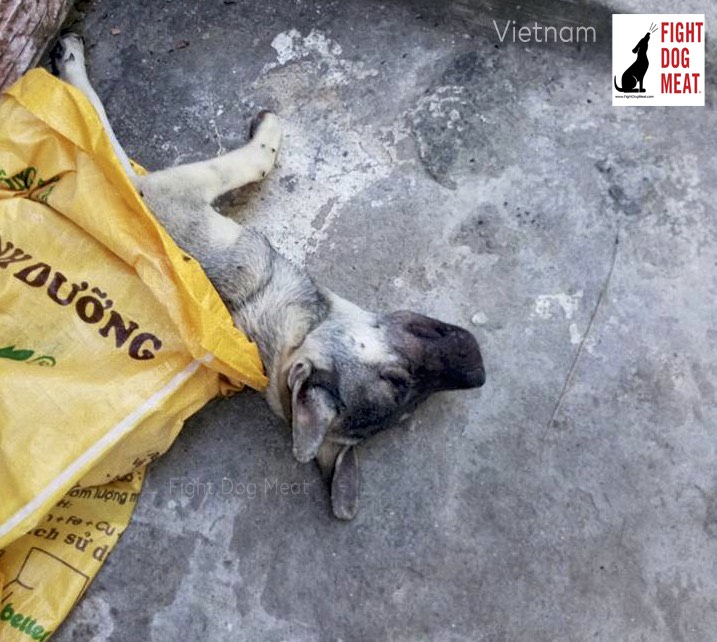 I contacted a friend who lives in Saigon, Barry, and asked if he could please rescue this gravely ill dog. A young Vietnamese lady named Mi, located the owner of the dog and got the address and permission for Barry to remove the dog. Without permission from the owner taking the dog would have been theft of property.
Why was the dog placed in a plastic bag? Many Vietnamese people live with very few comforts in their own personal life, so placing the dog in a plastic bag was a sign of giving 'comfort' to the dog; a form of affection.
Remember: it was Lunar New Years Eve and everything was closed! Barry contacted a good vet in Saigon who agreed to meet at his clinic at 8.30pm, to admit the dog and if necessary, they would humanely euthanize him.
Barry got a taxi and set off to collect the paralyzed dog. With Barry just moments away from the house, Barry and I both received a messages that a local person had just rescued the dog and taken it to a foster house. Neither Barry or I knew where the foster house was. Barry went ahead and cancelled the emergency vet appointment.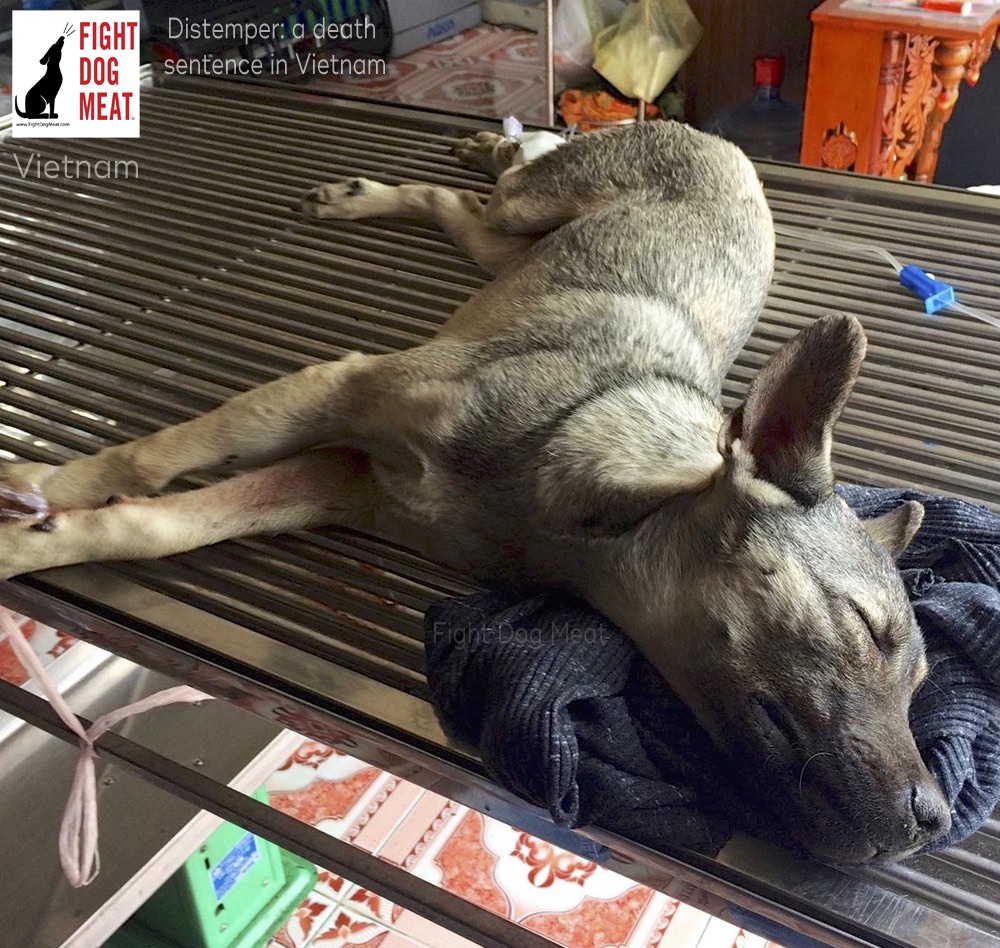 After a worrying night with no update on the dog's condition, mid morning the next day Barry received a text with the location of the dog, and his name: Gau, which means Bear.
"As it turns out with no less than 30 phone calls and as many messages I tracked the dog down to a Vietnamese vet clinic in Thu Duc about 40 minutes from home," said Barry.

Barry phoned me from the clinic and I could clearly hear the dog screaming in agony in the background. Barry said Gau was shaking uncontrollably and all four legs were twitching as he kept screaming in pain. It was gut wrenching to hear, and I could hear the sadness in Barry's voice, at having to witness this.
Wracked in pain, Gau lay on the vet's steel grid table, with no pain relief. His screams of agony ignored by the local vet.
A local Vietnamese vet nurse was already working on Gau, stumbling around trying to find a vein to put in a saline drip. NOTE: Gau was NOT given any pain relief – only saline! The dog was also covered in ticks.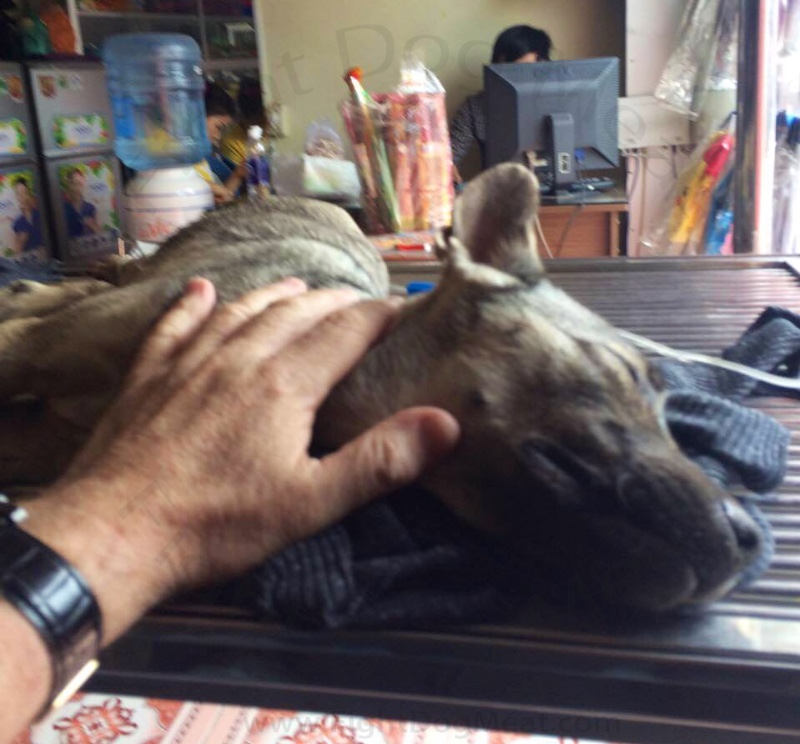 Barry convinced the vet nurse to administer some pain relief, which helped calm the dog a fraction. Shortly afterward the local Vietnamese vet arrived and predictably, he refused to euthanize. Most local Vietnamese vets are against euthanizing.
NOTE: Because it was Tet, (Lunar New Year's Day), it was considered unlucky to euthanize any animals on New Year's Day, no matter how great the pain or suffering.
Video: Gau tested positive for distemper, and was in tremendous pain.
Barry said it was unacceptable to leave the dog in such agony and to his credit, after a number of false starts, he finally convinced everyone he was taking the dog.  He scooped Gau up and carried him out of the foster house.
During a 40 minute motorbike ride across Saigon, Gau was nursed on the back of Barry's motorbike by the vet nurse, as they headed to Barry's original vet, which had been on standby the previous night, (which had to be cancelled.)
Gau tested positive to Distemper, which is an automatic death sentence in Vietnam.
Distemper is known as Carre's Disease in Vietnam.
The vet administered a large dose of pain relief to Gau, which temporarily soothed him. Meanwhile, the woman named Phong, who had rescued Gau from the roadside just before Barry had arrived, had become attached to the young dog overnight. She arrived at the vet clinic and desperately begged for Gau not to be euthanized.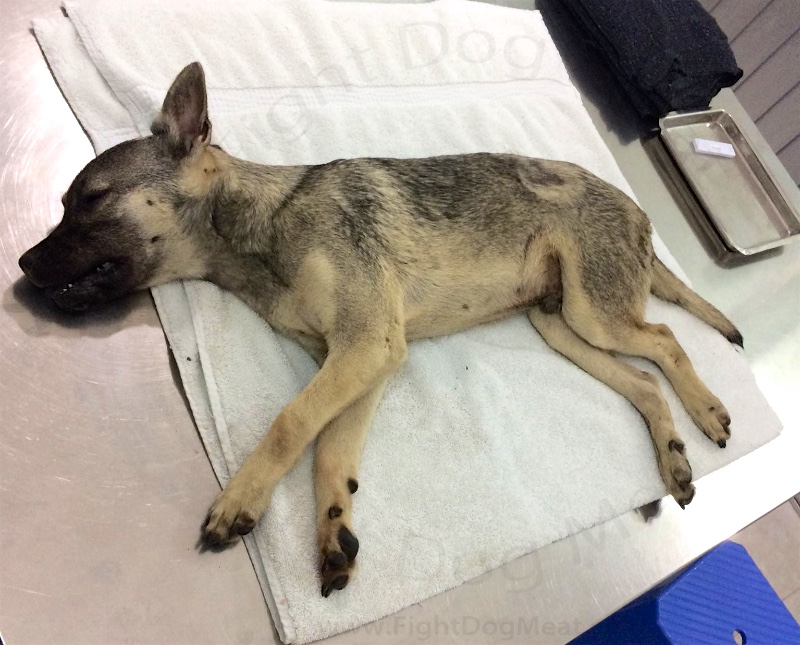 NOTE: most Vietnamese people do not agree with euthanizing. Barry very kindly took Phong aside and quietly explained that Gau could not recover, and that his pain would intensify even more. He explained it is was the kindest thing for Gau, to release him from his extreme suffering. She stayed outside in the waiting room.
Barry went in with Gau and stayed with him right to the end. As the euthanizing drugs went into Gau's vein, Gau was wrapped in love and kindness from Barry.  Mercifully Gau was humanely euthanized and released from suffering any longer.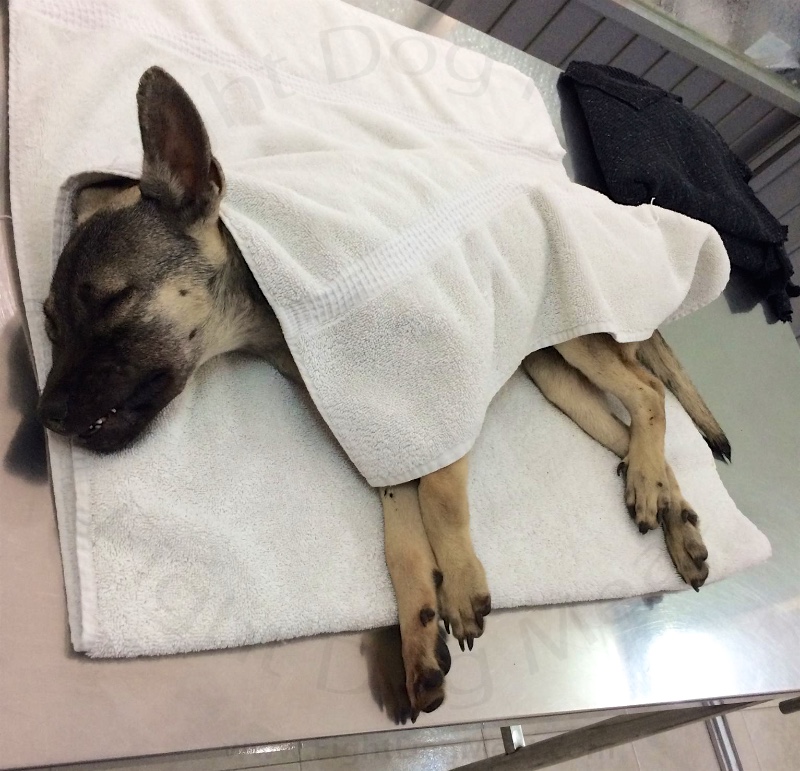 When Phong saw Gau laying on the vet table, she completely broke down in uncontrollable heartbroken sobbing. She cradled his head in her arms as she wept and called him "baby," in Vietnamese.  While she had not known Gau very long, she had fallen in love with the little guy and was inconsolable with genuine grief.
Barry and the vet nurse returned Gau to the foster house. Heartbroken Phong took Gau's body to the Buddhist Temple, where he was cremated. She then scattered his ashes in a private ceremony.
PLEASE NOTE: there are some very important points from this story:
a) Vietnamese people do have love and affection for animals.
b) the difficulty factor to find a vet who uses pain relief.
c) the difficulty to find a vet to euthanize a critically ill or injured animal with no chance of recovery.
d) the cost of euthanization is beyond the thresh hold of what many local people could afford to pay for a dog or cat; many people have very low incomes.
e) finding a vet who is 'not' guided by superstition
f) distemper is a death sentence in Vietnam, and cross-contamination of deadly illnesses such such as distemper occur when infected rescue animals are taken to houses with non-vaccinated animals, with no quarantine provisions. There have been a number of instances where this has resulted in many deaths. Distemper is completely preventable by a simple vaccination.
PLEASE NOTE: I paid the bill for Gau to be euthanized, as my gift to him, to bring him to peace.
The bill was over VND 2 Million local money [around US$100.]
I wish to say a huge THANK YOU to Barry, who went above and beyond in tracking down Gau and then staying with him to the end. Thank you to Mi for staying in phone contact with both Barry and myself and helping coordinate, so Barry could best help Gau. Thank you to Phong, for her heartfelt love for Gau and his well being.
Fight Dog Meat will continue to bring you reports from dog and cat meat countries and the wonderful work their rescuers are doing despite no animal protection laws. Turning away or sitting quietly does not end the trade. We'll keep exposing what is taking place to these animals. We're helping local volunteers have a louder voice on a world platform. Ultimately it's the voice of the country's own people whom their government will eventually be forced to listen to, for positive change for animals.
Thank you for reading,
Michele Brown
Founder,
Fight Dog Meat.
Email: contact@fightdogmeat.com
Follow us on Facebook: Fight Dog Meat
Follow our Website: www.FightDogMeat.com
Follow us on You Tube: FDM Campaigns
Follow us on Twitter: @fightdogmeat
Follow us on Instagram: fightdogmeat_dot_com
#fightdogmeat
PLEASE SIGN AND SHARE FIGHT DOG MEAT'S PETITIONS:
AUSTRALIA: Legislate To Make It Illegal To Eat Dog Or Cat Meat In Australia
https://www.thepetitionsite.com/takeaction/401/079/031/
VIETNAM: Stop Dog Meat Abuse
http://www.thepetitionsite.com/818/237/342/vietnam-stop-dog-meat-abuse/
CHINA: Stop Dog Meat Abuse
http://www.thepetitionsite.com/360/473/685/china-stop-dog-meat-abuse/#sign
Please visit our sister site:
FACEBOOK: Rescuer's Heart For Animals
WEBSITE: www.HeartForAnimals.com
FACEBOOK: Love Animals Club
(Photo not credited to Fight Dog Meat)
ALL RIGHTS RESERVED
PLEASE CREDIT THE ORGANIZATION WHEN SHARING