As Asia celebrates the start of Lunar Year of the Rabbit, Vietnam will celebrate Lunar Year of the Cat. There's much speculation why Vietnam rejected the rabbit but no official explanation why they embraced the cat. Grandiose expressions of praise are suddenly being showered upon cats.
Propaganda includes:
cats chase away bad spirits
cats bring good luck
cats are majestic because they resemble little tigers
cats are powerful
cats help protect crops and food from rodents
perhaps the local word for rabbit [mao] got mixed up in translation and was thought to be cat [meo]
raising rabbits in not common in Vietnam
Vietnamese don't want two years of similar animals – they see mice and rabbits as too closely linked
Year of the Cat brings smooth sailing to Vietnam
people born in the Year of the Cat have things easier than others
people born in the Year of the Cat are more active, hard working and easier to get along with.
Reality for Cats in Vietnam:
cat meat is eaten at the start of each lunar month under the false belief that eating cat meat wards off evil spirits for that month (and must be repeated each month)
eating a cat's spine gives you the agility of that cat
the majority of cats and kittens in Vietnam are riddled with injuries and diseases
the majority of cats in Vietnam are unsterilized
unwanted litters of cats and kittens become fodder for the cat meat trade
cat meat is readily available across Vietnam
per ratio per population Vietnam is the number one cat eating country [and dog eating country]
Some cafes who previously never kept cats are publicly keeping live cats trapped in little cages as lucky charms to attract customers.
Cat sculptures have been erected across Vietnam in preparation for Tet celebrations. Cat paraphernalia is being sold in markets everywhere, including cat gadgets, cat charms and so on.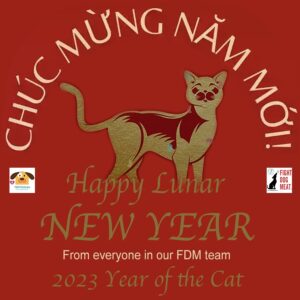 Fight Dog Meat rescues dogs and cats in Vietnam. We rescue some of the most critically injured animals anywhere, from Vietnam's brutal meat trade. FDM will continue exposing what is happening to the animals and the struggles imposed on local animal lovers. FDM is helping local animal lovers have a louder voice on a world platform. Ultimately it's the voice of the country's own people whom their government will eventually be forced to listen to, for positive change for animals.
Thank you for reading,
Michele Brown
Founder,
Fight Dog Meat.
Fight Dog Meat is a Registered Charity in USA and Australia. USA Charity EIN No. 84-3542109
FDM Aus Charity No. 16623028795
PLEASE SIGN AND SHARE FIGHT DOG MEAT'S PETITIONS:
AUSTRALIA: Legislate To Make It Illegal To Eat Dog Or Cat Meat In Australia
https://www.thepetitionsite.com/takeaction/401/079/031/
VIETNAM: Stop Dog Meat Abuse
http://www.thepetitionsite.com/818/237/342/vietnam-stop-dog-meat-abuse/
CHINA: Stop Dog Meat Abuse
http://www.thepetitionsite.com/360/473/685/china-stop-dog-meat-abuse/#sign
Please visit our other site:
FACEBOOK: FDM Vietnam Doggie Ranch
(Photo not credited to Fight Dog Meat)
ALL RIGHTS RESERVED
PLEASE CREDIT THE ORGANIZATION WHEN SHARING