Australian based organisation Fight Dog Meat
Responsible Pet Ownership
Spaying and neutering, proper nutrition and medical care, while providing a safe and kind environment.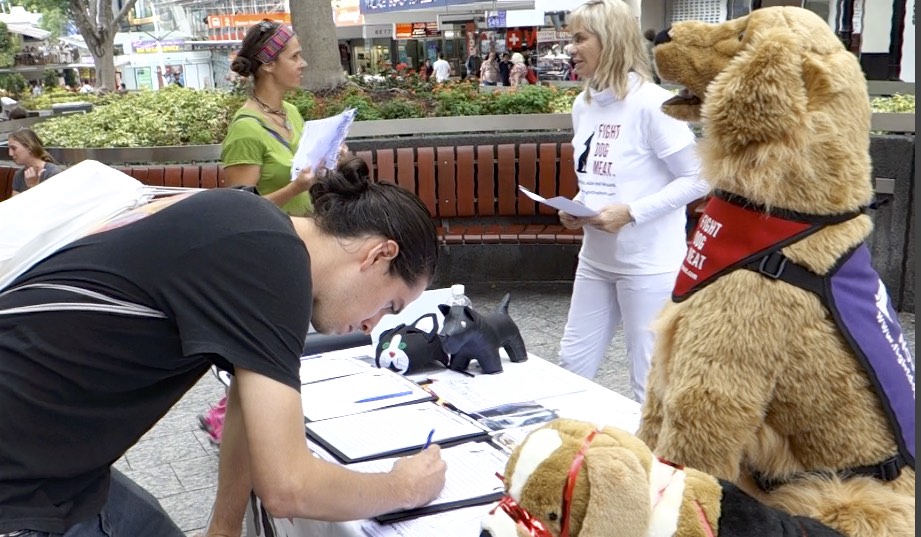 Education and Awareness and Animal Rescue
Compassion and kindness toward animals and people is a basic part of education for a kinder place for animals and humans to coexist together.
Animal Protection Laws
We are working with local animal rescue teams to help bring in animal protection laws and end the pet meat trade.
We're working to help make the world a kinder place for all animals. Only when the world has justice for all animals can we truly be happy.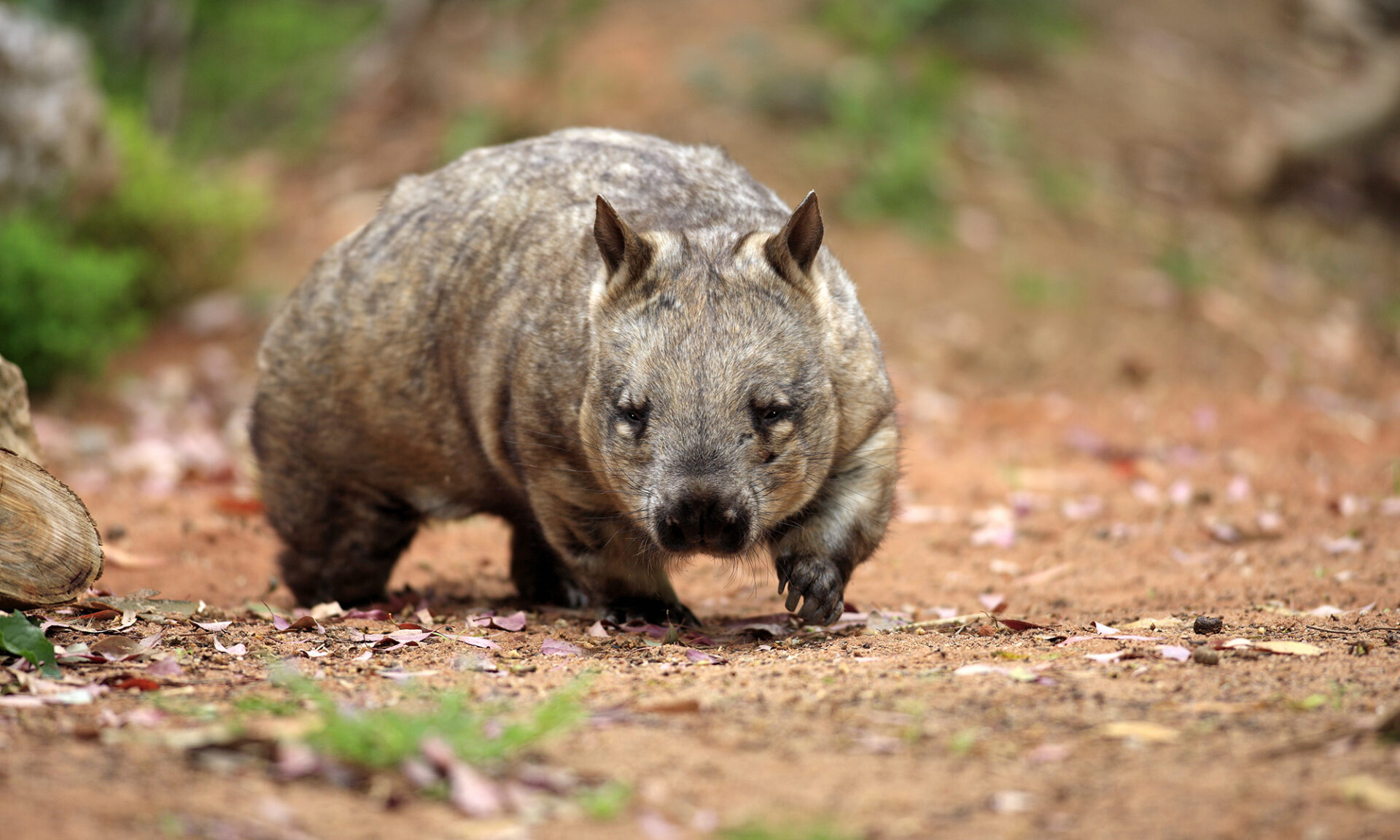 Habitat conservation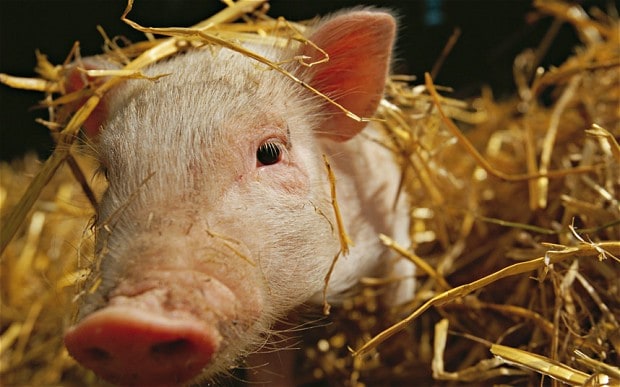 End factory farming.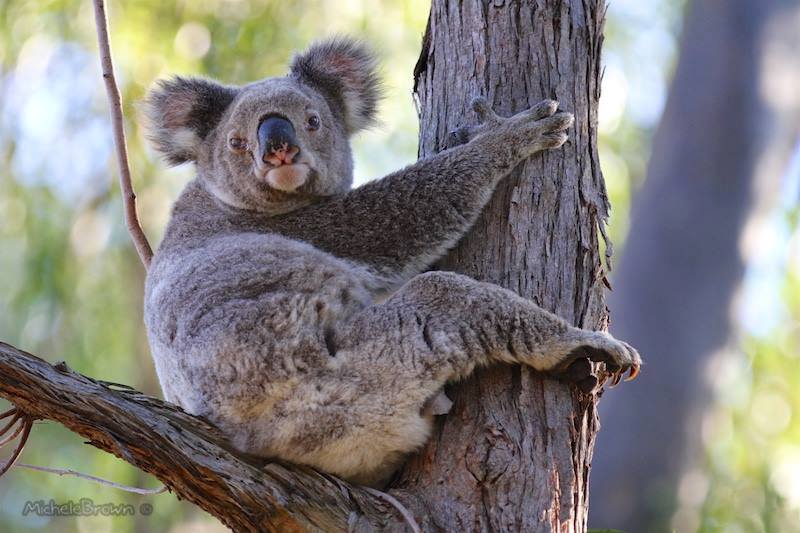 Koala conservation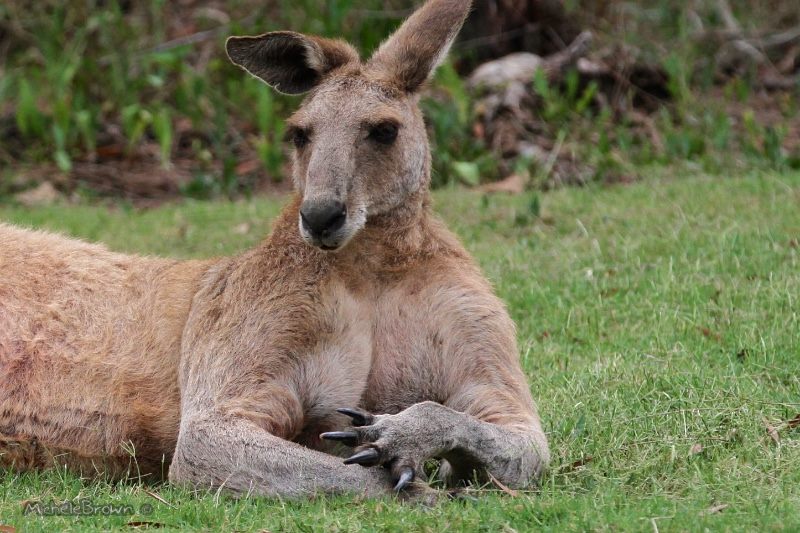 End all meat trades.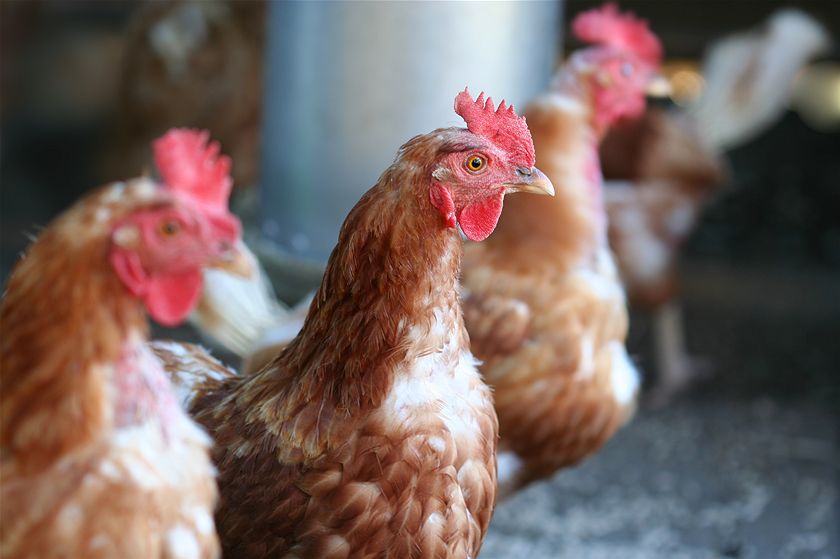 End caged eggs.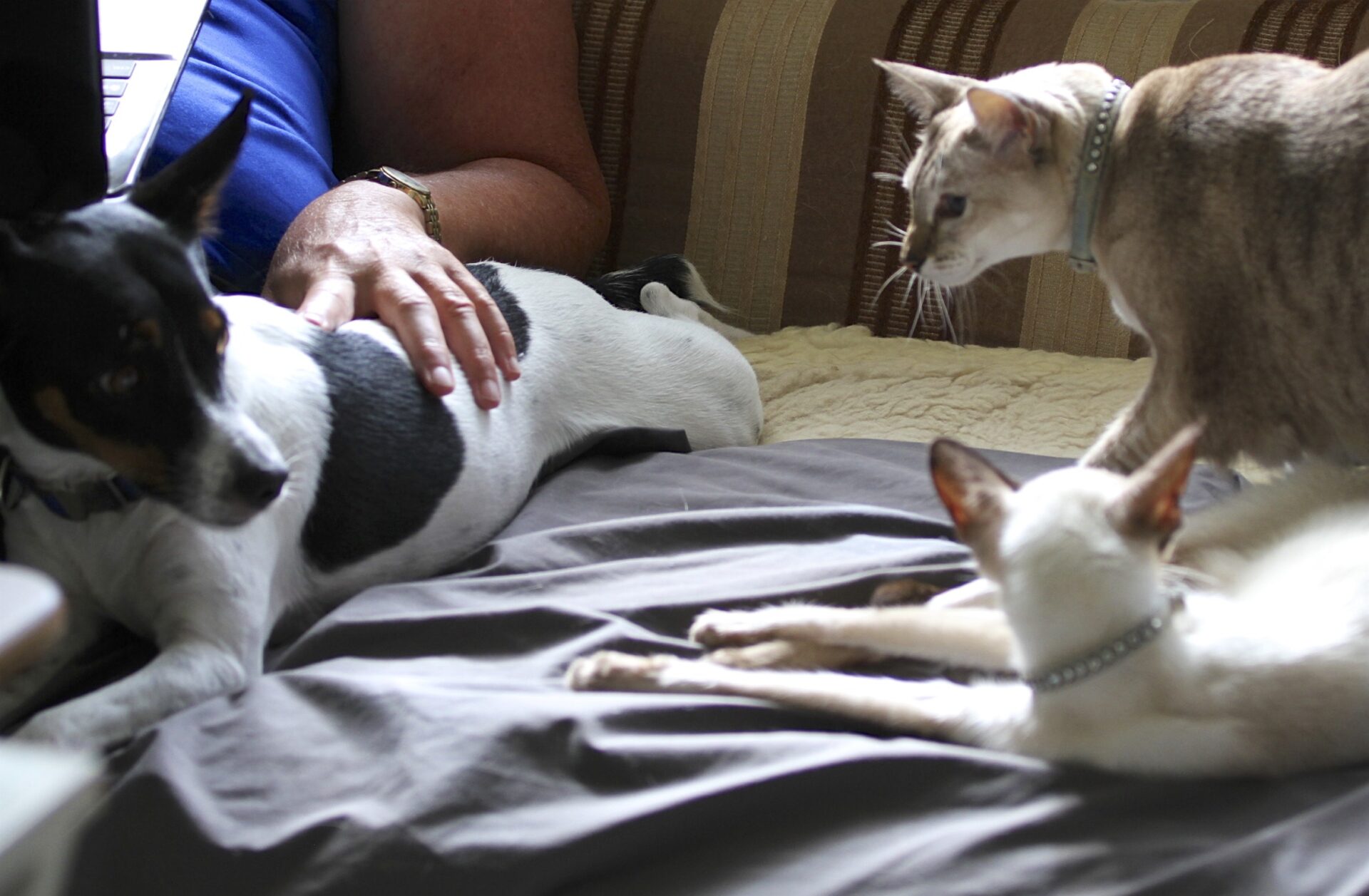 Fight Dog MeatCampaigns ForDog And Cat Welfare

Australian based organisation, Fight Dog Meat is working to bring people and animals together in a positive way. Learning compassion for animals helps individuals become a better family member and therefore a better member of the community. When an animal is seen through empathetic eyes, people are much less likely to eat that animal. Our educational programs and various campaigns raise community awareness about responsible pet ownership, ending animal cruelty and promote reform. We endeavor to make the life of animals and people a kinder and more peaceful place.
Progeny of Australian Greyhounds
Progeny of greyhounds from Australia, Ireland and the United Kingdom are ending up as dog meat in China.
Australian greyhounds are being exported to race in Vietnam. Australia, Ireland and the United Kingdom all export greyhounds to China where the dogs are raced into the ground, used for breeding and then killed. Progeny of export dogs are raced on sub-standard illegal tracks in China where they quickly break down. Massive numbers of progeny greyhounds are routinely sold into China's dog meat trade, for profit. Greyhounds suffer horrific injuries on dog meat trucks, resulting in broken limbs and ultimately a brutal death. In Vietnam, ex-racing greyhounds are injected with insecticide poison to die an agonising death. When greyhounds race, they are literally running for their life.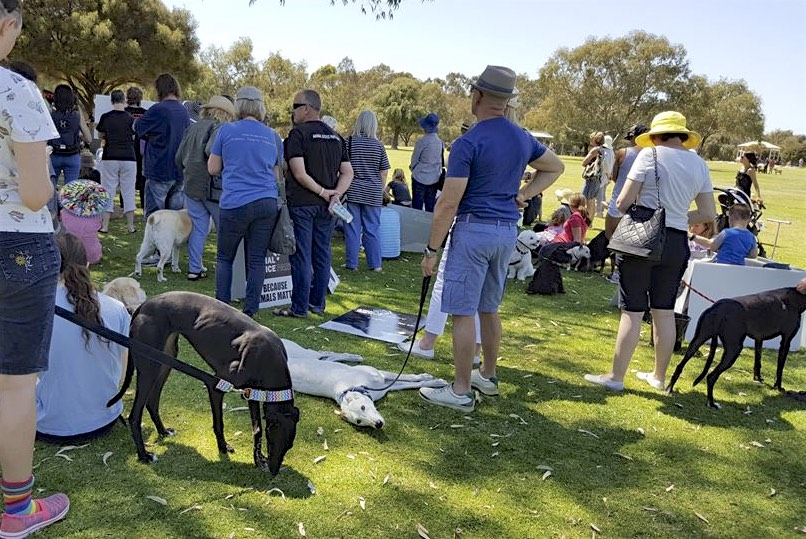 View Our Recent Blog Articles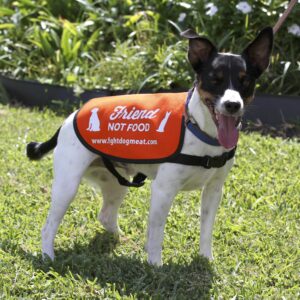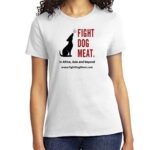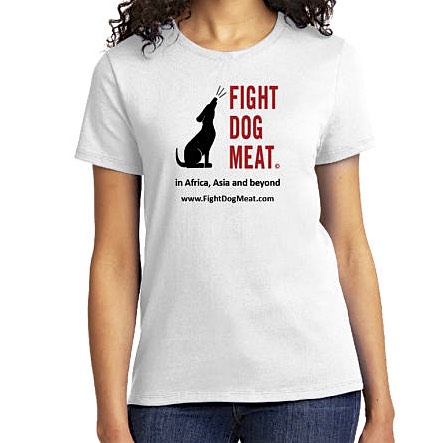 Dog Jackets, Bandanas, T-Shirts, Sweatshirts and more…Help Raise Awareness and Make A Statement

Raise awareness and help your pet make a statement!
T-shirts, sweatshirts and sleeveless shirts, in white and in black. All sizes. Dog jackets in all colors and all sizes, from tiny kitten size to large dog size. Bandanas available in all colors and sizes too. FDM does not receive money for items sold. 20% of all sales go to help animals in dog and cat eating countries.
Our Fight Dog Meat Anthem Song:
If you see animal cruelty or suspicious animal treatment, please immediately report it to your local authorities and local animal rescue groups.
China: Animal Lover Stands Up For A Helpless Puppy
This lady is a great example for ALL of us! She seized the helpless puppy, then tore into the abuser with a vengeance. I believe the man intended to kill the puppy, because he'd already tied and trussed both it's hind legs. And he got a smack in the face from the woman for his trouble. I'd like to give this lady a hug. Go lady go!!!
Fight Dog Meat has hundreds of videos which we're starting to load onto our You Tube channel: FDM Campaigns.
Fight Dog Meat Regularly Features In International Media
Fight Dog Meat featured with Ricky Gervais, in the UK newspaper The Mirror: Click Here.
Fight Dog Meat featured in the UK newspaper The Daily Mirror NI: Greyhounds In The Dog Meat Trade: Click Here.

[The article above was biggest selling animal article ever published by the UK Mirror, and had to be reprinted the next day, due to overwhelming demands for copies of it around the world. ]
Fight Dog Meat featured in the UK newspaper The Daily Mirror's Online service: Greyhounds In The Dog Meat Trade: Click Here.
Vegan celebrity James Aspey made a PSA for Fight Dog Meat: Click Here.