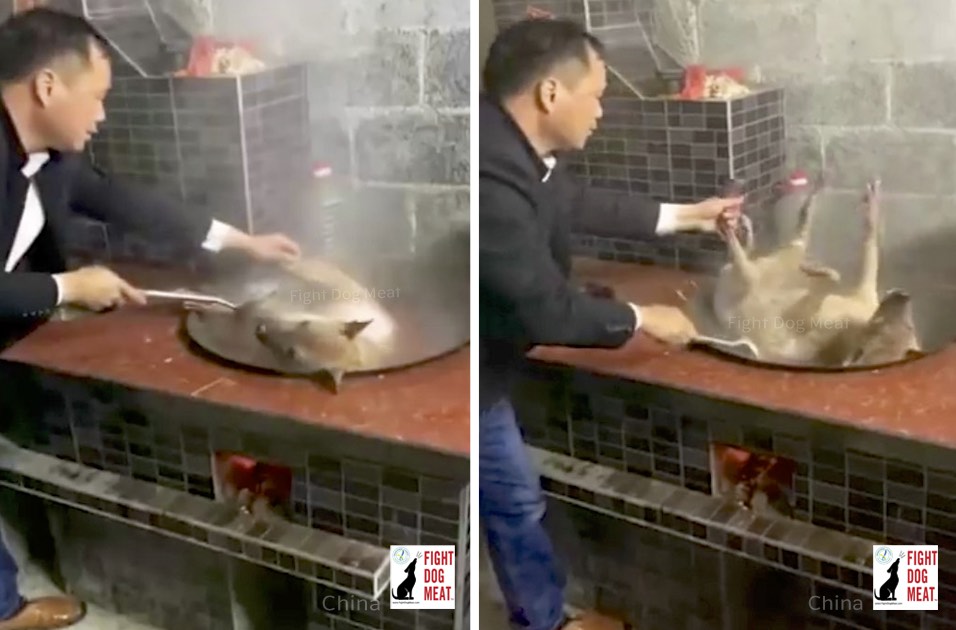 China: Paralyzed Dog Yelping In Boiling Water
Yelping in desperation as he lays in a vat of boiling water fueled by a wood fire under the pan. This poor dog seems to be paralyzed. He's unable to escape the horrifying agony being inflicted upon him. The butcher is cooking the dog alive, from the outside in.
What sort of human being is so ruthless to do this to another living being? Anyone capable of this acute cruelty is a danger to society and should be removed from the community.
As the world braces in it's fight against COVID-19, dog butchers continue business as usual, inflicting unspeakable pain and suffering on innocent living beings.
Video: warning! Graphic footage will be upsetting for some viewers.
At this stage we do not know exactly where this dog butcher is located. It looks like a dog butcher/restaurant situation, where dogs are slaughtered and cooked on the premises. Many dog eaters view dogs being slaughtered and prepared as an appetite stimulant.
Fight Dog Meat is watching for more information on this dreadful man.
Fight Dog Meat will keep exposing what is taking place to these animals. Collectively we all have to keep yelling to let the governments know that we KNOW what is happening! Turning away or sitting quietly does not end the trade. We're helping local volunteers have a louder voice on a world platform. Ultimately it's the voice of the country's own people whom their government will eventually be forced to listen to, for positive change for animals. With your help and support Fight Dog Meat will continue to pressure governments from the sidelines. We will not be quiet and will not back down. Animal protection laws are needed!
Fight Dog Meat will continue to bring you reports from dog and cat meat countries and the wonderful work their rescuers are doing despite no animal protection laws.
Thank you for reading,
Michele Brown
Founder,
Fight Dog Meat.
Fight Dog Meat is a Registered Charity. We work with a number of animal rescue teams in dog and cat meat countries, including China and Vietnam. If you would like to help the animals and rescuers we work with in dog and cat meat countries, please consider a small donation.

Fight Dog Meat is a Registered Charity.
Reg No. 16623028795.

Email: contact@fightdogmeat.com
Follow us on Facebook: Fight Dog Meat
Follow our Website: www.FightDogMeat.com
Follow us on You Tube: FDM Campaigns
Follow us on Twitter: @fightdogmeat
Follow us on Instagram: fightdogmeat_dot_com
#fightdogmeat
PLEASE SIGN AND SHARE FIGHT DOG MEAT'S PETITIONS:
AUSTRALIA: Legislate To Make It Illegal To Eat Dog Or Cat Meat In Australia
https://www.thepetitionsite.com/takeaction/401/079/031/
VIETNAM: Stop Dog Meat Abuse
http://www.thepetitionsite.com/818/237/342/vietnam-stop-dog-meat-abuse/
CHINA: Stop Dog Meat Abuse
http://www.thepetitionsite.com/360/473/685/china-stop-dog-meat-abuse/#sign
Please visit our sister site:
FACEBOOK: Rescuer's Heart For Animals
WEBSITE: www.HeartForAnimals.com
FACEBOOK: Love Animals Club
(Photo not credited to Fight Dog Meat)
ALL RIGHTS RESERVED
PLEASE CREDIT THE ORGANIZATION WHEN SHARING