Two young men in central Vietnam ruined their lives when they killed a dog thief on December 24, 2019. The men were sentenced to 4 and 5 years prison for murder. Everyone from the men's village went to the courthouse in Da Nang, to show solidarity to the two young men. They begged the judge for leniency in sentencing. Villagers said they were angry with the dog thieves for killing their dogs. They knew the law is too soft and wanted the thieves punished. [The second dog thief has not yet been apprehended.]
Animal lovers in Vietnam are pleading their government to take note of this case. They desperately need stronger laws against dog thieves. This would offer more protection to pet owners in constant fear of their pets being stolen and killed. It's a bold statement for the village population to turn up outside the courthouse to support the violators and not the victim. The two young men sentenced to prison are 21 yrs old and 29 yrs old.
Villagers outside the courthouse in Da Nang expressed their anger and frustration about continuous attacks on their pets and property by vicious dog thieves. Their lives are placed in danger each time an attack takes place.
Evening Of The Attack
On December 24, 2019, Le Ba Manh, aged 29 yrs old, invited a group of friends to come and drink at his house. His friends included Tran Dinh Vu, aged 21 yrs old. Home resident Manh discovered two dog thieves on his property as they beat his dog to death. Manh and Vu took knives and chased the dog thieves at high speed. One thief escaped but the other received a fractured skull, cerebral hemorrhage and his leg tendons were sliced. Its reported the dog thief's injuries were over 40% of his body when he died.
Immediately after sentencing was handed down to the two young men in court, villagers waiting outside the court erupted in despair. They ran after the car driving the two young men to prison, yelling words of encouragement to them to be stay safe and return back home as soon as possible.
Tougher Laws Against Dog Thieves Needed
Seeing the entire village support Manh and Vu and hearing the villagers demand tougher laws against dog thieves, shows the current law is insufficient. Its an established fact dog thieves carry weapons to injure, maim or kill humans who attempt to get in their way of stealing and killing dogs and cats. New laws need to be implemented and enforced.
Pet owners of dogs and cats should be protected by the laws of the land. However, current laws are in favor of dog and cat thieves and leave pet owners in constant fear of attack. Dog thieves have become increasingly blatant and violent.
With covid restrictions still in place throughout Vietnam and the world, this would be an ideal time for Vietnam's government to implement much needed animal protection laws. Strengthened laws would allow police to better protect upstanding citizens in the community, while removing persons of danger from society.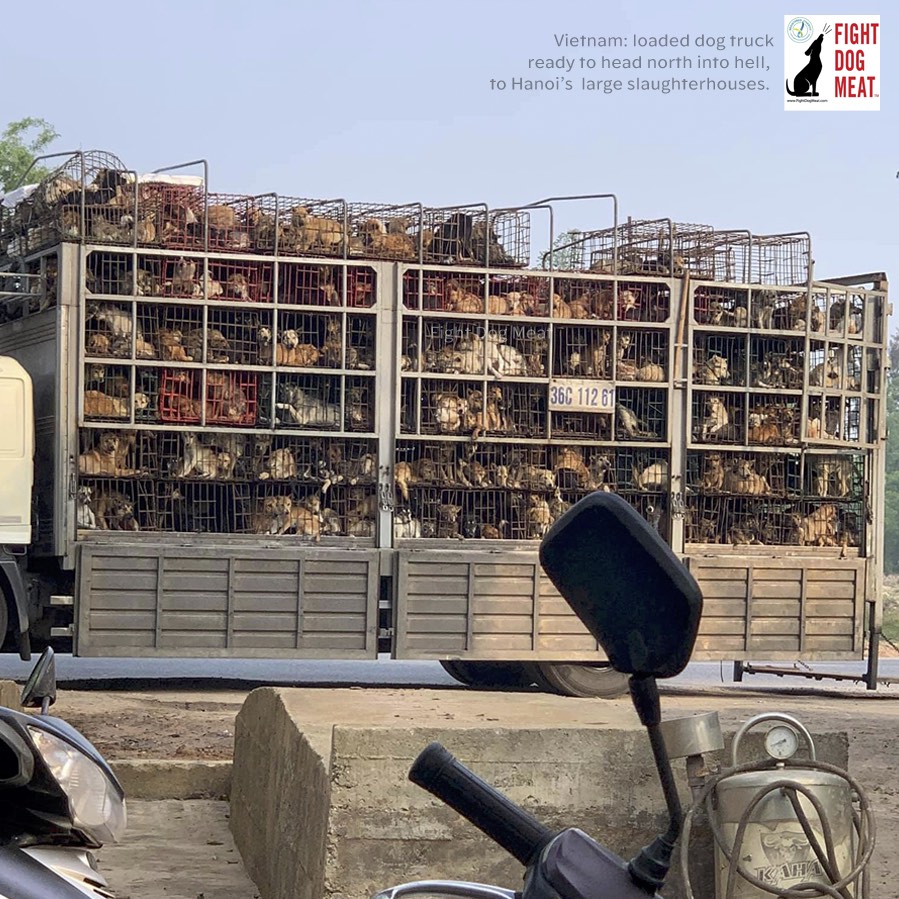 Fight Dog Meat will continue to bring you reports from dog and cat meat countries and the wonderful work their rescuers are doing despite no animal protection laws. Turning away or sitting quietly does not end the trade. We'll keep exposing what is taking place to these animals. We're helping local volunteers have a louder voice on a world platform. Ultimately it's the voice of the country's own people whom their government will eventually be forced to listen to, for positive change for animals.
Thank you for reading,
Michele Brown
Founder,
Fight Dog Meat.
PLEASE SIGN AND SHARE FIGHT DOG MEAT'S PETITIONS:
AUSTRALIA: Legislate To Make It Illegal To Eat Dog Or Cat Meat In Australia
https://www.thepetitionsite.com/takeaction/401/079/031/
VIETNAM: Stop Dog Meat Abuse
http://www.thepetitionsite.com/818/237/342/vietnam-stop-dog-meat-abuse/
CHINA: Stop Dog Meat Abuse
http://www.thepetitionsite.com/360/473/685/china-stop-dog-meat-abuse/#sign
Please visit our other site:
FACEBOOK: FDM Vietnam Doggie Ranch
(Photo not credited to Fight Dog Meat)
ALL RIGHTS RESERVED
PLEASE CREDIT THE ORGANIZATION WHEN SHARING