The owner should be arrested and jailed for systematic cruelty to their defenseless pet dog. The owner bound his little dog's mouth tightly shut with twine rope. Then tied it's four paws together. The trusting little dog couldn't run or yelp. The owner threw his trussed and bound little dog into a plastic sack and tied it shut. Then the owner drove him to a forest and threw the bag into the trees. The owner 'knew' his terrified pet would endure a slow agonizing death of starvation and terror.
By random chance someone drove along the forest road and saw a severely wounded live dog laying in a partially ripped sack. That person alerted a local rescuer who immediately drove to the exact location, where they found the dying little dog. They cut away the remaining twine ropes and scooped him up into their arms.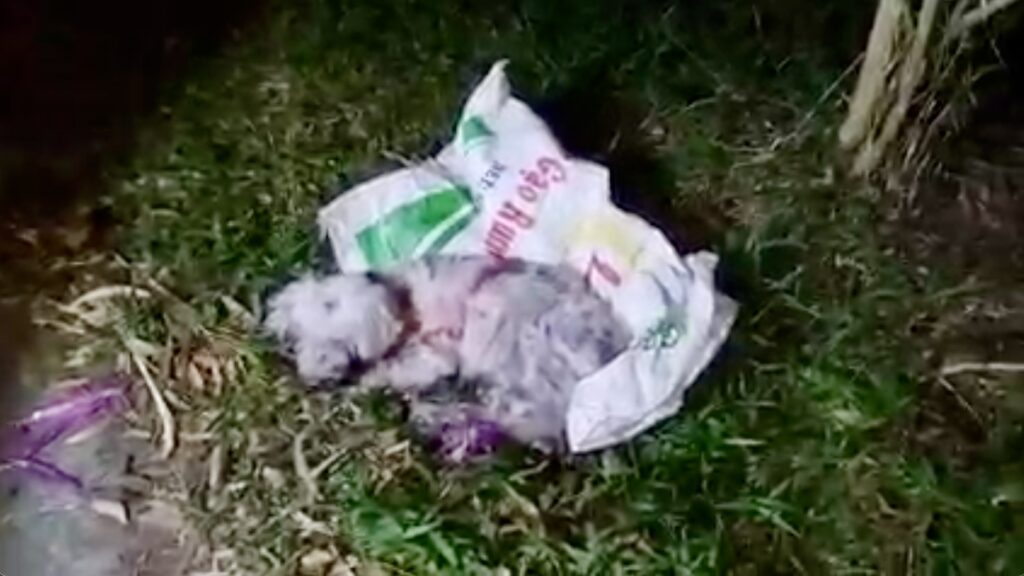 The owner deliberately tortured and starved this dog. It's spine and ribs are fully exposed with just loose skin covering. The dog has been heavily chained for so many months that the weight of the heavy chain has cut deep into it's neck. This poor dog has been in hell for months.
The dog's crime is common dermatitis. Instead of vet treatment the owner reacted with inhumane contempt and plotted a slow agonizing death for him.
Video below: shows the little dog's swollen paws and injured mouth; all caused form his legs and mouth being tightly bound for days.
In a different country this owner would be arrested and prosecuted in court. They'd be on the evening news, with their face on full display. They'd have a hefty fine and possible jail time. In Vietnam the owner can stay in hiding and answer to no one. Despicable cruelty is ignored in Vietnam because there's no animal protection laws.
Fight Dog Meat will continue to bring you reports from dog and cat meat countries and the wonderful work their rescuers are doing despite no animal protection laws. Turning away or sitting quietly does not end the trade. We'll keep exposing what is taking place to these animals. We're helping local volunteers have a louder voice on a world platform. Ultimately it's the voice of the country's own people whom their government will eventually be forced to listen to, for positive change for animals.
This is not one of our FDM rescues. So consequently we are not fundraising for this case or including any donate information.
Thank you for reading,
Michele Brown
Founder,
Fight Dog Meat.